House of India, Bermuda
$, Indian Cuisine 
The Restaurant and Ambience
House of India is the only genuine Indian restaurant with Indian chefs in the island. Located at the northern edge of Hamilton city, about 10-minute walk from the town center, House of India is a small but busy restaurant. The dining room is decorated with Indian paintings and woodcarvings. 
Ashok Uppal started the restaurant in 1995 along with his wife. Since then it has only continued to gain popularity and often termed as the best Indian restaurant in Bermuda. 
Though not much from the outside, as soon as you enter,  you will find a cozy and nicely put together dining room. There is a family friendly feel to the place with traditional Bollywood songs playing in the background. The restaurant is open for lunch and dinner. Located in a non touristy part of town, you might not come by it easily, but it's quite worth the effort to make a trip here. 
House of India Restaurant Bermuda 
Photo: House of India 
Food and Drinks
Food selection on the menu is elaborate with many styles of Indian dishes. Moreover the food is always freshly made and come in great portion sizes. 
The restaurant specializes in slow cooked and often spicy northern India cuisine. We have many favorites here. We would usually start with vegetable/chicken samosas (small deep-fried turnovers), spicy papadums, onion bhajis (fries) or chicken/lamb tikka. There are wide varieties of vegetarian, beef, lamb and chicken items, prepared to whatever degree of spiciness you want. 
They can customize the dishes for you and prepare it with low, medium or high spices as you desire. In fact, apparently the locals like their meals less spicy and mild here, so the dishes are made in accordance to that. So if you want your dishes made more spicy, be sure to mention that to your server. We were explained by our server that the curries can be made either Bermudian style which is sweeter and often honey is added or Indian style which is spicier. 
Kitchen Activities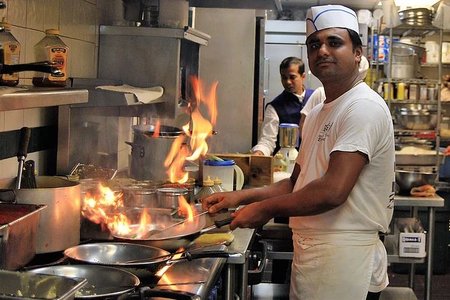 Source: House of India 
One of our most favorite food here is the Tandoori Chicken - chicken simmered with yogurt and little Indian spices slowly roasted in tandoor (clay oven), tastes absolutely delicious. This probably is the least spicy food in this restaurant. 
Other favorite dishes include the lamb maas (lamb simmered in an array of spices) and beef rogan josh (Indian curry with a variety of spices, yogurt and tomatoes). The Lamb Jhalfrezi and the hot lamb Punjabi curry are other great choices in lamb. We also like the Chicken Pasinda and the Chicken Vindaloo which are delectable. 
If you are looking for a nice and spicy Indian curry, ask for the Kadhai Chicken or in vegetarian Kadhai Paneer (which is the Indian name for cottage cheese). Other nice chicken dishes here include the Butter chicken and the chicken masala with the flavors done just right. If you are keen on trying some fish, the Kashmiri fish that comes in a lovely sauce is a very nice choice. 
If you like spicy food, you can try chicken chetinad. The nans (a flat doughy bread) is freshly made in tandoor. You can also try the garlic naan or the  Peshwari naan which comes with coconut and is a nice alteration to the regular naan. Apart from the naans there is the paratha or the aloo kulcha too.   
Another great dish that you can try here is the Byriani which is rice prepared with several different spices, meat (or vegetables) and served with yogurt raita. You can get chicken, beef, lamb, baby shrimps and veg Byrianis. The saag paneer is also a nice vegetarian option. Lassi (sweetened yogurt) served in a glass, particularly the one with mango flavor, are delicious and refreshing. 
There is a buffet lunch both veg and nonveg, served on all days between 11am to 3pm. It's reasonably priced and worth every penny. The buffet menu changes every day. The chef mentioned that all dishes prepared here are free of gluten including wheat, except for breads and pastries. 
Lunch buffet at House of India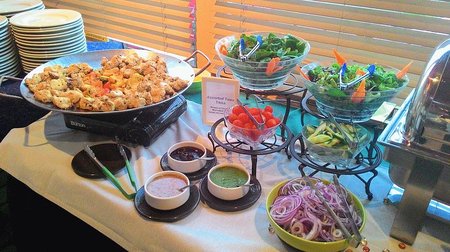 Source: House of India 
You can start you meal off with a nice and refreshing mojito they serve here. They also serve domestic and imported beers and a nice selections of wine. 
Service
Service is warm and welcoming. The staff is quite friendly and great at offering menu adaptations according to your palate. The owner  too is a warm person who didn't in the least mind stopping by our table and engaging in a little chitchat and spending time talking us through the menu and about Bermuda even though it was busy. Children are accommodated nicely too. Moreover if you are novice in Indian cuisine, the staff will guide you gracefully through the extensive menu. 
Trivia
Customers here are mostly locals who use their take-away service a lot. Prices are reasonable by local standards. The seats are in close quarters with each other but the consistency in good food and service make up for the minor inadequacies. Make a reservation for eating in. It is not easy getting here on foot and best done by taxi. 
Conclusion
This is a refreshing change from the regular fare of fried chicken and fish you will find at most Bermudian restaurants. Enjoy a nice, warm, authentic Indian meal here, especially the excellent buffet which has a good spread, all tasty and well presented. From salads and vegetarian to beef and chicken, you will find depth of flavors bursting out in everything they serve. A little off the beaten path for tourists, it will be worth your while to visit here for an overall enjoyable experience with excellent Indian cuisine and polite service. 
Indicative Prices
Appetizers: $6-$35 
Main Dishes and curries : $14 - $23  
Naans and Rotis (breads): $5-$7 
Rice dishes: $10-$20 
Tandoor dishes: $17-$35 
Vegetarian dishes are priced a little lower ($12-$15). 
The restaurant also offers take out service. The restaurant accepts credit cards. 
Open Hours
Lunch Monday - Friday: 11:30am - 2:30pm; 
Dinner daily: 5:00pm - 9.30pm 
Location and Contact
Park View Plaza, 58A North Street, Park View Plaza, City of Hamilton (Pembroke Parish).  
Phone: (441) 295-6450 (or 6452) 
From dockyard you can take a ferry to reach Hamilton in 20 minutes. It's about a mile from the Hamilton Ferry Terminal or Front Street (takes 12-15 minutes walk). 
Check out
Hamilton Dining Map
to see the location of this restaurant and several others nearby. 
Road Map 

By Raj Bhattacharya 
Raj, a seasoned travel writer and Bermuda destination expert, has extensive global travel experience. This website reflects his profound insights, garnered over nearly two decades of dedicated findings and research on the island. Raj has assisted countless Bermuda-bound visitors by providing direct, personalized responses to their queries and imparting his wealth of knowledge through this platform. This site serves as an indispensable guide for those seeking informed and reliable insights into Bermuda's treasures. 
Related Articles
2) Check out
Top Cheap Restaurants
to know about the inexpensive dining choices in Bermuda that serve great dishes and are quite popular in the island. 
Visitors' Reviews
Review and share your experience.