Restless Native Bermuda
Sail & Snorkel Cruise
This is a 48-foot catamaran scheduled regularly for sailing and snorkeling trips to the outer reefs. With a crash course on Bermuda's marine life, guided snorkeling trip, kayaks and paddle boarding, plus fresh cookies on board, it's hard to resist this excellent outfitter. Out of many boat tours that we have taken in Bermuda, Restless Native remains one of our favorites. 
The boat is popularly known as the pink catamaran. We boarded the catamaran right next to the pier where our cruise ship docked at the Royal Naval Dockyard. 
On the boat we met the crew: Kirk Ward the captain, Tom the cookie baker, and Karen, one of the best guides we had the pleasure of knowing. Tom made delicious chocolate chip and oatmeal cookies on our sail across the bay to a secluded cove that was ideal for snorkeling. Karen would usually show the pictures of the fish we were likely to see on the reef. She told us everything about those fishes, including their names, feeding and mating habits and what role they played in the reef ecosystem. 
The Pink Catamaran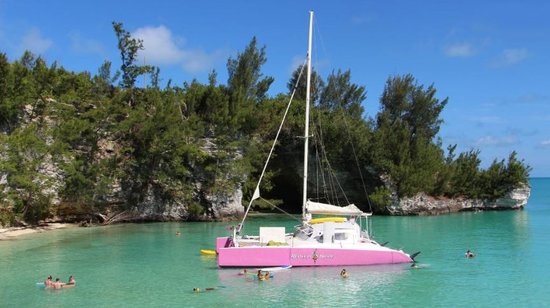 Photo: Restless Native 
We soon reached a secluded cove with a beautiful little beach. They lowered the stairwell which dropped us off into waist deep waters. With soft sand under the feet, we could easily get adjusted to the water and the surroundings. You could either decide to snorkel at the shallows where the boat anchored or choose to follow the guide (Karen in our case) to go to deeper water for reef snorkeling. 
It was just a short swim to one of the most beautiful reefs I have ever snorkeled at. There were hundreds of colorful fish. Karen swam right along with us with a "flag" on her mask so that we could easily spot her. She pointed out any fish that she had not discussed. We had about one and half hours to explore the reefs. You can also enjoy hammock and try out kayaking and paddle boarding here. 
On the way back they served unlimited rum swizzles and more cookies. They have a cash bar and you can purchase alcoholic beverages in case you like to have something other than swizzles. All along there will be nice island music played and conversation style commentary given about Bermuda. They also have a nice little store on board with shell necklaces and other small local items. This tour takes you to one of the few sites in Bermuda where you get to see
sea glass
and proper
seashells
. 
Restless Native also offers Sunset and Swizzle boat tour to enjoy lovely sunsets while you seep in Rum Swizzles. Complimentary Bottled water, Orange and Pineapple juice are included in all tours. 
Restless Native Catamaran can also be booked for private charters for 2-5 hours up to a party size of 50. The catamaran is equipped with a full bar, four interior dining tables, a music library, an iPod dock and restroom facilities. 
Tour Booking
There are three types of tours offered: 3 1/2 hour Sail and Snorkel Tour, 1 1/2 hour Sunset and Swizzle tour and Chartered tours. 
The Sail and Snorkel Tour includes sailing, swimming, snorkeling, kayaks, paddle boards etc along with rum swizzles, juices, bottled water, cookies and use of gear. You will need to carry with you bathing suit, sunscreen, towels and cash for the cash bar and gratuity. Out of the total duration of 3.5 hours about 1 hour is sailing and remaining time at a cove with a nearby reef for swimming, snorkeling etc. 
Rates by Viator 
The Sunset and Swizzle Tour takes you around the Great Sound water area at the west end and shows you lovely sunset over the coastline. The tour includes bottled water, orange and pineapple juice, Rum Swizzle island drinks (unlimited), chocolate chip cookies baked fresh on board etc. 
Rates by Viator 
The Chartered Tour starts at $500 per hour (minimum 2 hours) for up to 35 guests beyond which the flat rate is $25 per additional passenger for a maximum capacity of 50 guests. 
A part of the proceeds of all Restless Native tours go to the Bermuda Cancer and Health Center to help in the fight of breast cancer. 
Location and Contacts
Restless Native boat tours depart from in between Heritage Wharf and Kings Wharf cruise berths in Royal Naval Dockyard. The dockyard is connected with Hamilton by regular blue route ferries (takes 20 minutes one-way) and buses (routes #7 and #8). 
Native Tours Ltd. 
P.O. Box WK581, Warwick, Bermuda 
Phone: (441)531-8149 
Related Articles
Visitors' Reviews
Review and share your experience.