Boat Charters from
Charter Bermuda Cruises
The Rising Son II from Charter Bermuda Cruises is a beautiful, 60-foot, 80-person capacity catamaran with a full bar. Besides offering this catamaran charter for sailing, swimming, and snorkeling trips, captain William Evans of Charter Bermuda and the friendly crew can arrange for other water sports as well. 
You can spend part of the day on jet skis, in kayaks, or with a para-sailing outfitter, if you are so interested. Otherwise, the captain usually prefers sailing around the coastal waters and letting you enjoy the magnificent views of Bermuda's coastline. Delicious rum swizzles are prepared onboard. 
The Rising Son II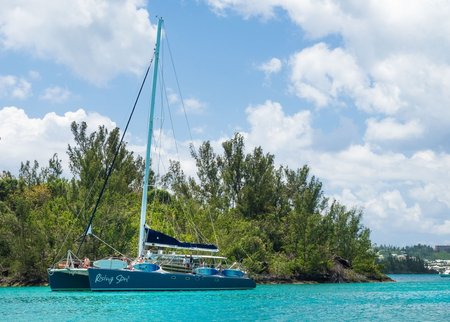 If you are traveling in a smaller group, another great boat charter option from Charter Bermuda Cruises is to try the Son Splash (picture below). Son Splash has a maximum capacity of 30 persons although the tour operator recommends that the group size be limited to 15. 
This boat is ideal for a half-day fun tour for swimming, snorkeling, diving, tubing, banana boating and so on. The wide beam Son Splash makes it a great boat for water sports, and her speeds in excess of 25 knots make her a great diving and snorkeling boat.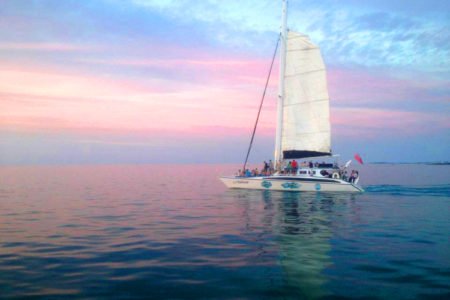 It can access the outer reef line faster than the larger dive boats. As a result you get more time to explore the underwater world. 
Indicative Rates 
Son Splash charter rate is $500 for two hours and $100 for every extra hour. This includes the dock of your choice where the boat is delivered along with crew plus fuel, snorkeling equipment, and complimentary soda and water. Contact them for the current rates and schedules. 
Son Splash also offers the following special water sports packages:  
Banana Boating - $325 per hour up to 16 persons.  
Snorkel Scootering on the outer reef - $390 per hour up to 15 persons.     
Private Dive Boat with Dive Master - $300 per hour for up to 5 divers.     
Watersport Add-ons with Rising Son II  - $250 per hour.     
Whale Watching - $900 up to 10 persons 
UPDATE:
Charter Bermuda is now part of
Fantasea Bermuda
Cruises. The catamaran Rising Son II can still be chartered but through Fantasea . 
Contacts 
The boat operates from Doickyard at the west end.  
Island Tour Center (Sales Unit of Fantasea): 
Summer: 8:00am-6:00pm, Monday to Sunday 
Winter: 9:00am-4:00pm, Monday to Friday 
Related Articles 
Visitors' Reviews & Comments 
Share your experience.