Rising Son Cruises Bermuda
The operator has two catamarans in its fleet and is captained by Steve Smith (locally known as Captain Squid). The Rising Son II is a beautiful, 60-foot Simonis sailing catamaran with a capacity of 80 persons. It has a large covered stern cockpit with a full bar and an elevated sun deck. There are two electric toilets and changing space. They also provide water sport gears including snorkel equipment, paddle board and kayaks. And there are two swim ladders so that you can easily access the water. 
As you can already make out, the lovely open type catamaran is ideal for enjoying offshore water sports including swimming, snorkeling, kayaking etc while exploring amazing secluded water areas and coves, as well as watching sunset. It is available for both group tours of several types and charter. 
The Rising Son II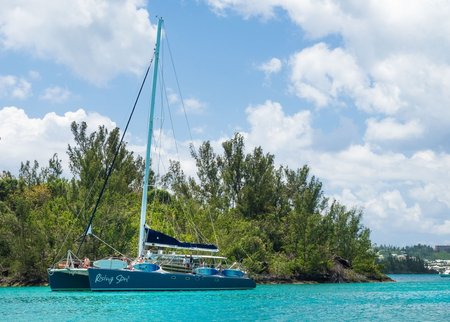 Source: Rising Son Cruises 
The other catamaran is the lovely 65-ft Filante with a capacity of 60 persons and having similar amenities and water sport facilities as Rising Son II. It too is available for similar activities including sunset cocktail sail. Both catamarans are equipped free WiFi service (something which you will perhaps least require while experiencing a sail on the Atlantic waters for few hours). However a good addition is the music which is played on board to get you into the perfect vacation mood. 
Catamaran Tours
There are several tours offered through these two boats. Most of these operate in summer (May – October). Here are the most popular ones: 
Catamaran Adventure 
The Rising Son II catamaran explores various parts of the
Great Sound Water Area
at the western part of the island. Finally it anchors at a lovely calm swimming area at Turtle Cove and there is a nearby beach where you can swim up and relax. Or try paddle boarding, kayaking or get the snorkel gears from the crew and see great marine life around. If you are lucky you can even spot green turtles here. There is also a similar tour which takes place from Hamilton Ferry Terminal.  
Once you are back on to the deck, you are served a complimentary rum swizzle... you can continue to have drinks and cocktails from their cash bar. 
Duration of tour: 3 Hours. 
Departs Dockyard (Monday through Sunday), and Departs Hamilton (Albuoy's Point) on Monday and Thursday. Check-in for Dockyard departure at Island Tour Center 15 minutes prior to departure and check-in for Hamilton at Island Tour Center office at Albuoy's Point 15 minutes prior to departure. 
Rates by Viator 
Sunset Sail 
They use the catamaran Filante for the sunset sail in Hamilton (you see wonderful sunset from Hamilton Harbor). There is another sunset sail which takes place from Royal Naval Dockyard on Rising Son II and you get to watch an amazing sunset view at the Great Sound. They welcome you aboard with a Champagne or a rum cocktail. You can have more from the cash bar by purchasing drinks. The sail from the dockyard has a white party theme and all are required to wear white, silver or golden clothes with flat shoes. There is a minimum age restriction of 18 years for sunset sails. 
Hamilton Sunset Sail 
Filante departs Albuoy's Point or by Ferry Terminal (depending on docking space) 7:30pm - 9:30pm Tuesday, Thursday, and Sunday. Duration: 2 Hours. Check in at boat 15 minutes prior to departure with ticket. 
White Party Sunset Sail 
Departs Dockyard Monday through Thursday, 7:30pm - 9:30pm. Duration: 2 Hours. Check in at Island Tour Center at Dockyard 15 minutes prior to departure. 
Rates by Viator 
Charter Rate
Rising Son II: $600 per hour for up to 65 persons (minimum 2 hours). 
$2.50-$4 soft drinks, $8-12 alcoholic beverages. 
Corkage and catering in charter cruises are available on request. 
Contacts
Island Tour Center 
Summer: 8:00am-6:00pm, Monday to Sunday 
Winter: 9:00am-4:00pm, Monday to Friday 

By Raj Bhattacharya 
Raj, a seasoned travel writer and Bermuda destination expert, has extensive global travel experience. This website reflects his profound insights, garnered over nearly two decades of dedicated findings and research on the island. Raj has assisted countless Bermuda-bound visitors by providing direct, personalized responses to their queries and imparting his wealth of knowledge through this platform. This site serves as an indispensable guide for those seeking informed and reliable insights into Bermuda's treasures. 
Related Articles
Visitors' Reviews and Comments
Share your experience.