Catamaran Sailing Tours in Bermuda
Restless Native
This spacious and bright multi-hull boat of
Restless Native
is fondly known as the "Pink Catamaran'. It was custom built by the captain Kirk Ward and his son having realized that most other boats in the island were unsuitable to accommodate more than 8 people and offer a stable ride. The catamaran comes with many amenities such as a full bar, dining tables, advanced stereo system, bathrooms, bean bag chairs, hammocks, swim noodles, snorkel gears, paddle boards, kayaks etc. 
One of their top offerings is the 3 & 1/2 hour Sail & Snorkel Cruise which departs from Royal Naval Dockyard. As you sail along the calm waters the crew will let you know a lot about Bermuda's history, ecology and marine life. The staff are all knowledgeable tour guides certified by Tourism Department. 
The Pink Catamaran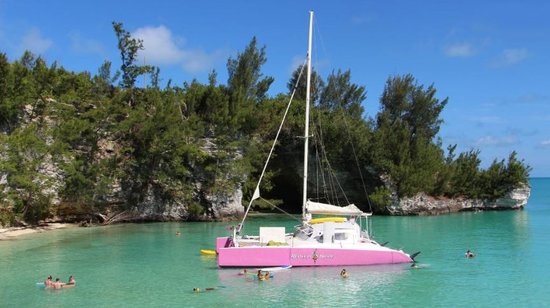 Photo: Restless Native 
The boat then anchors at a shallow cove where you can enjoy great swimming, snorkeling, paddle boarding and even try kayaking, or just relax on a hammock. They make freshly prepared chocolate chip cookies right on-board and serve to all guests. You can also enjoy unlimited free rum swizzles during the sail (alternatively fruit juices) and have option to buy any other drink from the cash bar. 
Rates by Viator 
Another popular tour offered is the
Sunset & Rum Swizzle Cruise
which too departs from the dockyard and shows your amazing sunset from Great Sound water area. During this tour too they offer freshly prepared coockies and unlimited rum swizzles. 
Rising Son Cruises
The
Rising Son II
from
Rising Son Cruises
is a beautiful, 60-foot, 80-person capacity catamaran with a full bar. Besides offering sailing, swimming, and snorkeling trips, the captain and the friendly crew can arrange for several other watersport activities as well while on the sailing tour. They organize regular group tours on per person rates. Private charters are also available. 
If you like, you can spend part of your time doing kayaking, swimming, snorkeling, paddle boarding etc. Snorkel gears, kayaks, paddle boards etc are provided by the crew and is included in the cost. There are swim ladders attached to the boat and you can get down to the water easily. Otherwise the captain usually prefers sailing around the coastal waters and letting you enjoy the magnificent views of Bermuda's coastline. Complimentary non alcoholic beverages and a rum swizzle is offered on board. There is a cash bar and you can indulge in cocktails and spirits if you so wish. 
Rising Son II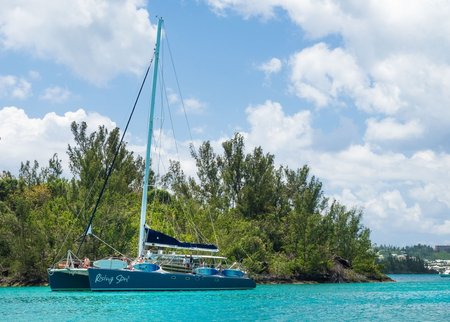 Source: Rising Son Cruises 
One of the popular cruises on Rising Son II is the Turtle Cove Trip. The boat cruises through the
Great Sound
water area for about an hour, and then over a turtle sanctuary before anchoring off a quiet sandy bay for snorkeling and kayaking. After a brief instruction, you can swim up to the nearby beach or sand bar. Optionally you can take a Standup Paddle board and go around the water area. 
There is a fun & discussion style commentary given on this trip, and a music is played in the background. They just let you relax and enjoy the sail and the water sport activities. Just in case you are interested, complimentary wi-fi is also available on board. 
The regular day tours last for about 3 hours. Departures take place from Royal Naval Dockyard and Hamilton (May to October). Check-in is at Island Tour Center office at dockyard or Hamilton. 
Rates by Viator 
Raj Bhattacharya
Raj is an avid traveler, a travel journalist and a blogger. As an author of this website, he shares deep insights on Bermuda and related areas of interest. Since years, he has been helping countless viewers by posting quality articles, answering questions and sharing experiences on this website. Launched in 2008, this website is Bermuda's one of the leading sources of information since many years. 
Related Articles
Visitors' Reviews
Lauren (October 2016) 
On October 3rd my husband and I bought a catamaran package through our cruise line. We had an amazing time! The crew on Rising Son couldn't have been more friendly, knowledgeable and fun! Great job captain Steve and your crew, we had a blast!