Wind Sail Charter Bermuda
Great Private Yachtes
You can charter the 51-foot Spirit of the Wind or 60-foot Spirit of Liberty Morgan yacht from Wind Sail Charter Bermuda. They also have a 41-foot yacht for private charter. Captain Mike Voegeli or his daughter, Captain Melissa, will sail you to your preferred location and ensure a great experience. 
These yachts are equipped with a shade over the cockpit and there is abundant room on the spacious decks for sunbathing. The shallow draught keels allow them to show you some areas that are not accessible to deeper draught yachts. 
Update 2013: They have also recently started offering group sail & swim tours and sunset sailing tours on per person rates. 
Indicative rates 
For the 51-foot Yacht, the rate for six people is $475 for 3 hours, $30 for each additional person up to a maximum capacity of 25. Every additional hour costs $150. 41-foot yacht has rates similar to 51-foot yacht. For the 60-foot Yacht, the rate for six persons is $600 for 3 hours. Additional person is charged at $35 up to a maximum capacity of 35.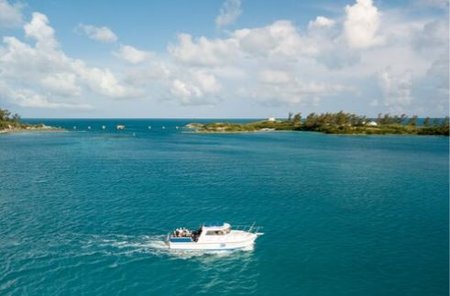 Every additional hour costs $150. Charter Rates include masks, snorkel and other floatation gears for those who wish to use them. Lunch catering is provided at an extra charge, or you can request to dock the boat at a waterside restaurant if you are on a full day charter. Soft drinks are available on board.  
Group rate for Sail & Swim (operates on select days): $50 per person 
Group rate for Sunset sailing: $50 per person 
Location 
They operate from Hamilton. 
Contacts Info 
Phone: (441)334-8547 or (441)734-8547  
Postal Address: P.O. Box HM 1699, Hamilton  HMGX,  Bermuda 
Note that they are normally available at (850) 865-3811 during winter time. 
Related Articles 
Visitors' Reviews & Comments 
Review and share your experience.