Ana Luna Adventures, Bermuda
Ana Luna is a beautiful 45-foot catamaran equipped with four cabins and attached bathrooms and aesthetically furnished with oriental rugs, handloom decor and wood carvings.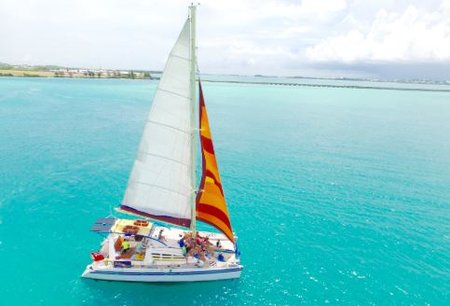 Photo: Ana Luna Adventures 
Originally constructed in France, this boat was a part of the fleet of Sint Marteen (as the Dutch would pronounce it). Also diminutively referred to as the "Sea Lover", today the adept Captain Nathan and his wife Deborah are the proud owners of the Ana Luna. 
Captain Nathan is a seaman in the true sense of the term, having started sailing in the Bermuda waters at the age of 8. A certified dive master, he is extremely knowledgeable and a perfect guide when it comes to sailing, snorkeling and diving here. 
Snorkeling is a part of most of the tours they offer. The skilled captain and crew of the boat provide instructions and guidance to guests who intend to snorkel. 
They give valuable tips and also direct you towards magnificent fish and other sea creatures you might otherwise miss out. 
You also get to see the beautiful green sea turtles and have them swim right next to you! The catamaran has the capacity of holding 28 guests and they have enough snorkel equipment for 25. 
There are several other tours that they offer along with the options to spend the night on the boat. They also provide refreshments like a complimentary flute of champagne on their tours along with beverages like fresh hibiscus tea and organic coffee and also complimentary snacks. 
They also have a cash bar in case you wish to buy beer, wine or champagne.   
Popular Tours Offered
Sail Away To Turtle Bay 
This is a group tour and is organized on certain days of the week between 2-5pm. You can do some serious snorkeling on this tour along with fun activities like jumps off the stern and water toys. 
Discover the turtles that abound here along with the rest of their amazing marine life. The tour includes snorkel gear, water toys along with snacks and drinks. Bookings can be done at the guest services desk at the Resort. 
Rates by Viator 
Bioluminescent Glow Worm Tour 
This awe inspiring mating dance of glow worms is a seasonal performance and happens only on certain days of the warmer months. 
The sailing commences at Grotto Bay one hour before sunset. The tour is organized twice every month (2 or 3 days after full moon). It also includes complimentary snacks and drinks. 
Rates by Viator 
Champagne Sunset Cruise 
This tour is organized on certain days of the week and sets sail two hours before sundown. The tour includes complimentary snacks, tea, coffee and a flute of champagne. 
Rates by Viator 
Full Moon Group Cruise 
The tour is organized on the eve of a full moon each month. Sail commences in the evening so as to enjoy both the setting of the sun followed by the rising of the moon as you cruise along the waters of the Atlantic. 
This is a two hour outing and includes organic coffee, fresh hibiscus tea, Champagne toast, fresh water, a cash bar and light snacks. Indicative cost per person: $79. 
Check out the dates and departure timings from their website. You can also request booking by contacting them (contact details given below). 
Private Cruises 
There are two cruise options available, The "Intimate Cruise" for groups of six or less and the "Party Cruise" for up to a total of 40 guests. 
Both offer a choice of various activities and destinations. These include yacht, captain and crew, snorkel gear, snacks and beverages. Massage and meals can also be arranged on request. 
Indicative costs of private cruises 
Intimate Cruise- $495 for the first two hours and $150 for every additional hour. This does not include bar charges and gratuity (15%). 
Party Cruise- $79 per person for the first two hours and additional $25 for every additional hour, for a minimum group of 10 persons. This too does not include bar charges and gratuity. Departure is from Grotto Bay and if a yacht is to be delivered at a different port, same can be done at an additional cost of $75 per hour round trip. 
Live Aboard 
The catamaran provides the opportunity of spending the night on board with bedrooms, bathrooms, salon, gallery, storage for clothing, ventilation etc. 
There is the option of "simple stay" which is from 6pm to 10am (breakfast prepared by the captain, included), and meant for those who wants to enjoy a bit of life at sea. 
There is also the "All Inclusive 24 hour" option to enjoy the sea all day and through the night as well. This includes three meals, bar, scuba and snorkeling. Discuss your choices with the captain beforehand so that a perfect sail can be arranged. 
Indicative rates of live aboard 
simple stay- $145 per guest per night for single occupancy and $195 per guest per night for double occupancy. Dinner is optional and costs $35 per person for a three course meal of mostly fresh local faire. These costs do not include bar and gratuity. 
All inclusive 24 hour- $1,950 for the first two guests and an additional $245 per cabin for additional guests. 
Location and Contacts
Ana Luna's home port is the Grotto Bay Beach at the East end of the island and all sails depart from here. You can check out (link)Grotto Bay Beach Resort with its excellent restaurants and spa in one of the many natural caves on the property, which are open to the Ana Luna guests. 
Phone (Captain Nathan): 441-504-3780 
Related Articles
Visitors' Reviews and Comments