Christ Church, Warwick Bermuda
Christ Church has roots going back to the English Puritans who first colonized Bermuda in early 17th century. This is a Presbyterian church and a congregation of the Church of Scotland. The Church of Scotland was established as a result of Protestant reformation in 16th century. 
Christ Church in Bermuda was originally constructed in 1719. It went through several renovations, additions and even reconstruction, however the original walls still stand. This is the oldest Presbyterian church in both Bermuda and the western hemisphere including North andáSouth America. 
It's a beautiful church constructed in old Bermudian architecture but having all modern amenities and surrounded by lush greenery. The church has a large graveyard. 
There is a small cedar pulpit here which was likely made in 1719 when the church was first constructed. However the mahogany pulpit currently in use was built in 1837 by James Williams, a black slave who was freed few years before slavery was abolished in Bermuda in 1834. You can find his grave (#150) at the north east corner of the church's graveyard. 
Christ Church, Warwick, Bermuda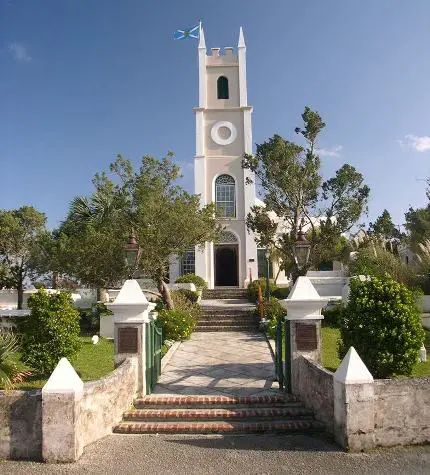 Photo: Christ Church, Bermuda 
The beautiful stained glasses were put in place in 1922. The organ at the church was installed in 1968. Originally the church had three galleries, now only the northern gallery remains. However the walls of the original meeting house where the congregation worshipped, still exist.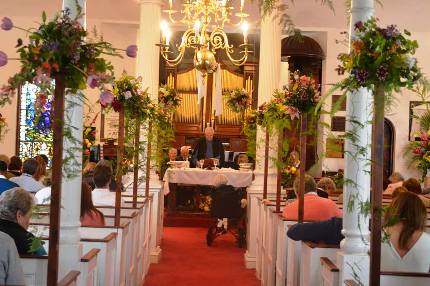 Photo: Christ Church, Bermuda 
At the graveyard and near the north gate you will see graves of those military men who were posted in Bermuda between 1847 to 1851 and died out of Yellow Fever. 
Services 
Services are usually held on every Sunday at 8am and 11am. Children are welcome. If you attend the service at 11am, the church will arrange for a transport back to your hotel or place of stay. 
Beautiful stained glasses since 1922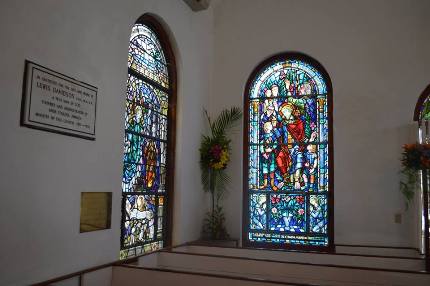 Photo: Christ Church, Bermuda 
Location andácontacts 
Christ Church 
#96 Middle Road in Warwick, Bermuda, across the Belmont Hills Golf Club. 
There is a bus stop just before and after the church. Bus #8 operating between Hamilton and Dockyard takes the Middle road and passes by Christ Church. 
Hours: Wednesday and Friday ľ 9am to 3pm 
The Church Office is located within the church premises and next to Thorburn Hall. 
Road Map (Christ Church across Belmont Hill Golf Club) 

By Raj Bhattacharya 
Raj, a seasoned travel writer and Bermuda destination expert, has extensive global travel experience. This website reflects his profound insights, garnered over nearly two decades of dedicated findings and research on the island. Raj has assisted countless Bermuda-bound visitors by providing direct, personalized responses to their queries and imparting his wealth of knowledge through this platform. This site serves as an indispensable guide for those seeking informed and reliable insights into Bermuda's treasures. 
Related Articles
1) Check out
Bermuda Churches
to know about the other great churches in Bermuda. 
2) Check out
Warwick Parish
to find many other attractions in the Parish. 
Visitors' Reviews andáComments
Share your experience.