Last Updated: June 29, 2016 
Bermuda Taxi
There is no scarcity of taxis in Bermuda. Taxis are either cars or small mini-van type vehicles. Depending on its size, the capacity could be 4 to 6 persons. Some taxis can be wheel chair accessible as well. There is no separate charge for persons with wheelchairs. As per the driving law in Bermuda, persons on front seat are required to put on seat belts. However seat belts are not mandatory for people sitting at the back. The kids are safest at the back seats. 
While taxis in Bermuda aren't cheap, they provide lots of flexibility in travelling around the island. Unless you book a shuttle transfer, taxis are the best option for traveling to and from the Airport, and also in the nighttime when other public transports like buses & ferries cease to operate or their service get reduced. 
However it may not be always easy to get taxis on Saturday evenings, Sundays and public holidays. All taxi drivers in Bermuda are self employed and therefore they work independently as & when they like to. Although not common, at times you may find that a driver not wanting to go short distances while another one not ready to drive for long.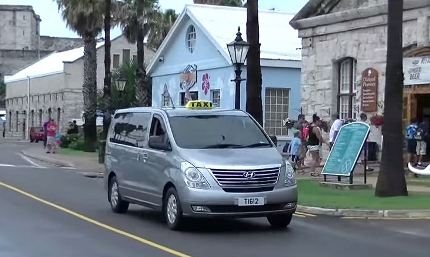 Current Bermuda Taxi Fares / Rates 
Update May 2014: Effective May 1st 2014, the taxi fares have been increased by 25%. Although a steep increase, this is the first raise since December 2007. However the first 5 minutes wait time remains free as before. But each subsequent 3 minutes wait time increases from $1.30 to $1.60. The larger taxi vehicles which were earlier allowed to carry 6 passengers, can now carry up to 7 passengers. Taxis are now allowed to display advertisements to make extra earnings. Taxi fare for sightseeing tour has also been revised to $50 per hour for smaller taxis (capacity of up to 4 passengers) and $70 per hour for larger taxis (carrying 5 to 7 passengers). 
Current Bermuda Taxi Fare, effective May 2014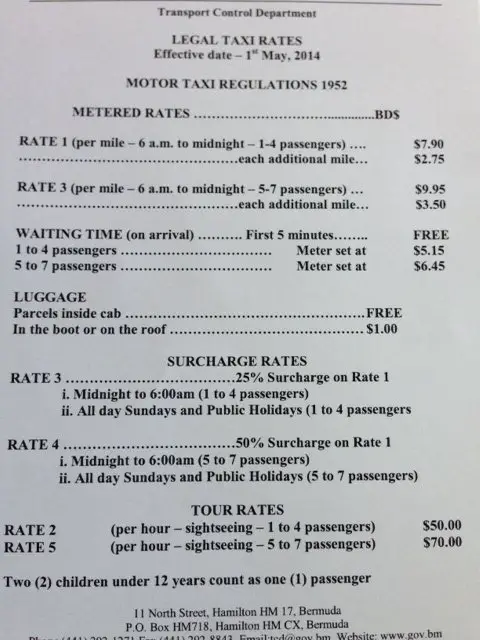 How to calculate taxi fare? 
All taxis in Bermuda are metered. Rates for 7 passenger taxi is more than that of the 4 passenger taxi. 
For a 4-passenger taxi, the meter reading starts at $5.15. This is the initial fare and the minimum one must pay. For a 7-passenger taxi, the meter starts at $6.45. The meter however changes every 1/5 of a mile. 
Fare for each mile is $2.75 for a 4-passenger taxi and $3.50 for a 7 passenger taxi. So other than the initial fare, for each mile of travel you pay additional $2.75 or $3.50 depending on the taxi type. 
So If you travel for 10 miles, you will end up paying: Initial Fare + (10 x Per Mile Fare), which is 
$5.15 + 10  x $2.75 = $32.65 in a 4-passenger taxi; and 
$6.45 + 10 x $3.50 = $41.45 in a 7-passenger taxi 
Tips: 15% Tips on the total fare is appropriate. 
The above rates are the normal or standard rates which are applicable for Monday through Saturday and between 6am to midnight. For 4-passenger taxis, an additional surcharge of 25% is added between 00:00 - 06:00 hours as well as all time on Sundays and
Public Holidays
. For 7-passenger vehicle this additional surcharge is 50% of the normal fare. Luggage in the boot costs extra ($1 per item). 
Taxi Fares Between Popular Places in Bermuda 
Following are approximate fares between important places in Bermuda for a 4-passenger taxi without tips and during normal hours. You may add 15% tips for the total pay out. 
Between Dockyard (Kings Wharf Port) located at Sandy's and... 
Horseshoe Bay Beach: $38 
Southampton: $38 
Warwick: $40 
Hamilton City: $54 
St George's Town: $78 
L.F. Wade International Airport (St. George's): $75 
Between L.F. Wade International airport located at St. David's (St George's Parish) and... 
St. George's Town: $17 
Hamilton Parish (Grotto Bay Beach Resort): $17 
Smiths Parish: $32 
Devonshire: $38 
Hamilton City: $43 
Paget: $44 
Warwick: $49 
Southampton: $55 
Sandys: $69 
Between Hamilton City (City Hall & Arts Center) and ... 
St. George's Town: $47 
L.F. Wade International Airport (St. George's): $44 
Horseshoe Bay Beach in Southampton: $29 
Dockyard (Kings Wharf Port) at Sandy's: $54 
Between St George's Town and... 
Grotto Bay Beach Resort (Hamilton Parish): $21 
Crystal Caves (Hamilton Parish): $23 
Hamilton City (City Hall & Arts Center): $46 
Taxi Stands in Bermuda 
Taxi stands in Bermuda are also known as 'Ranks'. You will find taxis waiting at various places. There are taxi stands in Hamilton City (on Front street and Church street), Kings Square (the main town center in St George), Dockyard (near Kings Wharf cruise pier), Airport etc. Many major hotels also have taxis waiting. You will also find taxis at popular tourist places like the Horseshoe Bay Beach (but not always). However all hotels and restaurants will call a taxi for you. 
Popular Taxi services in Bermuda 
Unless you take a taxi from a taxi stand like in the dockyard, Hamilton city or airport, you will need to call for a taxi from an operator. Here are the most popular and credible taxi service operators in the island: 
Bermuda Island Taxi 
They are a large operation (earlier known as Bermuda Radio Cabs) and in business for over 40 years. They have over 200 air-conditioned cabs of their own and access to over 400 cabs of different types in their network including wheelchair accessible taxis. They offer airport transfers, daily pick up & drops, sightseeing tours, dine around tours, customized service etc. Their main office is in Hamilton City. They also have operations in St George and Clearwater beach area (at St Davids). 
Address: P.O. Box HM 2252, Hamilton HM JX 
BTA (Dispatching) Ltd. 
This company is in operation since 2006 and today they have a fleet of over 420 taxis in their network. They use a GPS based advance taxi dispatching system. The company's office is located at the airport in St George's Parish. They too offer services including airport transfers, general & leisure travel, dining & island tours etc. They have wheelchair accessible taxis. 
Address: L. F. Wade International Airport, No 3 Cahow Way, St. George's 
Phone: 441-296-2121 (call center 24/7); 441-294-3772 (airport office) 
B.I.U. Taxi Co-op Transportation 
40 Union Street, Hamilton, Phone:441/292-4476 
Wheelchair Accessible Taxis in Bermuda 
Both BTA Dispatching Ltd and Bermuda Island Taxi services that I mentioned above provide wheelchair accessible taxis. The following are specialized taxi services on handicap travel. 
1) Access Bermuda: This small operation is owned by Keith Simmons. He has a custom made van which has a side entrance with a ramp for easy wheel chair or handicap scooter access. 1 Loyal Hill, Devonshire, Bermuda. 
2) Here is another wheelchair accessible taxi contact. It's run by a very knowledgeable man who is also a Blue Flag certified tour guide: Renalda Bean, 37 Dunscombe Road, Warwick, Bermuda. Phone: (441) 236-9601; (441) 334-8835 
3) You can also contact Vince Minors (Phone: 441/337-2438) or Disabled Transit (Phone: 441/505-9106) to know about services and rates for wheel chair accessible taxis. 
You will find a lot of Bermuda Taxi contacts in the phone book as well. You can also ask your hotel concierge for the one nearest to you.  
Bermuda Taxi Tours 
Since car rentals are not available in Bermuda, one of the great options for touring the island in a small private group of 4 to 7 is by taxi. And some of the taxi drivers in Bermuda are government certified tour guides. They are known as Blue Flag certified taxi drivers and their taxis would have a small blue flag fluttering in front of the bonnet. Taxi tours are charged by the hour. Check out
Bermuda Taxi Tours
for details. 
Airport Transfers 
For airport transfers, check out
Bermuda Airport Shuttles
. AND, for your return flight, keep in mind that the taxi in general is likely to be 15 minutes late in picking you up. It's kind of "Bermuda Time", as they say. 
Related Articles 
Visitors' Reviews & Comments 
Jon (July 2016) 
Hi Raj!  Will the 7-passenger taxi fit 6 people and luggage (carry-on only)?  We have 3 hours to kill from when we land to when we can check-in to our rental, so we're thinking of doing a tour while we wait. 
Raj (bermuda-attractions.com) July 2016 
Hi, on a standard 7-seat taxi you will be essentially left with one empty seat and little space at the back. So 6 carry-on bags seems difficult unless they are small. However some taxis are larger than usual (look like vans) and might be able to accommodate. Another option is to book a tour in a private van, but you need to book that in advance and ask for a pick up at the airport. 
Pat LaSalle (June 2016) 
Hi Raj, Are the cabs in Bermuda equipped to take credit cards and is it up to the driver's discretion to accept them? 
Raj (bermuda-attractions.com) June 2016 
Most cab drivers do not accept credit cards. There are only very few that have such provisions. 
Lauren (March 2016) 
I was just wondering if we would be required to have our 16 month old in a  car seat in a taxi. We will be cruising to Bermuda and am wondering what the rules are. Thanks! 
Raj (bermuda-attractions.com) March 2016 
Taxis in Bermuda do not have car seats for infants, although it is mandatory in personal cars for residents. So you can take your baby in a taxi without a car seat (by law taxis are exempted from car seats). However it is always safer to carry your own car seat. 
Robin Zukowski (February 2016) 
Raj, We've cruised many times to Bermuda, but always docked in Hamilton. Now we can only dock at Dockyard for our upcoming trip in June. We love going to the Hog Penny and seeing Will Black, but the last ferry leaves pretty early to go back to Dockyard. Is there a taxi service that we can call to get a ride back from Hamilton to Dockyard after the last ferry leaves, since we'd like to stay at the Hogpenny until 11:30ish or midnight. There will be at least 5 of us. Don't trust riding the scooters at night - used to be a pro at it, not so much anymore since my slide on oil a few years back and got my Bermuda road rash! Any info would be appreciated! 
Raj (bermuda-attractions.com) February 2016 
Hi, a Hog Penny staff can help calling a taxi for you. If they are all busy, you can yourself call one. 'Bermuda Island Taxi' operates out of Hamilton itself (phone: 441-295 4141). 
Melinda Lang (May 2015) 
After a stay at Dockyard, I would like to get to the airport via St. George ferry instead of taking a taxi all the way around. I will have luggage. Could you please tell me if taxis are readily available after getting off the ferry at 10:20ish - Wed, May 20 or do I need to make arrangements. I need to get to the airport in a timely manner from St. 
George (between 10:30 - 11:00). When we took the Dockyard-St. George ferry last year for a day trip - I noticed many transports for Tobacco Bay and Ft. St. Catherines etc. but didn't notice regular taxis - wasn't looking for them. Could you help me with any information? Much thanks! 
Raj (bermuda-attractions.com) May 2015 
You may not get taxis near the ferry dock of St. George's as soon as you get off. In fact the taxi stand is at Kings Square near Water Street which is few minutes walk from the ferry dock. There is no guarantee that taxis will be available there either. Better to make pre-arrangements or take a shuttle service. 
Bill Henning (March 2014) 
Hi Raj, your knowledge of the island has been quite helpful in planning our upcoming trip in April. I have a few additional questions: Do all taxi's use the same metering system and charge the same $ for a trip? We will be coming from the airport to Sandy's and Google maps says its a 19 mile trip one way. Calculating for 2 passengers and 4 bags plus 10% tip I get $55, which is not unreasonable to me. Does that sound right to you? Thanks! 
Raj (bermuda-attractions.com) March 2014 
Hi, Yes all taxis use same metering system. The only difference is between smaller (4 passenger) and larger (7 passenger) taxis. Larger capacity taxis have higher rates when they carry more than 4 passengers. It'll be close to the figure you calculated, will vary slightly depending on the actual distance to your hotel. 
Jennifer (October 2012) 
Very poor service. People were very rude to me on the phone. Waited for over an hour and decided that they were not going to come so we missed our plans for the night, Very disappointing. 
Alex Ander (December 2012) 
I totally agree with your comment regarding taxi services.  I, too, have waited for over an hour for a taxi to arrive - which is disheartening since I live pretty close to a frequented area. I do not think that it was a one-off situation. I find the service to be antiquated and they definitely need to 'step into the future'. 
Raj (bermuda-attractions.com) December 2012 
The above seems to be a one off case. My personal experience with my family has been quite different and good. Yes it's true that taxis do not always arrive exactly at the time committed. So you need to keep a little cushion. The people over phone and drivers have been very friendly and courteous.