Experience At
West Whale Bay Beach Bermuda
My family and I lived on Whale Bay Road, Bermuda from July 1982 to July 1984. We lived at Cuan Cottage during this time. Whale Bay Beach was the best place in the world to us for the 2 years we spent in lovely Bermuda Islands.  
Our daughter's Marylou and Michele loved these 2 years on the island. I worked at the Canadian Military Base at Daniels Head in Sandys/Somerset. My wife Bethena worked at the US Naval Stn Annex in Southampton, for US Naval PX Store. Whale Bay Beach was used by the family each and everyday during the summer months. Our youngest daughter Michele passed away from Cancer in March 2009, we are sorry we never got to return to this beautiful area before her passing.  
We will always have fond memories of the sights, sounds and people of Bermuda, they were the best. Bermuda is the friendly Island of the world. 
Peter Palmer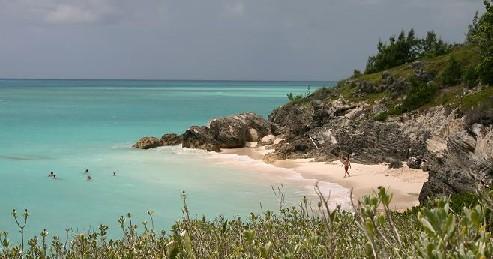 Comments from Raj: 
Peter, thanks for sending such a touching note on your experience in Bermuda. I am deeply saddened to hear that your younger daughter has passed away. May her soul rest in peace. 
Peter, I have added the picture of West Whale Bay Beach for you to cherish your fond memories. 
For the readers:  
Whale Bay Bermuda is a small beach close to Sandys parish with pink sands. Its calm and shallow waters make it an ideal place to bring children. It's one of our family favorites too. Check out this link to see my web page on
West Whale bay Beach
. 
Raj 
bermuda-attractions.com