West Whale Bay Beach Bermuda
West Whale Bay beach is located at the western end of Southampton parish. During March to April, you can see schools of humpback whales from here migrating through blue waters of the South Shore. Historically Whale Bay gets its name from its proximity to the south shore whaling grounds. The shallow water here once made it ideal for the butchering of the whales. The whaling industry didn't last long in Bermuda though. Nowadays Whale Bay is a popular site for whale spotting excursions.  
For whale watching, you can take a taxi and come to the West Whale Bay Park that has an open area on the cliffs. Taxi can access this area. You will see the beach below. With good binoculars, this open park area provides a good vantage point for
watching whales
. 
Whale Bay Beach Bermuda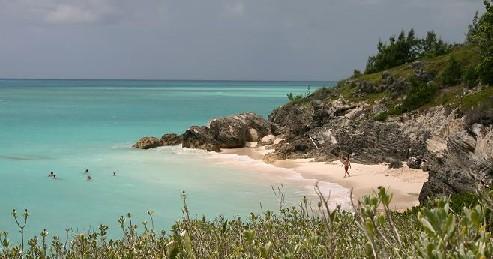 Whale Bay is a small beach with pink sands below a rocky cliff. Its calm and shallow water makes it an ideal place for children to swim. The beach tends to disappear during high tides. There are ruins of a small fort in the parkland above Whale Bay, called the
Whale Bay Fort and Battery
. 
West Whale Bay at sunset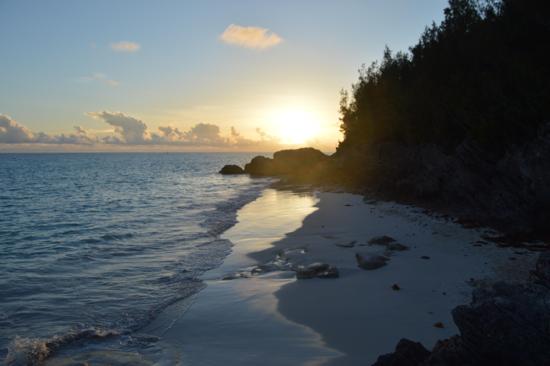 If you have reached the Whale bay when the beach is no longer accessible due to high tides, exploring the fort could be a good option. Many local fishermen come to the Whale bay beach for shore fishing. Some popular catch include grey snappers, pompano, barracuda and other fishes.  
This beach is rated as one of the best places for
Shore fishing in Bermuda
. The Whale Bay has always been a favorite spot for family picnics. Behind the beach there is a large grassy area with picnic tables and restrooms. This area faces the west and it's a perfect location to view spectacular sunsets. 
Entry to Whale Bay Park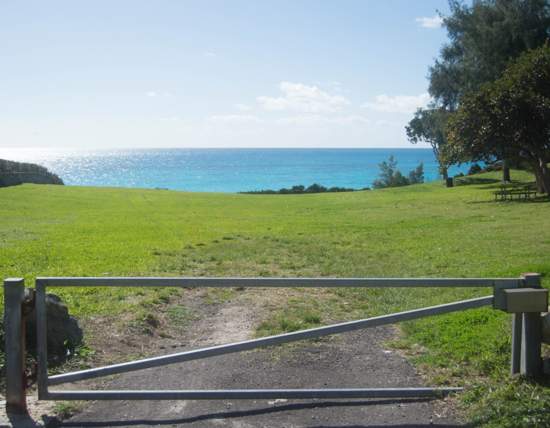 This is also a popular camping site and during summer (on the days when camps are set up here), this beach looks like a small village by itself. When the tide is low, the water is sufficiently shallow for bathers to float out, snorkel and see lovely marine life at the coral reefs. The on-site toilet facilities are convenient. The beach is open from sunrise to sunset. There is no admission fee. 
West Whale Bay Beach Imagery 
Rotate the image for 360° view  
Location
Go to the
Beach Map
to see the location of Whale Bay beach and several other great beaches. 
The beach is located at the end of Whale Bay Road, off Middle Road in Southampton parish. From the bus stop walk down to the end of Whale Bay Road (takes about 10 minutes, 700 yards). You will find the fort on top of a hill and the beach below. Bus Routes: #7 and 8 (operating between Dockyard and Hamilton) stop at the nearest bus stop on the Middle road. It takes about 25 minutes from Dockyard and 35 minutes from Hamilton to get to the bus stop for Whale Bay. 
Road Map 
Related Articles
Visitors' Reviews
Fond memories from Peter who spent some of his best time on West Whale Bay Beach with his family.