Kingston House Bermuda
A Great B&B Lodging
Category: $$  Location: Pembroke Parish, Hamilton 
Only 10 minutes walk away from the main city of Hamilton, Kingston House in Bermuda gives you another superb option for a tranquil bed and breakfast accommodation. 
The BnB is owned by Marlie and Harry Powell. It's a family property built originally by Harry's father in 1921. It was later converted into a BnB in 1999.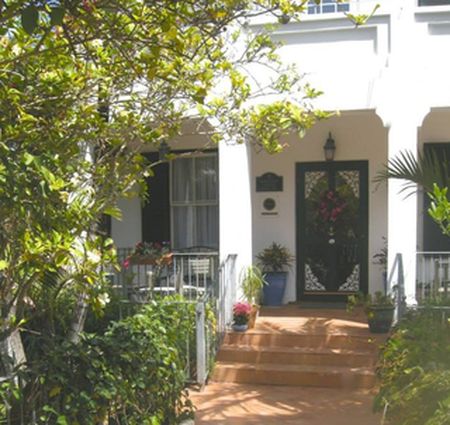 Photo: Kingston House 
Harry and Marlie have upgraded and restored the house to an excellent accommodation that now has great Brazilian hardwood or Italian tiled floors with modern amenities like wireless internet throughout. 
With friendly and helpful hosts and casual ambience, you feel perfectly at home. The house has a nice and beautiful continuous wave lap pool. An ideal place to cool off in the evening. The pool is heated in the winter season. 
Front Porch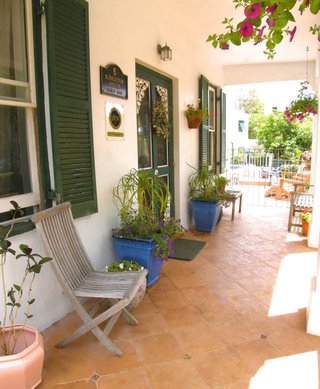 Photo: Kingston House 
There are two rooms in the ground floor adjacent to the sunny, spacious sitting room. The sitting room opens onto the pool patio through French doors. Both the bed rooms have queen beds. 
There is another large room on the first floor that has twin or king bed with a large private balcony. From here you can get a spectacular view of the evening fireworks at the harbor. 
Bird of Paradise Room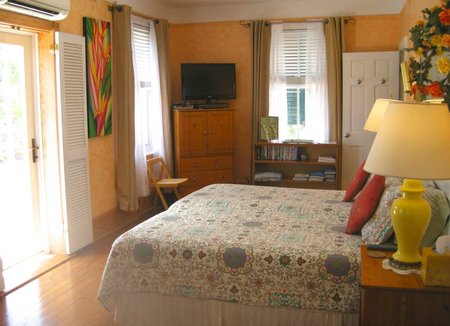 Photo: Kingston House 
All rooms have private bathrooms, flat screen TV/DVD's, air-conditioning, clock radio/alarms, electric hair dryers, beach towels, heated towel rails and toweling robes. 
The rooms are all located in the main house with its high ceilings, glossy hardwood floors, Italian tiles, antique furniture and original artworks. 
Jacaranda Room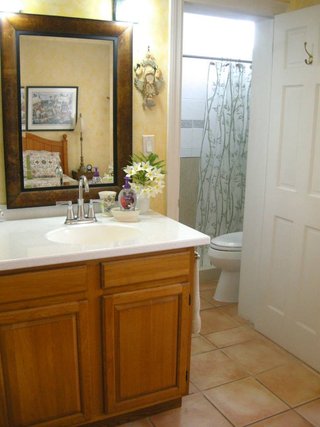 Photo: Kingston House 
Breakfast is great but there is no meat served. That's mainly because Marlie herself is a vegetarian. 
In breakfast they usually serve fresh Fair Trade coffee roasted daily, tea, scones, breads and baked goodies, jam, Bermuda honey, cereals, fruit juice, yogurt and a fresh fruit platter. The raisin scones with jam tastes fabulous. 
Breakfast Room 
Photo: Kingston House 
For general use of the guests, there is a galley which has a fridge, microwave, toaster, tea kettle and dishes. Harry and Marlie Powell have wealth of knowledge about the island. 
They can guide you starting from the best dining options on Hamilton's Front street to the great beaches and top sightseeing places in the island. 
We have found them very friendly and helpful. They are cautious not to interfere unless you ask for something. But they try their best and go out of the way to make your stay as perfect as possible. 
They get up early in the morning and get busy managing their property. If you are an early riser, then you can join them for a cup of coffee or tea at the garden or lounge, and get some useful tips of getting around the island. 
Pool with deck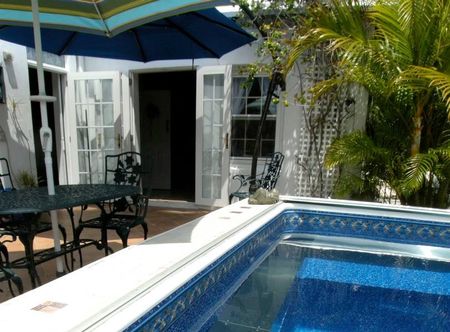 Photo: Kingston House 
My overall opinion
It's a wonderful property with lovely garden. If you are looking for a cozy comfortable stay in a clean budget lodging in a garden suburb while being located at a walking distance from Hamilton City, then Kingston House is a great choice. 
While as an accommodation it gets one of the highest ratings from us, the only negatives would be the walk to Hamilton along a narrow road with virtually no shoulders or sidewalks along the way. 
There is no beach nearby either. For a beach visit (to the south shore, nearest would be Elbow beach at Paget), you will need to take a bus from Hamilton, or rent a scooter or call for a taxi. You can also visit nearby Clarence cove on the north shore. 
Location and Contacts
5 Turnstile Lane, Hamilton Bermuda, Pembroke Parish. 
Kingston House is located in the western side of Hamilton in an elegant and peaceful garden suburb. Hamilton city is about a mile away (10 minutes walk). 
But be a bit careful when you walk, there's no sidewalk for most of the way and the road is also quite narrow. I would advice not to walk after dark and rather take a taxi. Phone: 441/295-6597 
Road Map 

By Raj Bhattacharya 
Raj, a seasoned travel writer and Bermuda destination expert, has extensive global travel experience. This website reflects his profound insights, garnered over nearly two decades of dedicated findings and research on the island. Raj has assisted countless Bermuda-bound visitors by providing direct, personalized responses to their queries and imparting his wealth of knowledge through this platform. This site serves as an indispensable guide for those seeking informed and reliable insights into Bermuda's treasures. 
Related Articles
Visitors' Reviews and Comments
Share your experience.