Garden House Bermuda
Category: $  Location: Sandys Parish 

 

Located in the western end of Bermuda in Sandys Parish, Garden house offers combination of apartment units and cottages in a quiet secluded place. The property with its 3-acres land area is owned by Rosanne Galloway, who is an fervent gardener and spends most of her time maintaining the beautiful landscaped garden. 

 

Although the property is not on a beach front, but there are a number of interesting places to explore as you go around. Overall, the property provides an informal homelike atmosphere. 

There are three apartments and two cottages in the property. Rooms are furnished with Persian rugs and antique furniture. All units have patios that lead out to the gardens. The units have safe and kitchen with refrigerators. There are DVDs in some of the rooms as well. 

 

There is a swimming pool within the property. If you want to swim in deep water, you can walk across the long garden towards Ely's harbor and take a dip. Howeever the water quite deep. 

 

There are some interesting areas that you can explore around Garden House in Bermuda. There is a residential street called Wreck Road. This is a close to the Ely's harbor and there are beautiful mansions lined along the side of the road. At the far end, you will see a small beach. You can also go to

Somerset Bridge

from a dirt path that leads to Middle Road. 

 

Garden House Bermuda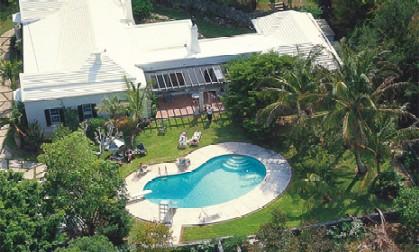 Laundry service is available in Garden house. Smoking is not allowed inside. Credit cards are nor accepted. Garden House generally remains closed between December to February. 
My overall opinion 
This is a nice quiet affordable accommodation. The location is also quite interesting to explore. However there is no beach nearby although Ely's Harbor is within easy walking distance. Rooms are quite large. Don't expect much services though. Overall it's a nice & relatively cheap stay option in the island. 
Update: The property is closed. 
Location & Contacts 
4 Middle Road, near Somerset Bridge, Sandys Parish, Bermuda. 
Phone: 441/234-1435 
Road Map 
Related Articles 
Visitors' Reviews & Comments 
Review and share your experience.