Bermuda Island Beach Parties
Bermuda has taken a step forward to shake off its laid back style and create more electric entertainment options for tourists and locals. 
Years back, there used to be a Hawkins Island Party held in Bermuda. It used to be a very interactive beach party, a high energy event with games, contests, limbo show, fire performances, conga lines and more. Something which the whole family could enjoy.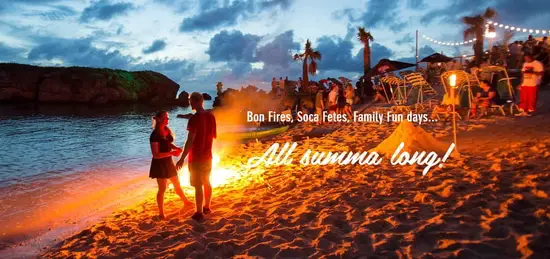 Photo: Tobacco Bay, Bermuda 
Since the time it stopped, there was a strong feeling in the tourism department and within the people of Bermuda that the island has become too laid back for the tourists. 
The visitors come here with a lot more expectations, particularly when it comes to nighttime entertainment. Below are a few venues where you can enjoy night beach parties in Bermuda. Go through the links for details of each venue. 
This is a nightclub that sets up in the open and right on the beach at
Snorkel Park
located at Royal Naval Dockyard.  You can enjoy great food, drinks, live or DJ's music and dance at the beach with your family until the wee hours. 
So cruise ship visitors docking here and others now have an option of nighttime entertainment with families. However, only 18-years and old are allowed entry.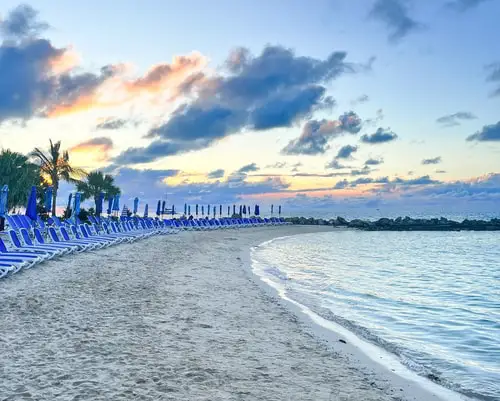 Photo: Snorkel Park 
Also, note that the nightclub opens only on a few days of the week when the cruise ships are in port. It starts from 7pm and remains open until 3am. There is an entry fee. 
The concept of 'Island Beach Party' was introduced for the first time here in 2012 when Dave Parquet was flown in from the USA to shake up the party scene in Bermuda. 
He had a strong background in high-energy tourist entertainment including casino and karaoke bars. Since then the beach party here is continuing although it was discontinued for some time but has been re-introduced in a different format. 
In the original format, the program began with the live
Steel Pan
and other bands playing music as the guests take their dinner. 
One had the choice of either taking the full package including barbecue dinner and some select drinks, or just join the entertainment which begins after dinner (at 8pm). 
So soon after dinner the party used to start with a conga line. The adults were offered a rum swizzle (those days even kids were allowed). Rum Swizzle is a concoction of amber and black rum, triple sec, orange and pineapple juices, and bitters. 
After this, there were many different kinds of entertainment including a family dance competition. Members of families took to the stage and danced to songs. 
There would be dance competitions like Funky White Boy where even men took a shot at dancing. There were other events like the Think Drink competitions, singing contests, congo lines, limbo dancing and such. 
DJs kept playing a mix of top 40, classic tunes, soca, reggae and calypso music throughout the party. And finally, you would see Gombey dance performances by an island troop and fire limbo show by Bermuda's own Island Teazas. 
But, at present, there are only live bands or mixologists playing music and you can dance to the music, as well as enjoy food and drinks. They offer alcoholic beverages like beer, spirits, cocktails, wine, as well as non-alcoholic beverages. 
This beautiful little beach is located in St. George, at the eastern end of Bermuda. From the dockyard, the Orange Route Ferry operates to St. George, and takes 35 minutes one way. 
From Hamilton, there are several bus routes (#1, 3, 10, 11) to St. George . 
Once you reach St. George, you will either need to take a minibus (5-6 minutes) or walk (for about 25 minutes) to the beach venue. 
During summer (usually starting May), sunset beach parties are held at
Tobacco Bay Beach
on Fridays, Saturdays and Sundays. It starts at 6pm and ends after sunset. There are live bands on the beach playing soca, reggae, acoustics. 
Drinks and food are served as campfire is lit on the beach. You can relax, listen to the music and watch a spectacular sunset while sipping your cocktail. 
Address: #9 Coots Pond Road, St. George's - Bermuda 

By Raj Bhattacharya 
Raj, a seasoned travel writer and Bermuda destination expert, has extensive global travel experience. This website reflects his profound insights, garnered over nearly two decades of dedicated findings and research on the island. Raj has assisted countless Bermuda-bound visitors by providing direct, personalized responses to their queries and imparting his wealth of knowledge through this platform. This site serves as an indispensable guide for those seeking informed and reliable insights into Bermuda's treasures. 
Related Articles
1) Check out
Snorkel Park
to know all about the activities at Snorkel Park Bermuda. 
3) Check out
Bermuda Nightlife
for all other great nighttime entertainment in Bermuda. 
Visitors' Reviews and Comments
Lauren Cusano (April 2017) 
Hello, I am following up on a message I sent back in February. Do you have a contact at Horseshoe beach for a private party? I want to see if I can cordon off a section in the beach this coming Monday July 3rd for approximately 50 people. I would really appreciate it. 
Raj (bermuda-attractions.com) April 2017 
You should contact the Department of Parks to figure out such possibility - (441) 236-5902, (441) 295-5151 
Diane Wigignton (June 2014) 
Raj, do you have an update on if the Island Beach Parties will continue in 2014? 16 of us will be in BDA from July 4-11 and would love to have some family-friendly evening entertainment. 
Raj (bermuda-attractions.com) June 2014 
There is no island beach parties scheduled yet at snorkel park like last year. However they hold beach style parties at their night club (Aqua) from time to time. There is no fixed schedule for this. 
Dennis Orner (February 2012) 
Back in 2005 I took a cruise to Bermuda and I think we docked at kings wharf? we went on what they called a party island excursion. A glass bottom boat picked us up where the ship was docked and took us to an island where we ate, drank mix drinks, and had a live band. We had a great time and I wanted to know if you still have anything like that available yet. If you do could you please send me any info on it. Thank You  
Raj (bermuda-attractions.com) February 2012 
Hi, I'm guessing it must had been the Hawkins Island Party. It was mostly organized by the cruise ships as part of shore excursions. Bermuda Tourism Department also offered such island parties through its website. It included things like limbo show (girls dressed up like natives and dancing), conga lines, games, drinks like rum punch etc. Unfortunately that has stopped since long. A small exclusive resort is set to come up in Hawkins Island. 
The closest to such island parties that you can get now is the beach party held at the Snorkel Park Beach in the dockyard area itself.