Sanctuary Marine Charters, Bermuda
This 53 ft Riviera boat offers several exclusive tours to savor the sea adventures of the island to its fullest. Its capacity is up to 6 people for offshore fishing and whale watching or up to 10 for inshore activities like snorkeling, cruising, dining or simply relaxing. 
The other unique selling point of this charter is its captain-crew combination of Captain Arthur and Matthew Jones who make the tour worth its while with their years of experience. Their delightful fisherman tales and interesting stories of Bermuda's past, and the way they introduce you to the amazing sea creatures along the way, makes the tour one of sheer joy. Children also get an opportunity to try their hands at fishing under the watchful eyes of Captain Matthew Jones. 
Sanctuary Marine Boat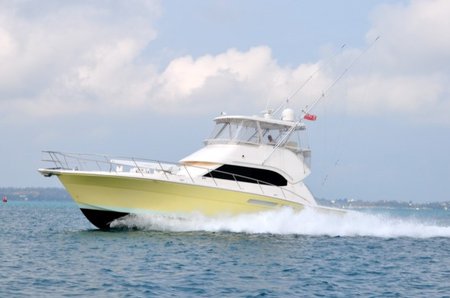 Photo: Sanctuary Marine Charter 
Apart from giving a great snorkeling experience to its guests the Sanctuary Marine also offers various other tours to suit your palate. Some of these, like the Fine Dining tour are in fact quite unique and exclusive. Learn more about these cruises in the sections below. 
Popular Tours/ Cruises Offered
Deep Sea Fishing 
The captain and crew of this boat, with their expertise in fishing and numerous victories in top tournaments behind them, makes this tour probably one of the best in fishing on the island. The vessel is well equipped with fish finders, GPS, Alutecnos reels (made in Italy), the best quality bait and fishing equipment, satellite radio, air conditioning and well stocked refrigerators and freezers. The boat itself is built by Riviera Yachts of Australia, which is the largest builder of luxury sport fishing boats. You can also round off the fishing trip with some snorkeling and swimming. 
Diving 
The boat is adept at taking you to diving areas that many other boats are ill-equipped to access and explore the reefs and wrecks. Add to that the luxury of the boat allowing you to enjoy a warm fresh water shower and sumptuous meal afterward. 
Fine Dining 
Their expert executive chef Samantha Crew prepares an excellent fare onboard. This makes the tour quite unique as you get to indulge in some of the best foods on the island while imbibing the sights and sounds in the midst of the vast Atlantic. 
Luxury Cruising 
Cruising along the waters on the ocean on this vessel is indeed an experience to cherish. The comforts provided on the boat makes it stand out- air conditioning, satellite radio, television, free beer, water and sodas and wine, champagne and liquor to buy along with meals to order. 
Indicative Rates
The charter fishing tour offers various time frames to suit your needs- 4 hours at $1,125, 6 hours at $1,600, 8 hours at $1,900 and 8 hours Marlin fishing at $2,150.  
For diving, a tour of 4 hours (2 tank dive for 4 people): $1,665 (instructor and equipment- $540 + cruising cost- $1,125) and 8 hours (2 tank dive for 4 people): $2,945 (instructor and equipment- $720 + cruising cost- $2,225) 
The lunch and dinner cruises have 2 hours cruising at $675 + catering cost per guest- $65, for a maximum of 6 people. This is exclusive of drinks and gratuity.  
Luxury cruising offers day and evening cruising- Day Cruising (minimum 2 hours): $300 for the first hour and additional $275 for every hour after that and Evening Cruising (minimum 2 hours): $400 for the first hour and additional $275 for every hour after that.  
They require a $400 deposit if you book the tour more than a week in advance. In case of cancellations, a 48 hour notice is to be given for refund of the deposit amount 
The tours from this boat provides you with a mesmerizing view of the island from its waters. The Captains have sterling credentials where the aquatic/marine life of the island is concerned. This knowledge manifests itself in their tours and the way they guide you through a lifetime's worth of snorkeling, fishing and cruising experiences. 
Contacts
Address: Address: 42 Mill Shares Road, Bermuda 
Related Articles
Visitors' Reviews and Comments