Review of Veendam
A Holland America Cruise to Bermuda
Here are some basic facts about the Veendam cruise of Holland America lines. The ship was launched in 1996 and has gone though a major upgrade in 2009. It has a capacity of 1350 passengers. There are 10 passenger decks in Veendam and 560 crew members on board. During its voyage to Bermuda from the US, The cruise ship usually docks at St. George and/or Hamilton ports in Bermuda. 
Cabins / Staterooms
There are 138 inside cabins of 182 sq. ft. each, and 306 outside cabins of 197 sq. ft. All cabins have TV, safe, hair dryer, and attached bath with showers. There is no mini bar though. There are 537 cabins with windows, and many have balconies. Of those 164 are verandah suites of 238 sq ft each with a 54-sq ft balcony. Balconies are furnished with loungers, chairs and small tables. There are lanai cabins that are of same size as the outside standard cabins. They have an easy access to the Promenade Deck and you can walk straight into the outdoors. 
Veendam has two deluxe suite categories. There are 28 Deluxe Verandah Suites of 376 sq ft each with 180-sq ft balconies. They all have a king-size bed, sitting area, a sofa bed, a bathroom with a separate dressing room, a bar area with fridge and floor-to-ceiling windows. 
There is also a 979-sq ft lavish Penthouse Verandah Suite with a  180-sq ft balcony. The guests in above suites have exclusive access to the Neptune Lounge on Deck 10 and its concierge services. There are other exclusive offerings as well for those suit guests like complimentary laundry service, binoculars, exclusive cocktail parties and lunches etc. 
Veendam - Holland America Cruise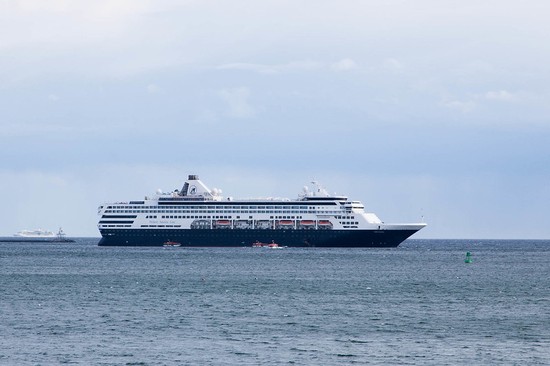 Restaurants and Dining Options
There are several types of dining choices available on board the cruise. 
Rotterdam Dining Room: This is the two level main dining room and has a striking red and gold color decor. It spans across Level 7 and 8. You have options to choose from pre-set seating or your own time between 5:15pm to 9pm. However, you should make reservation for your own preferred dining time. 
Lido Restaurant: It serves breakfast, lunch, snacks and dinner in buffet style. The dinner is quite similar to what is served in the main dining room. Late-night snacks are generally themed like all American, Indonesian, Dutch, Italian, etc. There is a lot of hype about the desserts served in this restaurant. 
Canaletto: A part of the Lido becomes an Italian restaurant at night. Reservations are preferred. 
Terrace Grill:  Serves burgers, grilled chicken, hot dogs etc. 
Slice: A pizzeria offering nice Pizzas. 
Pinnacle Grill: You get great steaks and seafood here. There is a cover fee. Open for both lunch and dinner. 
There is 24 hours complimentary room service available on the cruise. 
Onboard Entertainment
Showroom at Sea: A two tier theatre featuring intimate shows, onstage orchestra, dance and a cast of singers many of whom have earlier performed on Broadway. Magic and comedy shows are also held here. 
Ocean Bar: Music and dance while you have drinks. 
Crow's Nest: Offers late night events like the Marriage Game, Karaoke, D.J. music etc. 
Casino: The casino on deck-8 has 97 slot machines, stud poker, 3 Card poker, a roulette table and five blackjack tables. 
Mix: A combination of three bars opposite the Casino. The three bars are:  Spirits & Ales bar has a large-screen TV, interactive game tables and live guitar music; the Martini Bar has a pianist; and the Champagne Bar is more like a kiosk and there are no bar stools here.  
Explorer's Lounge: For relaxing while having great views through the large glass windows. Drink service is available here in the evenings. 
Pools & Spas: The Greenhouse Spa & Salon is a full-service spa and beauty salon. It features dry saunas, a relaxation room with a juice bar and a salon/barber shop. The main pool area is the Retreat on Deck 11. It has a  large area with lounge chairs in shallow water, 2 hot tubs, the Slice pizzeria, a giant screen and a pool bar. 
Sports: There is a fully equipped gym. There is a jogging track on deck 12. There are also basket ball and Tennis courts on deck 12. Promenade deck is a favorite for the walkers (4 times equals about a mile). 
For Kids and Teens: Children and teens have their own places to hang out. There are lounges for children on Deck 12. Four separate rooms include Club HAL for younger kids, a separate play area for teens, a video arcade and the Loft with couches and comfy chairs for teenagers. There is a private sun deck Oasis for teens on deck-13. It has hammocks, splash pools with waterfalls. 
Other facilities: There is an Art Gallery,  a Culinary Arts Center offering cooking lessons, a Digital Workshop offering lessons in digital photography, Merabella - for luxury jewelry and a Shopping Arcade. There are shore excursions offered by the cruise. 
Cost that are outside the cruise deal
Watch out for these extra charges which are not covered in your basic cruise deal package: 
$11 per person per night is added as gratuity. 
A 15% gratuity is added to the bar bills. 
There is $20 per person cover charge at the Pinnacle Grill during dinner. For lunch, the cover charge is $10. 
Spa thermal treatment pass is $20 per day per person or $89 for the whole cruise. Spin and Pilates cost $11 per class. Yoga and aqua aerobics classes are free. 
Laundry service is available for a charge (other than for the deluxe suites). There is no self-service launderette. 
Our overall review and Opinion
Veendam is a classy mid-sized ship with a modern ambience. The ship never looks or feels very crowded.  
You can always carve out a private space for yourself in one of the lounges or restaurants or even on the promenade deck. After the ship's modernization, the nightlife has been vastly improved. There is much bigger space now in the Mix bar. 
The art collection in the Art center is also terrific. If there is one area of improvement, it is the service, which always seems to be slow, both in the restaurants or in the rooms. 
2010 Updates
Veendam will not dock right at the St George's Port in Bermuda. It will be anchored offshore. Check out
Veendam 2010 Anchorage
for details. 
Raj Bhattacharya
Raj is an avid traveler, a travel journalist and a blogger. As an author of this website, he shares deep insights on Bermuda and related areas of interest. Since years, he has been helping countless viewers by posting quality articles, answering questions and sharing experiences on this website. Launched in 2008, this website is Bermuda's one of the leading sources of information since many years. 
Related Articles
1) Check out
Bermuda Cruises
to know all about cruises calling ports in Bermuda.