Bermuda Kite Festival on Good Friday
Good Friday to most Bermudians is about flying kites on the beaches, enjoying festive atmosphere and having traditional
Codfish Breakfast and Cakes
. Bermudians make different kinds of kites of various sizes and shapes. Most of them are hexagonal (with 6 sides) or octagonal (8 sides) in shape. 
They are made of colorful paper tissues, wood or stripped bamboo sticks, strings and metals. The kites usually have a long tail that helps to balance it during flight. Some of the kites are so huge that it takes several people to hold and release them in the air. 
So why do the Bermudians fly kites on Good Friday and not on other days? The legend says that a local teacher was trying to explain to his students during his Sunday school how Jesus elevated himself to Heaven by self power, i.e. about Christ's Ascension. Since he could not convince the students, he launched a kite that looked like Jesus Christ to explain the matter.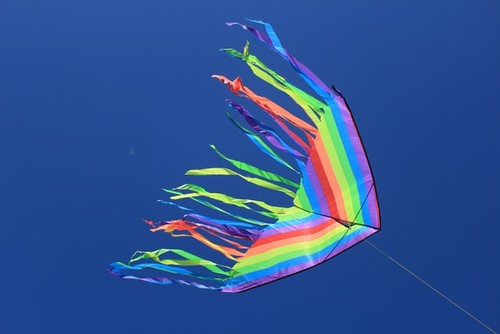 Photo: Lucie Hosova, Unsplash 
Most kites still use a cross as part of its structure. Initially the kite flying was done only after 3pm in the afternoon. However these days you will see the kites flying all day long. Entry to the Kite Festival is free. 
Chewstick Foundation organizes the Kite Festival at Horseshoe Bay Beach every year on Good Friday. They are a social group that actively works towards getting people together for social and cultural enrichment. 
Kite competition takes place in various categories including Best Traditional Bermuda Kite, Biggest Kite, Longest Tail, Smallest Kite, Best Designed Kite, Best Boxy (Fennel Sticks), Most Innovative Design, Highest Kite, Ugliest Kite, Best Visitors Kite etc. Some highlights of the fun family activities include Easter egg hunt, egg and spoon race, 3-legged race, wheel barrow race, marbles etc. A fishcake competition also takes place. 
2019 Schedule
Friday, April 19 
Update March 30, 2018 Good Friday: Hundreds gathered at Horseshoe Bay Beach on Good Friday to celebrate the day and kite festival. However lack of adequate wind was the dampener as very few kites could took to the sky compared to the other years. But the resident lady Karla Aitken and her friend Kirsten Bruun, like as they did over the years on this day, had put up their sand bar and offered free fish cakes and drinks to passers by. Over all a great day. 
Update April 14, 2017 Good Friday: It was a perfect day and weather for kite flying at the beaches. Islanders and tourists turned up at Horseshoe By Beach in large numbers. Many colorful kites of different shapes flew in the sky. Family fun days were organized both at eastern end and western end of the island. Familie also flocked to number of beaches and parks on the day and flew kites. 
Update March 25, 2016 Good Friday: Kite Festival was celebrated on March 25th at Horseshoe bay beach like every year. Large crowd gathered, both islanders and visitors. Many participated in kite flying while others watched all kinds of kites in the sky and enjoyed the occasion. It was also the first day of operation for the new beach concession. 
Update April 3, 2015 Good Friday: Kite Festival at Horseshoe 
Like every year, this year too Horseshoe bay beach was full with people from all over the island... lots of islanders with families and tourists, all participating in fun filled activities and kite flying. Logic Communications and Bermuda Tourism Authority were the main sponsors of the event which was organized by Chewstick Foundation. Entry was free for all and the festival hours was 11am to 6pm. Kite flying competition took place in many categories. And of course there were many fun family activities as well as fish cake competition. 
Update April, 2014: Good Friday and Kite Festival 
Hundreds of people gathered at Horseshoe Bay Beach to enjoy the Kite Festival on a sunny day. There were prizes for several categories of kite flying including biggest and smallest kite, best looking and ugliest kite, most innovative and traditional kite etc etc. The Kite Fest this year also included traditional folk music and dance, African dance, gospel, reggae and more. It also included Best Fish Cake competition. 
Update March 29, 2013: Good Friday and Kite Festival 
Chewstick Foundation organized the Kite Festival this year. There has been great turn out in Horseshoe Bay Beach. Eating fish cakes, live music and kite competition have been the main activities. There has also been other activities like 3-legged race etc. The entire event lasted from 10am until 6pm. 
Update March 2012: Chewstick Foundation of Bermuda will be organizing the kite festival from now onwards. They have taken over the responsibility from UBP (United Bermuda Party). Since 2002, the foundation has been actively engaged in creative social programs and events. For further information, Email
[email protected]
or call them at 441/292-2439. 
Update April 22, 2011: Goof Friday Annual Kite Festival in Bermuda 
Both locals and visitors can participate in the Kite Competition held at the Horseshoe Bay Beach. The event commences at 11am and closes at 4pm.  
Music and live entertainment at the beach starts at 11:30pm. The kite contest starts at 2pm and soon thereafter a tug-o-war competition also begins at the beach, which too can be participated by locals and visitors. 
Update April, 2010: Account of the Kite Festival in Bermuda 
Over 1000 people including families and children gathered at the Horseshoe bay beach in Bermuda for the Kite Festival. This is one of the biggest annual Easter events held in Southampton Bermuda. Initially some rain in the morning threatened as a damper to the event.  
But by mid day the sun was beating down and the sky was full with colorful kites of all shapes and size. Other than the traditional Bermuda kites that are made of tissue paper and wood, there were many shop-bought ones with shapes of dragons, space shuttles, sharks and lot more. 
All through the day, different categories of kite flying competitions are held in the beach. The Best in Show prize this year was won by Dion Smith who took five hours to make a fabulous kite with red and silver foils. Then there were prizes for largest kite, for kite with best technology and so on. 
Along with Bermudians, many visitors also participate in the Kite competition and there are visitors' prize category as well. A tourist who has visited the island for 40 times had also participated in the Kite competition with her home made kite. The youth wing of United Bermuda Party had put on a special show including live music, a tug-of-war contest and a Bermudian kite competition.  
Further Information
Organizer: Bermuda Chewstick Foundation 

By Raj Bhattacharya 
Raj, a seasoned travel writer and Bermuda destination expert, has extensive global travel experience. This website reflects his profound insights, garnered over nearly two decades of dedicated findings and research on the island. Raj has assisted countless Bermuda-bound visitors by providing direct, personalized responses to their queries and imparting his wealth of knowledge through this platform. This site serves as an indispensable guide for those seeking informed and reliable insights into Bermuda's treasures. 
Related Articles
1) Check out
Bermuda Events
for all the main events and festivals in Bermuda