Bermuda Codfish Breakfast
Codfish Breakfast remains as a popular and hearty meal for the Bermudians particularly on Sunday mornings. It became a staple in breakfast way back in the 18th century when the traders of the early settlement in Bermuda used to trade salt (made by evaporating sea water) with the cod fishermen and returned home with cod fish. 
Those days mostly the slaves in Bermuda used to eat the cods as a cheap form of food available. Over the years, the preparation has evolved and become an island-wide tradition now. 
Codfish breakfast is a common Sunday morning meal for many Bermudian families, and served by several hotels as well as eateries. It's a dish prepared with boiled and salted codfish which is served with onion or other kinds of sauce, boiled potatoes, bananas, boiled eggs and sometimes slices of avocados.  
Most often boneless dried and salted codfish is used, although some puritans would go for cods with bones and skins to get the original flavor of the fish. You can get the boneless salted cod from any farm market in Bermuda or even at grocery stores where these are usually imported from Nova Scotia in a packaged form. 
Bermuda Codfish Breakfast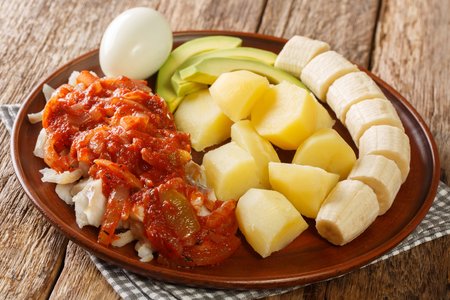 These days as a variation, many islanders prefer to have the codfish with toast. Sometimes they mash and mix the codfish and other items, and use it as the spread on the toast. 
Recipe for Bermuda Codfish Breakfast
You will need to soak the salted cod (preferably boneless) in a pot overnight and change the water at least twice. Next morning before cooking, change the water again and start boiling the cod for 25 minutes or so. For 1 pound of cod, put 4 whole potatoes and 4 eggs, and you can boil all these together or separately, as you want. 
On a separate pan, fry some shredded onion in 1 table spoon of olive oil. You can also fry bacon along with it (tastes great if you like meat). Then put some stewed tomato, add salt, pepper and ketchup to suit your taste and simmer the sauce. 
While serving, arrange a banana cut into pieces and a peeled boiled egg on a plate, then take a scoop of boiled flaked codfish (drain out the water), add some potatoes, and then put the sauce on the fish and potatoes. It makes a delicious meal. Some also add fruits like avocados.  
For many, the codfish breakfast is not complete without toasts or hot corn breads. If you don't like the tomato sauce, you can use plain onion sauce, egg sauce or even mayonnaise. And the strange part is, many Bermudians do not have the breakfast the way it is served. They would smash everything on the plate with a fork and make a full mix, and then have that with toasts. 
Where to get Codfish Breakfast in Bermuda?
Here are some of the best restaurants to try out the Bermuda Codfish Breakfast: 
($$) 
This family friendly restaurant with nice and quiet ambience has won 'Best of Bermuda' award for its traditional codfish breakfast. It's located in Paget and close to Elbow Beach. The codfish breakfast is served Friday through Sunday. 
($$) 
Serves the codfish breakfast on Sundays between 7:30am - 11:30am. In 2009 it had won an award for this breakfast. Cost is about $15 per person. It's located in Hamilton City. 75 Pitts Bay Road, Pembroke Bermuda (Western Hamilton). Phone: 441/295-5759, Email:
[email protected]
. 
($$) 
This one is located just inside the main gate of Royal Naval Dockyard at the western end of the island. They are well known for serving buffet style Sunday brunch which includes delicious Codfish breakfast which is fast getting popular within local community. 
($) 
This home-style eatery is located at the Collector's Hill in Smith's Parish. You will get the codfish breakfast here on Saturdays between 6.00am to 11:30am. Price is about $15 per person. Phone:(441)236-3133, Email:
[email protected]
($$) 
This Italian restaurant located at the Clocktower Mall in Dockyard has extended its menu to include this traditional and popular breakfast. They serve codfish breakfast on Sundays accompanied with boiled potato, bananas, Johnny breads, onions, avocado and condiments. 
Fairmont Southampton
also serves a lavish Codfish breakfast at
Windows on the Sound
on Sunday mornings. It offers variety of sauces. Being a luxury hotel, the prices are far higher. X Temporarily Closed 
101 South Road, Southampton Parish.  
Call toll free 800/257-7544 from U.S and Canada, or Bermuda no. 441/238-8000. 
Related Articles
Visitors' Reviews and Comments
Review and share your experience.