Anchor Restaurant, Bar and Lounge
Formerly Freeport Seafood Restaurant
$$, Seafood, Contemporary 
This is a relatively new restaurant but has already started carving out a name for itself. If you are a repeat visitor at the Royal Naval Dockyard in west end, then you would know that this was the location of erstwhile Freeport Seafood Restaurant which has been taken over in May 2016 jointly by two couples and is now The Anchor Restaurant, Bar and Lounge. 
The restaurant is located few yards inside the gates of Royal Naval Dockyard in Sandy's parish. You won't miss the pastel pink cottage style building with white triangular limestone roof.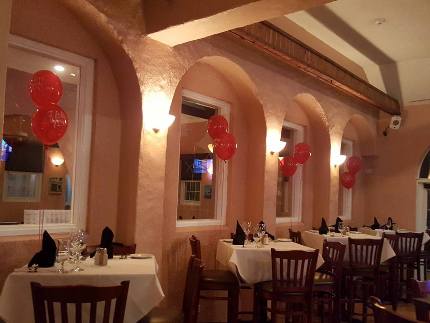 Photo: Anchor Restaurant 
The new owners have over 50 years of aggregated experience in hospitality industry and offers contemporary cuisine along with Bermudian specialty. The restaurant serves breakfast, lunch, dinner and also offers takeaway. There is a bar and live entertainment (Friday to Monday) as well. 
In breakfast, the restaurant prides itself making the best poached eggs in the island. So if that's what you are looking for, then go for Classic Benedict with a twist which comes with two poached eggs on toast. They also have a range of sandwiches (egg, chicken, sausage, tuna etc) and even garlic humus. Other options include salad, pancakes, eggs of your choice, waffles, French toast, beverages etc. 
If you are there on a Sunday, try out their Sunday brunch which is served in buffet style. They are well known with the local community for the local breakfast on Sundays including Codfish breakfast. They prepare the dishes starting at 6am so that it's ready by the time you are ready for your brunch. The spread includes soup station, selection of salads, cold cuts, 6 hot entrees, breakfast station, carving station by chef specialized in local cuisine and a dessert station. 
In lunch the menu includes soups (including Bermuda fish chowder), several types of salads and more. In starters they have chicken wings, vegetable egg rolls etc. If you are a burger lover the good news is they prepare great burgers and fish sandwiches served with French fries. 
In burgers you can try out the Anchor burger (beef) or the chicken grilled burger. A good option for heavy eater is the club sandwiches prepared in classic style (chicken, turkey, roasted beef etc). 
Another great option in lunch is to go for the flavorful fish special (usually Yahoo) or Bermuda style fish and chips. In desserts you get options like chocolate cake, apple pie, coconut custard pie etc. 
The owners have positioned the ala carte dinner as semi fine dining. Appetizers in the menu includes soups (like Bermuda fish chowder), shrimp cocktail, cajun seared scallops etc. You get a few choices of salads as well. In entries the choices are more ... chicken breast, local fish fillet, strip loin, jumbo shrimp, pork loin roasted, sea fool grill (scallop, shrimp and local fish), rack of lamb, pork loin etc. 
There is also curry of the day (with rice pilaf, poppadum and mango chutney) prepared by the chef. The dessert menu includes pudding, cakes, tarts, bulees etc. 
There is a bar here as well. You can even get after dinner drinks like port and sherry, liqueurs etc. 
Indicative Prices
Classic Benedict: $15.50; Sandwiches: $7.50 - $10.50, Coffee: $3, Tea: $2.50 
Sunday Brunch: $39.95 
Soups: $7.50-$8.50, Salads: $13.75, Starters: $13.50, Burgers: $13.95 - $17.95, 
Entrees (lunch): $22 - $27.50, Entrees (dinner): $28.50 - $38.95, Desserts: $6 - $9.50. 
17% Gratuity is added to your bill. 
Open Hours
Anchor Restaurant, Bar and Lounge is open daily between 7:30am-10pm. 
Bar hours: 11:00am - 12:00am 
Location and Contact
Royal Naval Dockyard, Sandy's Parish, Bermuda 
The building is right inside the gates of the dockyard and to the west of the clock tower mall. 
Bus routes: #7, 8 (both buses operate between Hamilton and dockyard). 
Road Map 

By Raj Bhattacharya 
Raj, a seasoned travel writer and Bermuda destination expert, has extensive global travel experience. This website reflects his profound insights, garnered over nearly two decades of dedicated findings and research on the island. Raj has assisted countless Bermuda-bound visitors by providing direct, personalized responses to their queries and imparting his wealth of knowledge through this platform. This site serves as an indispensable guide for those seeking informed and reliable insights into Bermuda's treasures. 
Related Articles
3) Check out
Restaurants in Sandys
know about all the great restaurants and bars in and around Sandys parish. 
Visitors' Reviews and Comments
Review and share your experience.