Bermuda Fish Sandwiches & Best Places To Go
Fish sandwich in Bermuda could be prepared with local or imported fish and the bread may or may not be toasted. The local preparation of fish sandwich typically uses raisin bread or alternatively white or whole wheat bread. Usually fried fish fillets, bread, lettuce, tomato and tartar sauce would be used. Some restaurants however do use grilled onions, cheese, butter as well and serve with colesaw. 
Below are the restaurants and eateries that I found to be serving the best fish sandwich in Bermuda. 
Art Melís Spicy Dicy
(9 St. Monica's Road, Pembroke. Phone: 441/295-3965) 
Located on a back street of Pembroke, this place is known for serving some of the best fish meals in the island. The sandwiches are some of the biggest I have seen. 
Bermuda Fish Sandwich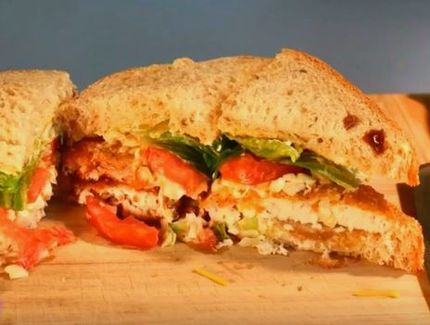 It's difficult to finish one full portion by one person. However the price is also slightly on the higher side. The sandwich was $11.50. Check out with them if the fish is local, otherwise half the fun is lost. Sometimes they prepare with imported or stocked fish, but they are tasty nevertheless. Art Mel's is somewhat accepted in the island as the best in making fish sandwiches for the past many years, and they know that. 
Woody's Sports Bar
(1 Boaz Island, Somerset, Sandy's. Phone: 441-234-2082, 234-6526) 
This casual friendly restaurant has nice picnic style benches that give you excellent view of the water. This eatery is a local's favorite and located quite close to the Royal Naval dockyard (cruise port). The sandwiches are great. They give you choices of local fish like wahoo or groupers. 
Fish Sandwich with raisn bread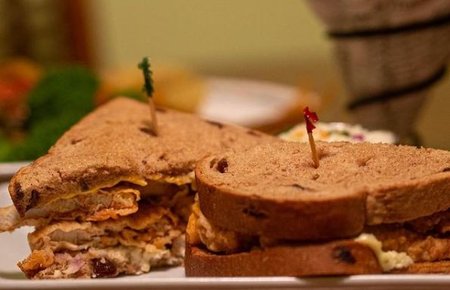 Photo: Woody's Bermuda 
You can also choose the bread type and ask them to serve you toasted (grilled), and top it with choice of sauces like tartar sauce or hot sauce. It's simply delicious and the overall experience fantastic. The price here is also very reasonable. I paid $10 for a plate of sandwich and one portion is enough for an adult. 
Cafe Ole (at Crystal Caves)
8B Crystal Caves Road, Hamilton Parish, Bermuda 
This is a small cafe located in the premises of
Crystal and Fantasy Caves
(outside the entry to the caves). They make excellent fish sandwiches and you get a choice of Rockfish or the local Wahoo which are brought in fresh everyday. The portions are large with generous amount of fish used and the price is very reasonable. 
The fish is perfectly battered. The toppings are just enough to not get the bread soggy with a nice balance of savory, sweet, tangy, salty, spicy from the nutmeg/cinnamon in the bread as well as the hot sauce (if you prefer to use it). Coleslaw and tartar sauce are also used in the sandwich. You can ask for the type of bread and indicate if you like it toasted. Raisin bread makes the classic fish sandwich in Bermuda... try it out. 
You need to order at the counter and wait. The packet they hand over will have 'Rock' or 'Wahoo' written on it indicating the type of fish used to make the sandwich. There are enough seating arrangements around. If you are visiting Crystal Caves, then do not miss out on this opportunity to have fish sandwich at Cafe Ole. They got the award for making the best fish sandwich in the island for the year 2021.  
Cafe Ole is open daily from 9am to 5pm. 
Phone: +1 441-293-7865 
Mama Angies Coffee Shop
48 York Street, Town of St. George,  
Phone: 441-297-0959  
Open: Monday - Friday, 8:00am - 2:45pm; Saturday, 8:00 am ó 12:00 noon  
This is an unassuming eatery in St. George but a big favorite of the locals because of the many daily specials they make. The fish sandwich is a regular feature and comes in both bread and bun. Mix a little pepper vinaigrette and it tastes heavenly. Must try this while in St. George's town. 
Rosa's
121 Front Street, City of Hamilton,  
They were the winner of the Bermuda Tourism Authority's fish sandwich competition in the island for the year 2015. They pile the sandwiches high with fresh fish. However, the price is relatively higher. 
Phone: 441-295-1912  
Open: Tuesday - Sunday, for lunch and dinner. 
Visit
Rosa's
for full information about the restaurant and their offerings. 
Seaside Grill
81 North Shore Road, Devonshire. 
Phone: 441-292-1241  
Open: Monday, 11:30am - 8pm; Tuesday - Thursday, 11:30am - 9pm; Friday - Saturday, 11:30am - 10pm  
Tribe Road Kitchen
87 Reid Street, City of Hamilton, Phone: 441-734-1637  
Open: Tuesday - Friday, 8:00am - 3:00pm  
Wednesday - Saturday, 5:00pm - 10:00pm  
Saturday and Sunday, 9:30am - 3:00pm  
Gojo's Coffee Shop
X Closed 

This is a small laid back budget eatery located at Kings Square in St. George's. They make different types of sandwiches including great fish sandwiches (usually with wahoo) and they are quite popular with locals in this part of the island. If you are in touring St. George, this is a good place to stop by and have a fish sandwich for lunch and accompany it with a nice coffee. 

 

 
Fish Hut Bermuda
X Closed 

(Court Street, North Hamilton. Phone: 441/292-3267) 

Located a little off the tourist track in north Hamilton on Court Street and Angle Street junction, this is a fish lovers paradise. While great wahoo sandwiches and authentic fishcakes are local favorites, I knew that it also serves one of the finest lobsters in the island. So ended up packing that as well. While there is a small sitting area, most of the locals get their food packed. 

 

Bermuda's spiny lobsters have great sweetish taste. The lobster season in Bermuda is from September to March and locals literally queue up here to place their orders. The lobster meal comes with half broiled lobster with toppings of shrimps and cheese. Steamed vegetables and potato are also served as side dishes. The price was reasonable, $35 for lobster. Update March 2013: Sadly the much loved Fish Hut closes down. I understand that Molly Brown, the owner of Fish Hut may be looking for a new place. 

 
Black Horse Tavern
X Closed 

(101 St. David's Road, St. David's Island. Phone: 441/297-1991) 

Located at the eastern end of the island in St. Davids, this restaurant is also very well known to the islanders for preparing great fish cakes and sandwiches. But the fish is often not Bermuda's local fish. Also unless you tell them specifically, they won't toast the bread while making the sandwiches. Check out the above link for a detailed review of the restaurant. 

 

 
Fish Sandwich Competition
Bermuda Tourism Authority held an island-wide competition in August 2015 to find out which restaurant makes the best fish sandwich. It was held over two weeks in August with 39 restaurants joining the competition. Strangely Art Mel's which is most reputed for fish sandwich, did not join the competition. Understandably they did not want to take any chance with their reputation. 
Votes were taken from islanders during the initial rounds to shortlist the top five, and judges finally announced the winner during a Harbor Nights Festival. The winner was Rosa's located on Front Street, Hamilton. In the final round, the judges used criteria such as taste, local flair, presentation and value. The other four in the top five are Mama Angie's (48 York Street, St. George's), Seaside Grill (81 North Shore Road, Devonshire.), Tribe Road Kitchen (located at the corner of King and Reid street, Hamilton) and Woody's (1 Boaz Island, Somerset). Quite ironically, Rosa's actually specializes in Mexican cuisine and did not have fish sandwich in their formal menu thus far. Having reinvented themselves and being the official winner of the competition, they will likely include it now. 
Related Articles
Visitors' Reviews and†Comments
Share your experience.