Black Horse Tavern Bermuda
$$, Continental and Bermudian 
Update December 2014: Black Horse Tavern has closed down.
---
Located in a remote corner of St. David's island, Black Horse Tavern is one of the best kept local secrets in the island and one of our favorites for Bermudian and International cuisine. Many of the locals in Bermuda maintain that this is the most authentic restaurant for original local cuisine in Bermuda. 
This intimate, homely restaurant is a favorite with locals who come here to escape the crowd of Hamilton. So if you have chosen to dine here, you are most likely to be dining with many locals. The Black Horse Tavern restaurant has a dusty rose exterior with green shutters and a glass covered balcony in the rear that looks over Smith's Sound. We love to enjoy the view of Smith's Sound as we dine in the glassed-in porch. Sometimes we sit outside in the garden to be closer to the water. Over the years, Black Horse Tavern has attracted many celebrities. Some diners even arrive in the yachts. 
Seafood is a specialty at Black Horse Tavern. Conch stew, stuffed lobster, Bermuda fish chowder, shark hash and curried mussels are all excellent. If you haven't tasted the Bermuda fish chowder yet, then this is a great place to try that out. It's rich and doesn't have the typical tomato or onion flavors that you find in most other places. 
Black Horse Tavern, Bermuda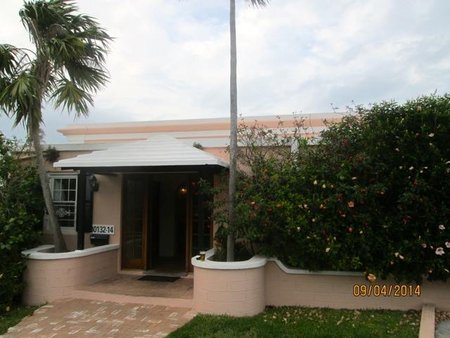 Photo: Black Horse Tavern 
Other renderings of amberjack, rockfish, shark, tuna, Wahoo are equally good. They also serve conch fritters and fish sandwiches that are popular with the locals. 
Just about everything is deep-fried, so if that's not what you want, then request it be cooked the way you like. Other than seafood, the chef grills fabulous steaks, and you get chicken-and-chips and burgers as well. Our favorite soft drinks here include Bermuda Triangle pineapple, the orange juice, or the Bermuda gold liqueur. 
Reservation is recommended. They accept credit cards. Dress code is smart casual. 
Indicative Prices 
Soups and Salads: $8-$12, Appetizers/Starters: $15-$18, Main Courses: $21 to $40. 
Open Hours 
Tuesday - Saturday: 11am - 1am 
Sunday: 12noon - 1am; Monday closed 
Location and Contacts 
101 St. David's Road, St. David's Island, St George Bermuda. Phone: 441/297-1991 
Bus route: #6 from St George's Town. 
Related Articles
2) Check out
Top Cheap Restaurants
to know about the inexpensive dining choices in Bermuda that serve great dishes and are quite popular in the island. 
4) Check out
St George's Town
to know about the historical Town of St. George, its attractions, activities and more. 
5) Check out
St. George's Parish
to know about the parish and all its attractions and activities. 
Visitors' Reviews and Comments
Bud and Trina Raether (October, 2012) 
Had the very good fortune to eat at the Black Horse while spending a weeks vacation in Bermuda. Our bartender at the Elbow Beach pool bar, a very unique individual by the name of Pickles, told us about a place the locals go to eat. While visiting St. George's we hopped the #6 bus and headed for the Blackhorse on St. David's. I started with the fish chowder which in my opinion was the best on the island. I have tried the chowders at every restaurant we have been to during our 3 visits to Bermuda and all are good. The chowder at the Blackhorse tops the list. Great taste with excellent balance of spices and herbs giving it a nice flavor without overpowering the seafood.  
The addition of sherry pepper sauce and rum brought the taste of the chowder to full bloom. Both my wife and I had the wahoo fish sandwich, she with fries, me the peas and rice. The only adjective I can use to describe the sandwiches is AWESOME! The numerous fillets on the bread were done perfectly with light breading which did not overpower the fish. Being born and raised in South  Florida I have eaten my share of fish sandwiches, from the Keys to the panhandle. I have  never had a more enjoyable fish sandwich meal ever. Their sandwich should serve as a fish sandwich benchmark.