Art Mels Spicy Dicy
$, Fish Sandwich & Bermudian 
This place is known to serve the best fried fish sandwich in Bermuda, some even go a step forward to bet that it serves the best fish sandwich in the world. And that too quite cheap. Well when you look at the price, you may not initially think it's very cheap but reasonably priced. However when you end up sharing one between two of you and get quite full eating just half, then you realize that it actually turns out to be quite cheap. 
The original eatery (a small one) is located in the residential neighborhood in Pembroke (in outskirts of Hamilton city). It's named after its owner Arthur ('Art') Smith. It takes some effort to find the place.  
While scooter would be most convenient to reach, you can also walk down (about 1.5 miles from Hamilton ferry terminal) or take a bus from Hamilton bus terminal (refer to my section below on 'How to reach' to get full details on reaching Art Mel's). 
Art Mel's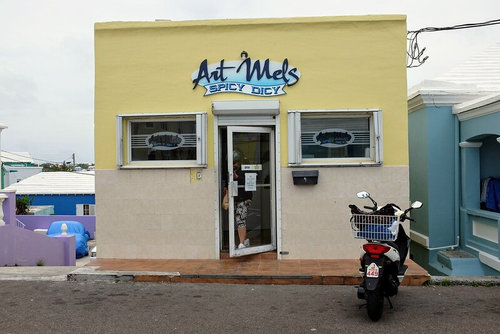 This is a take-out place and there is no seating place to eat. And you are not supposed to eat standing inside either. You need to place your order, wait, take your order and move on. But the moment you enter the place you realize that you are in a typical local eatery, almost everybody you will see and meet there are locals waiting to collect their orders. And then the order will come nicely wrapped in foils. Now what can you expect inside the foils?  
First I would recommend that you order the fish sandwich with toasted raisin bread. Although soft wheat bread is also available, the sweetness of the raisins actually add to the taste of the sandwich. 
Art Mel's Fish Sandwich in raisin bread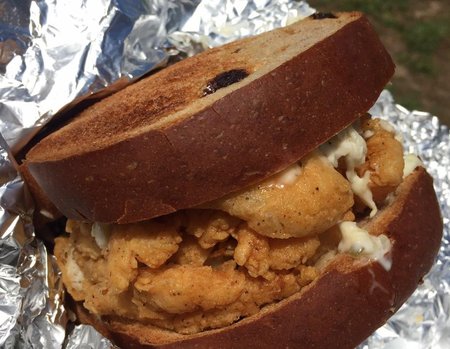 They mostly use fresh snapper, fry it with flour in soy bean oil along with their secret mix, and serve it with tartar sauce and colesaw.... as you bite deep into the sandwich you can feel that its already melting in the mouth.  
However ask if the fish is fresh, or otherwise half the fun may be lost. They sometime use imported fish as well which too tastes good though. But knowing what you are having adds to the fun. After all you came here to eat the best fish sandwich in the island. 
And the sandwiches are really huge, and I mean that. It's not possible to bite into the full cross-section of the sandwich in one go. You can easily share a sandwich between two of you. 
Like to mention here that although Art Mels has earned a huge reputation for its fish sandwich, it offers several other items in their menu which too are quite good. The menu includes items such as soups & salads, burgers, fish cakes, peas & rice (a typical Bermudian dish), macaroni & cheese, kids meals, homemade desserts, ice creams, sherbets etc. 
Update April 2016: Arthur Smith, the owner of Art Mel's has recently passed away. His family now runs the two outlets. Arthur mentioned last year that he never believed in any kind of promotion. They never had a signboard for the first 17 years of running the original outlet in St. Monica's (in the outskirts of Hamilton). Although people complained about the location being not easy to reach, they still came in volumes. Art Mel's won the Best of Bermuda Award 15 times. The fish sandwich using raising bread became so famous that a well known food blog even mentioned that it was "the best fried fish sandwich on Earth". 
Art Mel's at St. George
X Closed 
The second eatery of Art Mels has come up in St. George's in 2013 which is managed by the owner himself. His son now manages the original eatery in Pembroke (Hamilton). And the one in St. George serves the same delicious fish sandwich. And here they have a small patio at the backside with limited seating arrangement. 
Indicative Prices
Fish Sandwich: $11.50 
Open Hours
Open Tuesday through Saturday, 11:30 am to 10pm, Saturday 12noon to 8pm. 
How to reach Art Mel's at Hamilton
Art Mel's is located at the outskirts of Hamilton, near the North Shore road in a place called St. Monica's. Despite many complaints on remoteness, Arthur (the original owner) never changed the location. But tourists and locals kept pouring in for the fish sandwich.... a true example of how quality and taste can reign over barriers of hardships. 
From Hamilton Ferry Terminal (Front Street), you can walk to Art Mel's. Takes about 25 minutes (1.5 miles). Take Cedar Avenue, then continue along Marsh Folly Road and then turn into St. Monica's Road. 
To get there by bus, walk down to Hamilton Bus Terminal (7-8 minutes from Ferry Terminal on Front Street). Take bus#5. Ask the driver to drop you near Art Mel's (i.e. at the crossing of Glebe Road and St. Monica's Road, 6-7 minutes by bus). It's only a few steps from there. While returning, take a bus back from the bus stop at Glebe Road. 
Address and Contact Info
Art Mels Spicy & Dicy 
At Hamilton (original outlet): 9 St. Monica's Road, Pembroke. Phone: 441/295-3965 
At St. George: Water Street. 
Road Map 
Raj Bhattacharya
Raj is an avid traveler and a full-time travel blogger. He has traveled to numerous countries across the world and loves to keep travelling. His mission here is to help viewers like you visiting Bermuda or seeking insights into related matters with the most comprehensive content. Since years now he has been helping countless viewers by posting quality articles on this website, answering questions and sharing experiences. Launched in 2008, this website is Bermuda's leading source of online information since many years. 
Related Articles
Visitors' Reviews
Share your experience.