Bouchee Restaurant Bermuda - A Review
$$, French 
Located at the western end of
Hamilton City
in Pembroke, Bouchee used to be earlier known as Monty's Restaurant. This French style cafe andárestaurant has been popular to the locals and operating for over a couple of decades. They also serve Bermudian food as well. 
The atmosphere inside is casual and relaxed. On Friday evenings, there is a live musical entertainment. For starters, try out the scallops, crab cakes or the Bermuda fish chowder with sherry pepper sauce. For lunch you can get items like chicken salad, wraps, grilled sandwiches, burgers, fish and chips, fried chicken and such. The dinner menu is French inspired and offers a range of fish dishes along with other items. 
Some of the best dishes to try during dinner are the rockfish or wahoo cooked to your liking, pan roasted red snapper, marinated pan roasted duck breast, steaks, bangers andámash, and specialties like hazelnut-crusted duckling.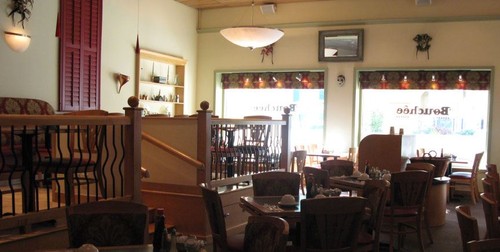 Photo: Bouchee Bermuda 
If you like to go for heavy dinner, there is a set three course menu available on Fridays and Saturdays at a reasonable price, and the portions are also quite good. Chocolate fudge bombs are excellent for desserts. They also have a nice selections of wine.  
However, Bouchee is most well known for the great breakfast its serves. The Sunday codfish breakfast is quite popular to the locals and something that you may like to give a try to experience an authentic local flavor. They also serve eggs, pancakes, Belgian waffles, smoked salmon bagels etc in breakfast. However the most popular here is the 'The Big English' which comes with two eggs, bacon, sausage, grilled tomato, mushrooms and a choice of white or whole wheat bread.  
Update March 2012: The brothers Walter and Wilmot Simmons had owned Bouchee for about 15 years. It has been recently sold out and taken over by Ms. Sara Masters, who is a chef herself and owner of the catering service unit Flying Chef. She is retaining the same name of the restaurant which has been a favorite to so many. However the interior will change completely. 
The menu will have additional classic French dishes. For example lunch which includes dishes like deep-dish quiche, lunch crepes etc. and for dinner fois gras, roasted chicken mussels etc. The focus is more towards items with affordable prices. There will be lot more variety of wine as well. So overall, the restaurant is planning to offer more than what it did earlier. It is scheduled to re-open any time now. However the new owner would be running a restaurant for the first time herself. So, will need to wait and watch how it goes from here. 
Credit cards are accepted and reservations recommended. Dress code is smart casual. 
Open Hours
Breakfast: 7:30am ľ2:30pm (daily), brunch available on weekends. 
Lunch: 11:30am ľ 2:30pm (daily)  
Dinner: 6pm ľ9pm (Tuesday through Saturday) 
Location and Contact
75 Pitts Bay Road, Pembroke Bermuda (Western Hamilton). 

By Raj Bhattacharya 
Raj, a seasoned travel writer and Bermuda destination expert, has extensive global travel experience. This website reflects his profound insights, garnered over nearly two decades of dedicated findings and research on the island. Raj has assisted countless Bermuda-bound visitors by providing direct, personalized responses to their queries and imparting his wealth of knowledge through this platform. This site serves as an indispensable guide for those seeking informed and reliable insights into Bermuda's treasures. 
Related Articles
Visitors' Reviews andáComments
Nathaniel Butterfield 
I went for dinner at Bouchee under the new management and I have to say that dinner was excellent - now I feel that I have to point out that the owner is a distant cousin of mine but, that said, the whole meal was great and the service was also. áDelighted to have another restaurant with really good food with a nice, understated decor and a reasonable prices. 
Becky Vaughn 
Just want to thank Walter at Bouchee for the absolutely best time at dinner last Friday night while we were visiting the beautiful island of Bermuda. We happened in early for a glass of wine and ended up with a bottle! Walter engaged us in great conversation and when we got a glimpse of the divine food at another table, decided to cancel our reservations at another place and stay put! So glad we did.  
We had fabulous food, another fantastic bottle of wine that Walter highly recommended and gave us a deal we could not refuse. Then, on top of all of that, he actually took us to another place where we mentioned we would like to have a drink. He would not even accept a tip but he did good natured pose for pictures, wished us well and said goodbye!áSuch a marvelous host, incredible restaurant and unforgettable experience.  
Bouchee was a magnificent uncovered treasure and Walter, the prince of Bermudian hospitality!! Thank you!