La Trattoria Bermuda
$, Italian Cuisine 
If you are in Hamilton City during lunch or dinner time and looking for some nice Italian food in a budget restaurant, then La Trattoria could be the right choice for you. This small restaurant is quite popular with the locals and often runs full. We found the service generally quite good and didn't have to wait for long. 
The restaurant boasts of having the only wood burning brick oven in Bermuda for preparing Pizzas. Well, the pizzas at the La Trattoria are actually quite good and there are wide variations available in the menu. We saw 17 different types. However if you want, the chef can go beyond the menu and will make one to your own choice. One of our favorite pizzas here is the Carne (with ground Beef, tomato sauce and mozzarella cheese topped with onions). 
The Lasagna (sheets of pasta layered with a meat and cheese sauce and oven baked with mozzarella cheese) here is really great. The restaurant can also serve small portions of lasagna, spaghetti with sea food and pasta that you can take as starters. 
La Trattoria Bermuda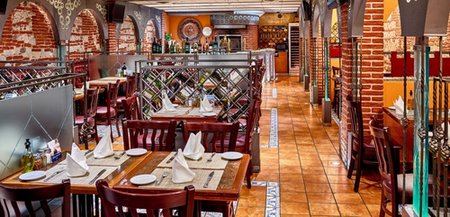 Photo: La Trattoria Bermuda (facebook) 
There are a number of hot and cold appetizers, salad and soup. Grilled shrimp and scallops with lettuce and balsamic-dijon vinaigrette is quite nice. Out of the entrees, some of the popular meat dishes include pork chop pan fried served with salad and onion jam, or fried veal filled with ham, Swiss cheese, mushrooms, or grilled steak, sliced over arugula with bean salad and drizzled with aromatic oil. 
Out of the chicken dishes, grilled chicken breast topped with pesto sauce served with fettuccine in a cream sauce is also quite popular. There are few fish dishes as well. Most of them are pan fried with olive oil, garlic and fresh herbs. 
The restaurant has a nice selections of wine. La Trattoria is a family and kids friendly restaurant. There is a separate menu for kids. The restaurant has received award from The Bermudian magazine for being one of the most kids friendly restaurants in the island and also for having customer friendly service. 
They have gluten free items like pasta, although not marked in the menu. Just ask the staff. 
They accepts credit cards. Try to make reservations for dinner. 
Open Hours
Lunch: Monday - Saturday 11:30am - 3:30pm; Dinner: Daily 5:30pm - 10pm 
Location and Contact
Located on Washington lane between Reid Street and Church street. 
Address: 23, Washington Lane, Hamilton City, Bermuda. 
Phone: (441)-295-1877 or Fax (441)-295-8974 
Bus route: #1, 2, 10, 11 
Road Map 
Related Articles
Visitors' Reviews and Comments
Review and share your experience.