Bolero Brasserie Bermuda
$$, Continental 
The Restaurant andáAmbience
This is a relatively new restaurant in Bermuda located in Hamilton City. The entrance is from a narrow alley that goes in from Front Street although the restaurant itself faces Front street and the harbor. Earlier the restaurant was known mostly to the locals and office-goers looking out for good affordable food during lunch time and dinner. 
I must say from our experience that this Brasserie style restaurant has grown beyond being only locals favorites and has become one of the most attractive restaurants even with visitors. 
Jonny Roberts is the chef and the owner, who had a dream to make this the best and the busiest restaurant in Hamilton city when he started in April 2007. He is not too far from reaching his dream. His wife Fiona actively supports him and is in charge of the services. 
Bolero Brasserie Bermuda (Imagery) 
The restaurant although provides a casual friendly atmosphere, has a classy feel as well. The dining room inside is large with red color walls and lots of mirrors of different size fitted on them. There is a bar at one end. There is also a small but cozy roof covered balcony where you can dine. 
The balcony overlooks Front Street and you get great views of the Hamilton Harbor as well. However, I have noticed that smokers tend to prefer the balcony and if you are a non-smoker, you may have some problems here if you are in company of fellow diners who smoke. 
The Service
The waiters with their waist coats, white aprons and red ties give you a feel of typical French or a British Brasserie. We have found the service to be quite friendly and efficient. Although it is a small team, they move from table to table very quickly, efficiently and unhurriedly. The staff is quite attentive and help build a lovely atmosphere for diners. You can even chat up with one of them if you catch them at a less busy hour and get them to talk about their love of the island, families and history of the place. 
Food andáDrinks
When you compare it to a typical brasserie type restaurant, I must say that the menu is quite elaborate and true brasserie style. While the menu changes 3-4 times a year, there are some dishes that have become so popular with locals and others that they have now become part of the classic menu. 
Actually, it is the food here that gives the restaurant a touch of originality. They probably have the most adventurous menu in Bermuda with their inventions, creativity and their efforts to bring in that subtle difference in the usual fare. The menu also depends on the season and what is available. However, the food is always delicious, well balanced, made by using fresh ingredients, imaginative combinations, and comes in good portions and with beautiful presentations. 
Here are some of the dishes that we really liked in Bolero during our several visits. There are of course many other great items in the menu. They have daily specials and it is a good idea to pick something off it as they are usually fresh, innovative dishes oozing flavor. 
You can start with a watermelon and duck confit with a rhubarb vinaigrette. It is an absolutely perfect dish for a hot summer evening with cubes of cool watermelon with succulent duck confit offset by the slight acidic taste of the rhubarb. The Shrimp Pil Pil which has huge prawns in a spicy garlic butter sauce is simply mouth watering. The avocado fries are awesome too. Other appetizers include Beetroot and crispy lentils, SautÚed Black Pudding (duck fat fried egg), Brasserie Salad (tomatoes, artichokes, green beans, olives, goats cheese, pistachios), Fish Chowder. 
Beef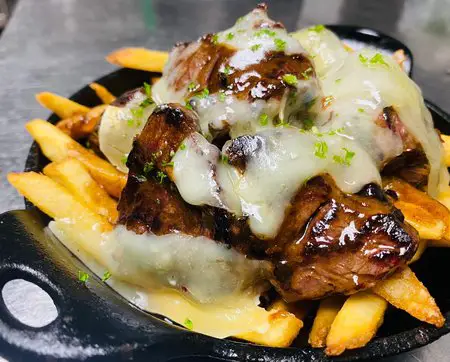 Photo: Bolero Brasserie 
The Onion soup is delicious and so is the cauliflower soup which is perfectly pureed with stilton cheese. The Butternut squash soup just seems to melt in your mouth and the added corn and pistachio nuts gives just the right bit of crunch. The cheese platter is a nice brie with pickled apples, fig spread, and nicely toasted baguette. We have to mention about the duck fat fries that have the perfect crisp cream ratio with fantastic flavor. 
For the main course, the lamb belly crisped to perfection, or the baked salmon that comes with baby shrimp, sweet corn and pickled ginger are just perfect. The dish is made exquisite by the crispy skin of the salmon and the touch of pickled ginger counterbalancing the sweetness of the corn. Other dishes on the menu include Bavette Baguette (seared skirt steak, caramelized onions, horseradish vinaigrette), Grilled Rockfish (with peppers, tomatoes, chorizo, garlic, white wine, herbs), Grilled Rib Eye Steak and Garlic Buttered Snails, A dish with shrimps, mussels, clams andácalamari. 
You can also go for the short rib of beef with truffle, parmesan fries and spinach. It is extremely tender and a touch smoky lending it great flavor. The cod that is set off with chick peas and chorizo is quite tasty. All dishes are prepared with expertise and packed with flavor. The Grilled octopus chorizo is a lovely choice too. If you order the Roasted butternut squash, it will come with green lentils, arugula, feta and dressed in the most wonderful, earthy chermoula. This is absolutely delicious. 
Other great dishes include the steak tartare which is amazing and understandable upon the very first bite why it is one of their best selling items, the lamb belly and pea risotto has a savory sweet umami taste and is a perfect accompaniment to the lamb, tempura versions of classic French frog legs, filet mignon with Yorkshire pudding, and a selection of fresh local fish.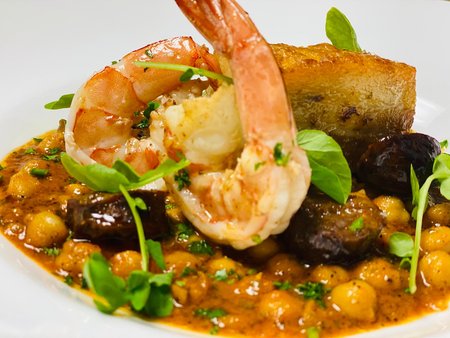 Photo: Bolero Brasserie 
They have a selection of vegetarian dishes too. 
Peach melba andásorbet were nice as desserts. We had a melting chocolate pudding with tirimisu ice-cream and the honey comb ice cream (with homemade honeycomb), which are both simply out of the world. You can even try the Strawberry Crunchie which is very nice. The creme brulee is perfectly executed with a crisp warm top and cooled cream at the bottom. 
They also serve tea and coffee on pots. Bolero has nice wine selections including some great French wine that pair well with the food. The selection of those that are available by the glass is quite outstanding. They make some of the best Dark n Stormy cocktails here. 
Trivia
They accept credit cards and reservation is recommended. If you are in Bermuda during summer, this is a good place to watch the Heritage Nights festival from, every Wednesday. With its outdoor seating (although very limited in number) on the balcony, you can enjoy a great meal along with a lovely view of the Front Street. Prices here is at par with similar establishments in Hamilton City. 
Conclusion
The restaurant is a great mix of a pleasant atmosphere coupled with some creative dishes, delicious wine, gracious service and a classic location on Front Street overlooking the harbor, making it just the place for a special occasion dinner. It is a sort of a hideaway up an alley and stairs, but is well worth the search and exercise. You can look at having a romantic dinner or spending a quiet evening with friends at this jewel hidden in plain sight which is as good as any bistro in Paris! 
Indicative Prices
Starters range between $14 - $30 while Mains start at $22 and go up to $32(in the lunch menu) and $38 (in the dinner menu). Sides are anything between $9.50 - $14. 
Open hours
Monday: Dinner 6pm - 9.30pm 
Tuesday-Friday: Lunch 11.30am-2.30pm, Dinner 6pm - 9.30pm 
Saturday: Dinner 6pm - 9.30pm 
Sunday Closed 
Location and Contact
95 Front Street in the City of Hamilton, Bermuda (You will need to enter into Bermuda House Lane from Front Street, which is between Parliament Street and Chancery Lane). Phone: 441/292 4507  
It's on bus route # 1, 2, 10 and 11 (all these buses operate between the Hamilton Bus Terminal and St George, except for #2 which goes to Paget). You can easily walk from Hamilton ferry terminal. 
Road Map 
Related Articles
Visitors' Reviews andáComments
Share your experience.