Bolero Brasserie Bermuda
A Restaurant Review
$$, Continental 
This is a relatively new restaurant in Bermuda located in Hamilton City. The entrance is from a narrow alley that goes in from Front Street although the restaurant itself faces Front street and the harbor. Earlier the restaurant was known mostly to the locals and office-goers looking out for good affordable food during lunch time and dinner. 
I must say from our experience that this Brasserie style restaurant has grown beyond being only locals favorites and has become one of the most attractive restaurants even with visitors. 
Jonny Roberts is the chef and the owner, who had a dream to make this the best and the busiest restaurant in Hamilton city when he started in April 2007. He is not too far from reaching his dream. His wife Fiona actively supports him and is in charge of the services. 
The restaurant although provides a casual friendly atmosphere, has a classy feel as well. The dining room inside is large with red color walls and lots of mirrors of different size fitted on them. There is a bar at one end. There is also a small but cozy roof covered balcony where you can dine. 
The balcony overlooks Front Street and you get great views of the Hamilton Harbor as well. However, I have noticed that smokers tend to prefer the balcony and if you are a non-smoker, you may have some problems here if you are in company of fellow diners who smoke. 
Bolero Brasserie Bermuda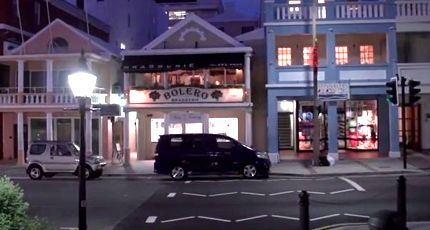 The waiters with their waist coats, white aprons and red ties give you a feel of typical French or a British Brasserie. We have found the service to be quite friendly and efficient. When you compare it to a typical brasserie type restaurant, I must say that the menu is quite elaborate and true brasserie style. While the menu changes 3-4 times a year, there are some dishes that have become so popular with locals and others that they have now become part of the classics menu. 
A closer look from the road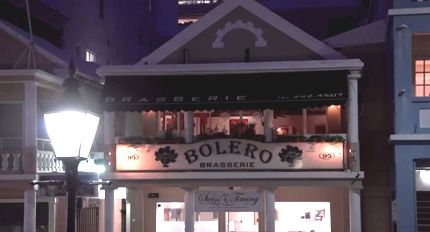 Here are some of the dishes that we really liked in Bolero during our several visits. There are of course many other great items in the menu. 
Starters/Soups: Sautéed Black Pudding (duck fat fried egg), Brasserie Salad (tomatoes, artichokes, green beans, olives, goats cheese, pistachios), Fish Chowder. 
Bolero Brasserie - Dining Room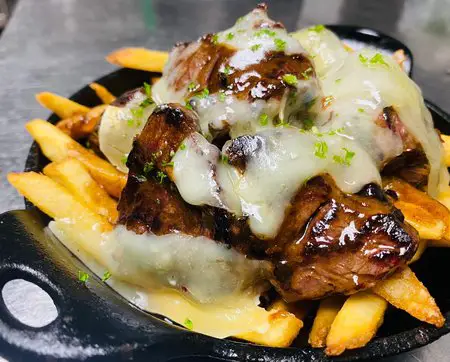 Main Courses: Bavette Baguette (seared skirt steak, caramelized onions, horseradish vinaigrette), Grilled Rockfish (with peppers, tomatoes, chorizo, garlic, white wine, herbs), Grilled Rib Eye Steak and Garlic Buttered Snails, A dish with shrimps, mussels, clams & calamari. 
Other great dishes include tempura versions of classic French frog legs, filet mignon with Yorkshire pudding, and a selection of fresh local fish.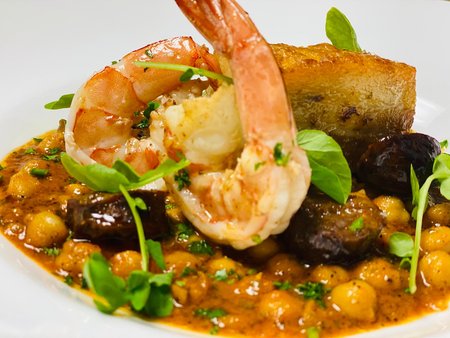 Peach melba & sorbet were nice as desserts. They also serve tea and coffee on pots. Bolero has nice wine selections including some great French wine. 
Indicative Prices
Soups & Salads: $7 to $12, Appetizers: $15 to $18, Main Courses: $24 to $38 
Open hours
Lunch: Monday - Friday (11:30 am - 2:30pm) 
Dinner: Monday - Saturday (6:00m - 10:30pm), Sunday closed. 
They accept credit cards and reservation is recommended. 
Location and Contact
95 Front Street in the City of Hamilton, Bermuda (You will need to enter into Bermuda House Lane from Front Street, which is between Parliament Street and Chancery Lane). Phone: 441/292 4507  
It's on bus route # 1, 2, 10 and 11 (all these buses operate between the Hamilton Bus Terminal and St George, except for #2 which goes to Paget). You can easily walk from Hamilton ferry terminal. 
Road Map 
Raj Bhattacharya
Raj is an avid traveler and a full-time travel blogger. He has traveled to numerous countries across the world and loves to keep travelling. His mission here is to help viewers like you visiting Bermuda or seeking insights into related matters with the most comprehensive content compared to any other online resources. Since years now he has been helping countless viewers by posting quality articles on this website, answering questions and sharing experiences. Launched in 2008, this website is Bermuda's leading source of online information since many years. 
Related Articles
Visitors' Reviews & Comments
Share your experience.