Bonefish Bar & Grill Bermuda
$$, Seafood/Mediterranean 
Bonefish Bar and Grill is a relatively new restaurant located in the Dockyard complex of Bermuda and quite close to the Ferry Terminal and a short walk from cruise pier. The indoor seating is limited. However there is also an outdoor seating area on a large patio with wonderful views of the Great Sound water area. You can also see the cruise ships docked at the wharfs of dockyard. There is also a covered patio on the side facing the road where too you can dine alfresco. 
The restaurant specializes on seafood and fresh fish items, as well as on Mediterranean dishes. Italian Chef Livio Ferigo is the owner and brings in his deep experience of having worked in renowned restaurants in Italy. Livio is very friendly and likes to meet up the diners. 
So if you like to chat with him and understand some of the secrets behind his preparations, ask for him and he will be glad to personally meet you. 
Bonefish Bar and Grill Bermuda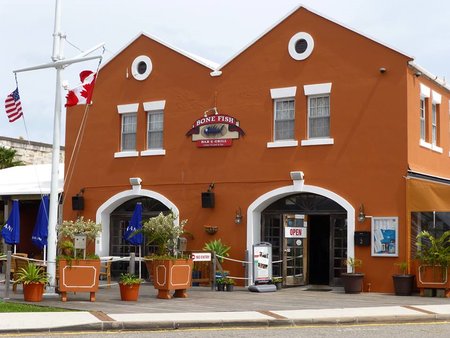 Source: Bonefish Bar and Grill 
While this restaurant focuses on seafood specialties, they also serve great steaks, different types of homemade pastas, smoked ribs and lot more. We found the fish of the day (pan fried with lemon juice) particularly excellent. Another nice item is chicken breast seared with mushroom creamy sauce. Accompany that with draft beer if you like. 
The restaurant also offers sandwiches, subs and burgers of different types, nacho platter, fish and chips, jerk chicken etc. There is a bar area. You also get draft beer here.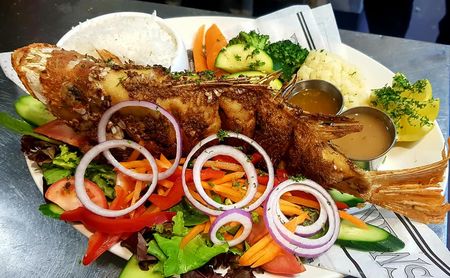 Source: Bonefish Bar and Grill 
Upon request and an additional $1.00 to the price of an item on the menu, the restaurant also serves gluten free brown bread, wrap, tacos and pasta besides dairy free cheese. Advise the outlet personnel of any food allergies or intolerance beforehand, so that they can take appropriate care. 
This wheelchair accessible venue also has a children's menu here. However it does not feature on the regular menu, so you have to ask for it. With a selection of items like Fish strips, popcorn shrimp, chicken tenders, mac and cheese, grilled chicken etc, the menu serves children aged 10 and under. The dishes come with your choice of broccoli/ fries on the side and a beverage. 
The very popular Italian chef Fillippo Vianello, who has been cooking in Bermuda for more than a decade, has moved to the Bonefish Bar and Grill bringing with him his signature Italian dishes and at the same time adding his espert touch to the already well loved dishes on the menu. His Gnocchi and Panna Cotta, all made by hand just melt in your mouth and he is happy to share his secrets in his family recipe if you happen to want to chat with him. 
Usually there is a live musical entertainment in the evenings on some days of the week in high season (when cruise ships are docking) like DJs, or local talents playing Spanish Guitar, Salsa etc. 
Open Hours
They are open all 7 days. 
Lunch 11.30am to 5.00pm, Dinner 5.30pm to 10.30pm. Bar is open from 11:30am to 3am. 
They accept credit cards. 
Location and Contact
6 Dockyard Terrace, Royal Naval Dockyard, Sandy's Parish, Bermuda 
Located near the Dockyard Ferry Terminal. This is the nearest restaurant to the cruise berths and a short walk away. 
You can reach by Bus #7 or 8, or by Ferry from City of Hamilton. 
Road Map 
Related Articles
3) Check out
Restaurants in Sandys
know about all the great restaurants and bars in and around Southampton parish. 
Visitors' Reviews and Comments
Share your experience.