Green Lantern Restaurant Bermuda
$, Bermudian and International 
Update February 2012: Sadly, The Green Lantern has closed its doors after 70 years of operation. This was one restaurant that was considered to be true and original Bermudian. The owner Andre Woods mentioned that he had to close the restaurant due to the unforgiving economic conditions. As a result of the closure, there will be job loss of about 10 staffs. 
The color of the building has a similarity with its name. Green Lantern restaurant with its pale green color building is located about a mile west of the city limits of Hamilton Bermuda. The building is quite old (of 19th century) although the restaurant came up in 1942. It has been a fairly long run for the restaurant as well. 
It's a basic simple restaurant with basic simple food. If you are looking for gourmet exotic dishes, this is not the place. Neither this is well known to the tourists.. The Green Lantern restaurant runs primarily on local and repeat customers. The menu is quite limited and changes frequently. 
The Green Lantern Bermuda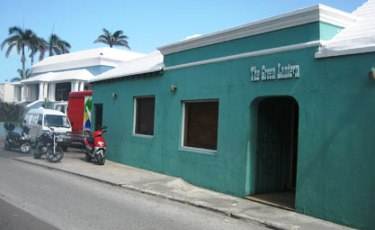 Some of the local favorites here includes homemade burgers, fish cakes, fish and chips, milk shakes etc. The restaurant boasts of its daily specials like the curried chicken and the oxtail stew. Other great dishes includes lobster on half shell (this is seasonal though), fresh fish, roasted chicken or beef, meatloaf, pork chops and lamb chops. For breakfast the codfish and potatoes is a hot favorite to the locals. The saltiness of the fish and the buttery potatoes make a special meal. Some of the great desserts include the bread pudding, coconut custard pie, malted vanilla shakes etc. 
They also offer take away food. The restaurant doesn't serve liquor. 
They accept credit cards.  
Open Hours
Green Lantern serves Breakfast, Lunch and Dinner. However, they have a strange open hours. Wednesdays are half days. 
Wednesday: 9am - 3pm. 
Other days: 9am - 9pm. 
Sunday closed. They are also closed for the first two weeks of March. 
Location and Contact
9 Serpentine Road, Pembroke, Hamilton City, Bermuda 
Phone: 441/295-6995  
You can reach the restaurant by Bus #1, 2, 10, or 11. 
Related Articles
Visitors' Reviews and Comments
Michael Pitts 
Going through the Restaurant guide I came upon the Green Lantern. I read the description and type of food etc. To me who lives in the United States for the past 50 years, having been born in Bermuda in 1942 I remember the Green lantern more than any other Restaurant of the day.  AS an 8 year old Child I would walk to the Restaurant from the back roads where Gibbons had Houses and Apts called Ascot Apts and would get my Hot Dogs or hamburger and also meat pies and take them back home and enjoy my food. My Father also would bring home food from the Green Lantern. 
Every time since I left Bermuda and came back to visit, my visit had to include the Green lantern. It was never much on looks it was always about good home cooked food. I speak of over 61 years ago! I do not remember the owners names but as I type this I can see the Mother, the Husband and their Son behind the counter. Hope you do not mind me writing so much but it bought back so many fond and happy times!!!  
Michael Pitts (Wrote back..) 
Thank you so much for the response. I did not expect you to print my story it was just a joy to read about the Green lantern that I had to speak on it. I do not remember the names of the owners but I can see them in my minds eye. They were very good Christian people. The Son always had a smile on his face. I understand he passed away at a young age. I can see his Mother as clear as day. She wore glasses and she was a hard working lady. Always something nice to say to people. I remember that if you were hungry and did not have the money they would give food to you. I miss those times, I miss Bermudians such as they were. Back in the day no one was aware of color in that restaurant or around it. You were Bermudian. The Father was a quiet Man unless he knew you. No one played games with him!