Jamaican Grill Bermuda
$, Jamaican/Caribbean 
If you are looking for spicy Jamaican food in Bermuda or even other varieties of West Indian food in a casual atmosphere, Jamaican Grill is the place to go. The restaurant with its main branch in Hamilton City (a little outside city limits though), now has few other branches across the island. 
This is a family run restaurant and good for casual meals. Unless you are looking for expensive stuff like lobsters, dishes here are quite inexpensive compared to other places in Bermuda. You will get the Jamaican national dish ackee and salt fish served with rice and peas. 
Jamaican Grill Bermuda 
There are many classics including the jerk and curry chicken, curried goat, oxtail stew, hot wings, rice and beans, dumplings, meat and veggie patties and more. There are other traditional Caribbean favorites as well including pineapple-glazed chicken, macaroni and cheese or roast beef in mushroom sauce etc. The portions are quite large and filling. They also make homemade cakes and cookies.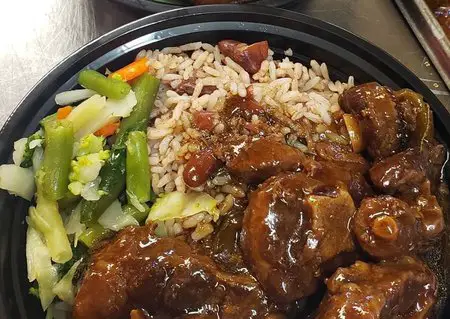 Photo: Jamaican Grill 
They don't serve hard drinks here. There are many types of fruit juices to choose from. Try out the Jamaican Ting, a grapefruit drink that tastes really nice. Other varieties include mango, carrot or ginger-flavored pineapple concoctions. They also serve ice tea. 
There is also a take out service available which is quite popular with the locals. In the main restaurant in downtown Hamilton, the take out section is downstairs and the seating is upstairs.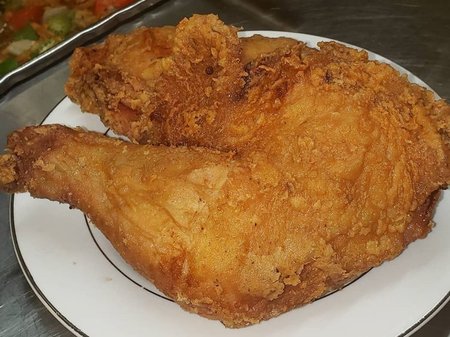 Photo: Jamaican Grill 
They accept credit cards. Reservations are recommended on weekends. 
Location and Contacts
There are several branches of the restaurant in different places in the island. The main and the original one is in downtown Hamilton in Court Street and run by the Thomas family who have deep Caribbean heritage. 
32 Court Street, Hamilton City 
Open: Monday-Thursday: 6:30am-10pm; Friday-Saturday: 6:30am-11pm; Sunday: Closed 
Phone: 441/296-6577 
Somerset 
23 Somerset Road, Sandys, 
Phone: 441/234-4219  
Parsons Road, 
42 Parsons Rd., Pembroke, 
Phone: 441/292-3269  
Bailey's Bay 
Next to Bailey's Bay Cricket Club, Duck's Puddle Drive 
Bailey's Bay, Hamilton Parish, 
Phone: 441/293-8899 or 293-8952 
Road Map (Bailey's Bay) 
Related Articles
Visitors' Reviews and Comments
Alexander Miles (December 2016) 
Visited Bermuda 11/16 and stayed in the lovely Grotto Bay Resort, Baileys Bay. If anyone else is staying in the local area I strongly advise frequenting The Jamaican Grill up at Duck Puddle lane as not only was the food fantastic (especially the Ackee and salt fish breakfast!) and the prices more than reasonable but the family that own and work there were some of the friendliest warmest people I have ever met and I encourage you to give them your custom! When we got to Bermuda they had just been on the receiving end of a hurricane and although it damaged their restaurant it certainly hadn't dented their spirits!