New Facilities At
Horseshoe Bay Beach
PAGE DEINDEXED 
The signature and the most popular
Horseshoe Bay Beach
in Bermuda is finally scheduled for re-development of its facilities. It has been long overdue. Many tourists including us have complained that the facilities at this beach are really inadequate. Shower, changing and bathroom facilities at the beach have been unacceptable. 
A beach where the facilities had been originally designed for 800 tourists per day, is now visited by more than 2,500 tourists everyday during the peak season. But the sad part of this re-development is, the original cute bluish single storied buildings that housed the Horseshoe Bay Beach Cafe, the gift store and the changing facilities are going to be demolished. A new swank two storied building is going to soon replace the original one. 
The face-lifting work is scheduled to start in March 2011 and is likely to take less than two years to complete. The beach will remain open but there might be some disruptions to the facilities at the beach. So its your last chance to take a final look at how the Horseshoe Bay Beach Cafe looked originally. 
The two storied new building will be constructed with natural Bermuda lime stones and have pastel colors with slanted roofs and wood finishing. There will be new toilets, and both indoor and outdoor showers. The washroom will be much larger. The tourists will have access to lockers where they can keep their valuables. Recently theft at the beach has been a concern. 
Original Horseshoe Bay Beach Cafe as in Jan 2011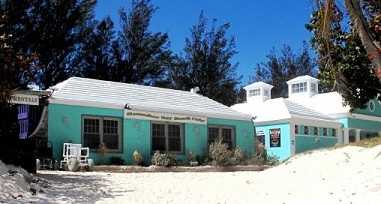 There will be an upgraded larger kitchen, a take out food counter, a gift shop and an ice cream counter. Upstairs there will be a balcony overlooking the ocean with a seating provision of 40 persons. There will also be inside seating for 30 persons. During the night time this space will operate as a restaurant. 
The outside patio will have a seating for 54 people. A small water bar will be created so that you can deep your feet to cool down during summer. 
The parking facilities will also be improved to accommodate more cars including disabled cars. There is a boardwalk planned to provide a much easier wheelchair access to the beach. 
Update July 2013: For some strange reasons, the upgrade and renovation work at the Horseshoe Bay Beach has not yet started. So the facilities have remained as before. 
Visitors' Reviews and Comments
Share your experience.