Last Updated: January 6, 2017 
St David's Battery At
Great Head Park Bermuda
St. David's Battery also known as the Great Head Battery, is located at the eastern most point of St George's parish in St. David's Island. This battery was built in 1910 and has a wonderful park associated with it called the Great Head Park. The entire area spans across some 24 aces. 
The battery that went through several transformations from a small gun platform to a formidable fort was built to defend the Narrows Channel that leads to the St. George's Harbor. 
There are two 9.2 inch and two 6 inch caliber Breech Loader guns mounted in the battery. The guns were constructed in UK and the largest ever mounted in Bermuda. They had a range of 7 miles and could easily stop enemy boats coming close to Bermuda. However, they never had to be fired against any enemy attacks. In fact, the sound from such gunfire was so loud that the neighboring residents complained and the guns were seldom fired even for practice drills. 
St. David's Battery Bermuda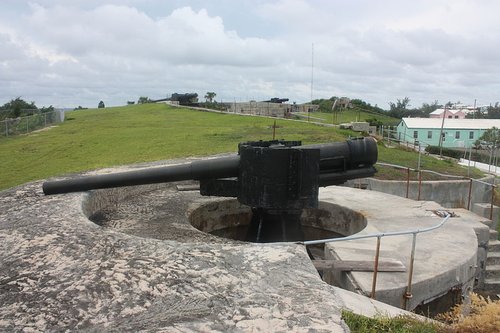 The two smaller guns were the only ones functional at the time of World War II that were capable of guarding the coastline of Bermuda. St. David's Battery used to be manned round the clock during World War II. At the northern end of the battery, there is an examination battery where the Bermuda Militia Artillery were posted. 
The view from the fort, particularly that of the
St. George's Harbor
and the
Castle Harbor
are magnificent. The battery today is a memorial for those countrymen who served Bermuda during the wars both at home or abroad. There is a
Figurehead Memorial
for those who were lost at the sea. Adjacent to the St. David's Battery is the
Great Head National Park
. This is a scenic area partly overlooking the ocean. The park is a popular venue for picnics. 
There are trails across the park that go for miles and are lovely for walks. However, due to the hilly and uneven terrain, you need to be a little careful. 
There is a 90-foot high cliff in the park. Climb this cliff and take a look around. Other than the fantastic view, you will also see the
Bermuda Longtail birds
flying out into the sea and getting back to their nests on the shore. 
Location 
St. David's Battery is located in St George's Parish at the
St. David's Island
on a hill top. This is the eastern most edge of Bermuda and also known as St David's Head that comprises of Great Head and Little Head. The battery is usually opened to public on Wednesdays. 
Bus Route: #6 (operating between St George's town and St Davids). 
Road Map 
Related Articles 
1) Check out
Bermuda Forts
to know about the historic forts in Bermuda. 
3) Check out
St. George's
to find out other great attractions in the parish. 
Visitors' Reviews & Comments 
Share your experience.