Prospero's & Cathedral Caves Bermuda
These two caves are located at the grounds of Grotto Bay Beach Resort in Hamilton Parish. Cathedral Cave is marked by the large deep lake. The cave is lit up from inside. 
There is a platform from where you can view the cave. Or else you can take a plunge and swim in the lake, and see the beautiful cave from the waters. The water flows between the tidal lake and the sea through the pores of the rocks all around it. 
Prospero's Cave is more spectacular of the two. It has dramatic formations of stalactites and stalagmites. It is believed that Prospero's Cave was first discovered by Sir George Somers who came ashore by his ship
Sea Venture
in the year 1609. This is supposedly the first cave discovered in Bermuda. 
This cave was earlier known as the Island Cave and later renamed to Prospero's Cave once it was open to public by the Bermuda Government as a show cave. Note that now only the resort guests are allowed access into these caves. There is a narrow and steep stairway that leads down to a deep lake. You can see great formations of stalactites hanging from the ceiling. Prospero has a prominent mention in Shakespeare's play The Tempest. 
Prospero's Cave Bermuda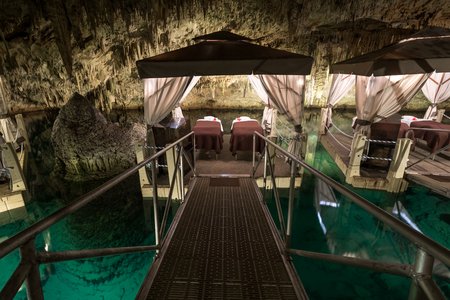 Swimming in the Grotto Caves
You can swim in the Prosperos Cave between 9am to 5pm. However it is presently open to the resort guests only. 
I know of some non-guests who could enter the caves pretending that they were hotel guests. The hotel doesn't really have a foolproof system of checking this. However I shall not recommend this method of trying to sneak into the caves. When you arrive by a taxi and enter through the front gate, it would be quite obvious that you are a visitor and will likely to be turned away from approaching the caves. The cruise ship passengers on cave excursions are picked up from St. George's ferry terminal and brought in by vans with special excursion tickets.  
Note that the water in the cave lagoon is likely to be quite cold as it remains in the shades for ever. The resort runs an underground bar and a disco at the Prospero's cave. They have also recently opened up a Spa here so that you can enjoy a therapy or a massage in a natural cave ambience. 
Both the caves are open daily. They are free for hotel guests. 
Update July 2013: The resort no longer caters to cruise ship passengers for visiting the caves. 
Location
11 Blue Hole Hill, Hamilton Parish, Bermuda. 
Bus Routes: #1, 3 (both operating between Hamilton and St George) 
Hotel Contacts
Phone: 800/582-3190 in the U.S., 800/463-0851 in Canada, 441/293-8333 in Bermuda.  
Road Map 
Raj Bhattacharya
Raj is an avid traveler, a travel journalist and a blogger. As an author of this website, he shares deep insights on Bermuda and related areas of interest. Since years, he has been helping countless viewers by posting quality articles, answering questions and sharing experiences on this website. Launched in 2008, this website is Bermuda's one of the leading sources of information since many years. 
Related Articles
1) Check out
Bermuda Caves
to know about the other great caves in Bermuda. 
3) Check out
Hamilton Parish
to know about other great attractions in the parish. 
Visitors' Reviews and Comments
Review and share your experience.