Grotto Bay Beach Resort Bermuda
Category: $$$   Location: Hamilton Parish 
Grotto Bay Beach Resort is one of our special favorites in Bermuda. The resort has won many awards including from Expedia as one of their top rated hotels in 2010. Over the years we've had many enjoyable and relaxing family stay at this beautiful resort hotel located in Hamilton Parish. 
Most rooms are close to the water edge, but some require a bit of an uphill walk. You may like to ask about the room location when reserving, especially if you have trouble walking. 
There are 201 rooms spread over 11 coral colored cottage like lodges, featuring native Bermudian architecture. The resort is spread across 21 acres of land area sloping towards the water edge. It has its own private beach. Rooms have been all renovated and are colorfully furnished.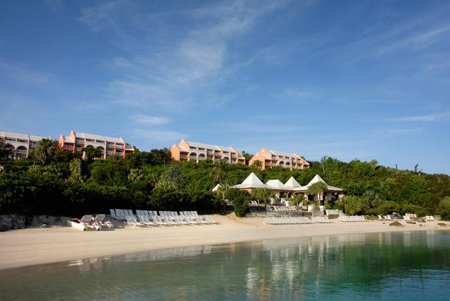 Superior rooms are on the ground floor. Deluxe rooms are on the first and second floors and have remarkable Ocean Views. Ocean Front rooms are located close to the waters edge. 
Some rooms are interconnected through doors and are good for families occupying more than one rooms. Each has an ocean view with balcony. All rooms also have coffee maker, iron & board, fridge, safe, hairdryer, Cable TV, internet, air-conditioning and a small marbled bathroom.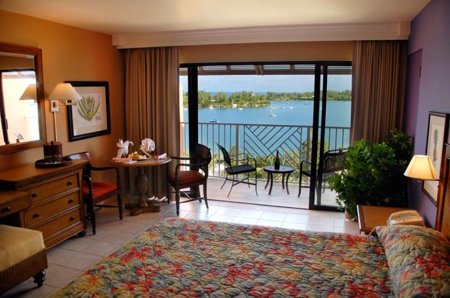 You get complimentary Rum cake and water in the rooms on arrival. There is a causeway that leads to the resort's tiny private beach that has two secluded coves within an enclosed bay. 
Grotto Bay Resort has three excellent restaurants.
Palm Court restaurant
is great for easy casual dining. It has recently undergone major renovation. Palms, terra cotta tiles and trade wind motifs produce a tropical atmosphere for casual dining. The menu is island inspired. The Palm Court also features an elegant bar with full range of exotic cocktails. 
Hibiscus Room offers an elegant dining experience with soft hues of coral and tropical touch of Bermuda. This is a formal dining room and serves fine European dishes with a touch of Bermuda. 
The Bayside Bar & Grill is located by the pool and is only steps away from the sea. Quick food like hamburgers, hot-dogs, sandwiches and salads are on the menu. There is great island Bar-B-Queue on Monday evenings.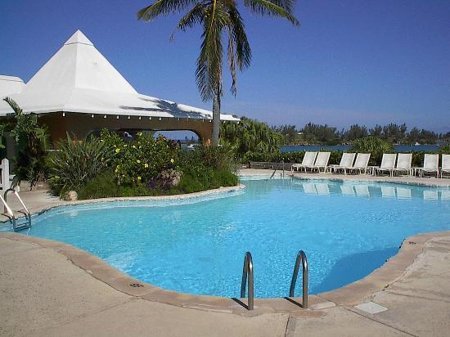 Some might say that the Grotto Bay Resort's beach is comparatively small and can become crowded at times. However the pool is quite large and there is a lot of open space in form of open lawns and patios where you can enjoy all the sunshine you want. 
Facilities include
A freshwater heated swimming pool and an outside Jacuzzi 
Private beach; Small Gym; 3 restaurants and bar. 
4 all-weather tennis courts, a resident tennis pro, a pro shop 
Triangle Diving, a 5 Star PADI Diving outfitter operates from the resort offering certification courses, advanced courses and daily dives from a boat that departs from the resort.  
Blue Hole Watersports Center is located in the property. So you can avail snorkeling, kayaking, paddle boarding, sailing, windsurfing etc, but of course at additional charges.   
There are two show caves located at the grounds of the resort: Cathedral & Prospero's. These two 500,000 year old underground grottos give you great experience as you take a dip among the stalactites. The hotel organizes cave swimming. There are underground bar and disco at the Prospero's Cave. 
Scooter rentals and bus stop are right outside the hotel. 
The hotel has a small but well stocked gift shop. 
The resort has recently opened Natura Spa in Prospero's cave. You can personalize your spa experience here in a natural cave ambience with spectacular view of the stalactite and stalagmite formations. The spa is located inside the cave and next to the crystal clear lake. 
Grotto Bay Beach Resort has also opened a water park featuring waterslides, super soaker slingshots and a water trampoline. It's located in the ocean off of the resort's beach. 
If you want to go out and try nice food at budget price, then visit
Jamaican Grill
located nearby on Duck Poodle road. They serve great Jamaican & Caribbean food. 
Rates provided by booking.com 
Location
Grotto Bay Beach Resort, 11 Blue Hole Hill, Hamilton Parish, Bermuda. 
The resort is located at the eastern side of the island and relatively close to the airport. 
Bus Routes: #1, 3, 10, 11 (operating between Hamilton and St George) 
Contact Info
Call 800/582-3190 in the U.S., 800/463-0851 in Canada, or call 441/293-8333 in Bermuda. 
Road Map 
Raj Bhattacharya
Raj is an avid traveler and a full-time travel blogger. He has been travelling all across the world since decades. His mission here is to help viewers like you visiting Bermuda or seeking insights into matters related to Bermuda with the most comprehensive content compared to any other resources. Since years now he has been helping countless viewers by posting quality articles on this website, answering questions and sharing experiences. Launched in 2008, this website is Bermuda's leading source of online information since many years. 
Related Articles
Visitors' Reviews & Comments
Jana Bethel (January 2018) 
Good afternoon, I am trying to reach someone from the reservations at Grotto Bay Hamilton https://www.grottobay.com/. I have sent an email to the address shown on their website, I called both of the numbers, the toll free number keeps ringing and then it disconnects, and the local number first said it cannot be dialed from the line I am calling and it gave me some error message with numbers, when a colleague of mine tried to call himself, it did the same with the toll free number and when calling the local number, it said the person you are calling is assisting someone else, call back later. It is hard to believe that at a resort like this would be just one person operating the phone, nobody answering a toll free number and nobody responding to email messages from the reservation. I wanted to inquire on details on behalf of a group from the Bahamas, about 60 people, this makes me however very uncertain. 
Jane Sommers (April 2015) 
We will be staying at Grotto Bay Beach Resort. There will be six of us and we are beach people. Is the beach at the above Resort a good swimming beach?? If not could you tell me the nearest good swimming beach to that Resort? Thank You 
Raj (bermuda-attractions.com) April 2015 
Grotto Bay Beach Resort has three private beaches ... good for swimming. Shelly Bay Beach (about 2.5 miles away) is the nearest public beach and is great for swimming. You can take a bus and reach in about 5-6 minutes. 
Walter Bogler (May 25, 2012) 
We just returned from 5 days at the grotto bay resort. I can't say enough About the accommodations. The rooms were clean and comfortable. The service Was first rate and the meal plan was an exceptional value. The food was Terrific. The beach area and the pool were also great. The staff could not Do enough for us and were most helpful in pointing us in the right Direction for our sightseeing. We would most definitely go there Again. While mother nature didn't totally cooperate weather wise, everything else fell into place helped by the staff of this fine resort.