Tucker's Point Golf Course
About the course
This is a privately run golf course located in Tucker's Town and along the shores of
Castle Harbor
offering wonderful view of the ocean and the harbor from its several holes.
Mid Ocean Golf Course
is located next to it, and quite naturally the two courses, both tucked at the wealthy men's locale of
Tucker's Town
, compete to stay ahead of the other. Mid Ocean is touted as the no. #1 course in Bermuda followed by Tucker's Point and Port Royal, both in close second. 
Tucker's Point Golf Course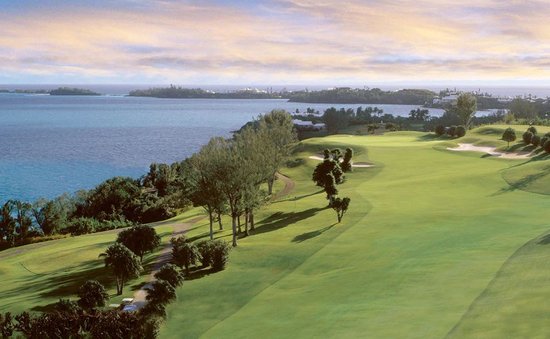 Source: Rosewood Bermuda 
Tuckers Point is an 18-hole, 6491-yard (Black Tee) par 70 course. It was originally designed by Charles H. Banks in 1932. It was then known as Castle Harbour Golf Course. It  belonged to the erstwhile Castle Harbour Hotel which later closed down. The course then had stunning views from its opening and closing holes. 
However, following closure of Castle Harbour Hotel, it was initially reduced to a 9-hole course. Subsequently, it was entirely redesigned by Roger Rulewich and re-opened in 2002. The earlier opening hole (which once regularly featured in Bermuda's promotional vistas until replaced by the 16th hole of
Port Royal Golf Course
) has now become the 17th hole in the new course. And the closing hole of the earlier course is almost beyond recognition and is now the 13th hole. 
TifEagle (hybrid Bermuda grass) was used in the greens to make it faster, the fairways have been re-contoured and plenty of new bunkers have been introduced in the new course. The course has a rating of 72.1 with a slope of 134 (Black Tee).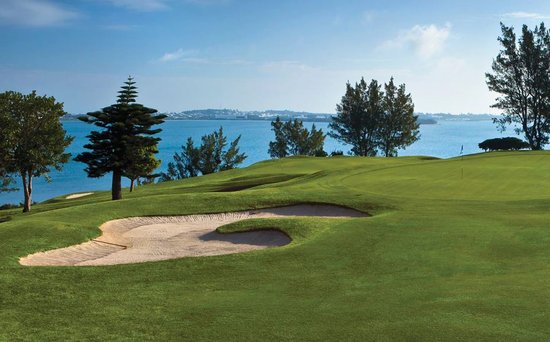 Source: Rosewood Bermuda 
Some of the major changes in the course took place because of promoter's objective of building real estate (residential units) fringing the course... in fact the original second fairway was taken over for real estate development. Although initially the residential units were tastefully done, it is sad to see that there have been encroachments that could be a sore to a golfer's eyes. 
Tucker's Point Golf Course is now part of the sprawling resort
Rosewood Bermuda
. Other than the club members, member's guests, visitors and hotel guests too are allowed to book tee time here. The hotel's guests get a discounted rate compared to visitors. The staff and management are usually quite friendly and cooperative and will help you to call a taxi. 
The Highlights
The course is laid out in a hilly terrain with changing elevations. It could be difficult to walk most part of the course particularly in summer heat, unless you are fit enough to take up such challenges. A golf cart is necessary. The carts are GPS enabled... and that means, if you go off the cart path and get into the fairways or greens, the carts stop automatically without a warning. You will need to back off and then get on to the cart path to move on. 
Some carts may also struggle to go up the hill and all this can be quite irritating at times unless you strictly follow the cart pathways as shown on the screen of the fitted GPS device. Alternatively you can talk to the Service Director at the clubhouse and he on his own discretion can override the settings of the GPS based on handicaps so that carts don't bother you much. 
There could be strong winds with changing directions and speed. The challenge in this course is not much of hitting the long shots, but the precision or accuracy of shots. Unless you hit it correctly, more of than not, you will find the ball on an slope either below or above your feet. 
Source: Rosewood Bermuda 
There are several doglegs and blinds, particularly for hole #12 where you are almost forced to lay up. Carry plenty of balls and do not bother to find them if lost. Other challenges includes trees, many bunkers (the sand in several of them are quite compact and hard) etc. 
Although, several parts of the course is next to the north shore and ocean views are stunning, the ocean itself does not come into play other than the breeze flowing in. The course is much like a parkland and in a normal day, you can have a comfortable game of golf here. The Back 9 is more scenic with views of the ocean and harbor compared to the Front 9. 
In terms of the views, 13th and 17th are the signature holes. From the elevated 13th hole you can get a lovely view of the north shore and the west end, while from the 17th you can see
Tucker's Town
, and the
Castle Island
located at the entrance of Castle Harbor. 
From the back tee of the 13th, it requires a precession drive along a narrowing fairway. From the 17th tee, a long drive of over 280 yards can get you directly to the green. There is a fait bit of breeze at both. The 6th hole too is excellent. However, it doesn't make much sense to have two par 5s (7th and the 15th) laid side by side. 
Climb to both 12th and 13th offer splendid views of the north shore and the west, but as already mentioned, these climbs can be very exhausting unless you have a cart. By the way, only members are allowed to walk on this course, visitors must use a cart (perhaps an opportunistic business deal). 
Since there is not much natural grass in the course, at several places you might find the grass has thinned out showing bare patches and unbound to the soil, and the natural run-offs that come down the hill due to rains, cause further erosion in the soil layers beneath. As a result, it may be difficult at times to get the right contact with the ball when you hit a shot. 
Budget some 4 hours to complete a round when the course is relatively free of many golfers. There are marshals who are usually active to pace the game. 
Tees (Black)
1: 411 yards, Par 4 

2: 169 yards, Par 3 

3: 489 yards, Par 5 

4: 190 yards, Par 3 

5: 430 yards, Par 4 

6: 461 yards, Par 4 

7: 529 yards, Par 5 

8: 215 yards, Par 3 

9: 373 yards, Par 4

10: 421 yards, Par 4 

11: 225 yards, Par 3 

12: 340 yards, Par 4 

13: 425 yards, Par 4 

14: 185 yards, Par 3 

15: 545 yards, Par 5 

16: 368 yards, Par 4 

17: 315 yards, Par 4 

18: 400 yards, Par 4
Facilities
The Clubhouse located at the hill top is lavish, and from the moment you walk in, you realize that it competes with some of the best in the world. It has an excellent restaurant Sul Verde overlooking the golf course and serving South Italian cuisine. There is a Grille Room and Bar, and even a card room. If there is one thing it lacks, it's the club spirit... remember, in a club like this where membership is a privilege to a wealthy few, it is business first. However, the staff at the bar and restaurant are friendly and food quite nice. 
The Pro-shop sells items from brands like Adidas, Fairway and Greene, FootJoy and Titleist. 
Full service locker room with free day lockers. 
Golf club rentals (Taylor Made) and shoe rentals. 
Carts enabled with GPS are included in green fees. Only members are allowed to walk while non-members are encouraged to use carts. 
Driving range and a practice area of 10,000 sq. ft. that includes putting green. 
You can take lessons from resident Golf Pro. The pros can also help determine exact specification of clubs that would suit your game. They do so by using an advanced technology and studying your posture, swings etc. 
Glorious view from the restaurant Sul Verde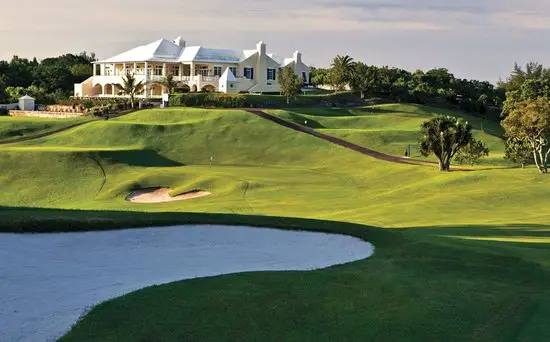 Source: Rosewood Bermuda 
Dress Code
All are required to wear golf attire. Men: collard shirts (or T-Shirts) with sleeves, slacks or Bermuda length shorts, golf shoes. Ladies: skirts, slacks, mid-length shorts, blouses, golf shoes. 
Fees
Greens Fees 
Member Guest – $125 per person 
Non-Member – $210 per person 
Hotel Guest – $195 per person 
Seniors 65+ (must show valid driver's license) – $90 per person 
All rates include GPS-guided golf carts, range balls and bag storage. 
Other Fees 
Shoe Rentals – $15 
Club Rental – $75 
Junior Club Rental – $25 
Practice Range and Range Balls - $15 
Golf instructions start at $160 per hour. 
Annual Locker Fee (Members Only) – $350 
Annual Bag Storage (Members Only) – $160 
Re-gripping cost – $5 per club OR $50 for a full set (up to 14 clubs) 
Tee Time Booking
While this is a private club run on membership, they accept visitors. But you need to book well in advance (at least 48 hours). 
Call the Pro-shop: (441) 298-6970 for inquiry or Tee time reservations, or  
Location
Tuckers Point Golf Club 
Tucker's Point Golf Club is about 6.5 miles from St. George's Town. You can take bus #1 or #3 and come within half a mile of the golf course. That's the nearest stop. But you can't carry your own clubs if you plan to come by bus. Take a taxi otherwise. 
Road Map 
Related Articles
1)
Bermuda Golf
: Know about all other golf courses and clubs in Bermuda.