Tuckers Point Golf Club
This 18 hole course of Tuckers Point Golf Club is 6361 yards with par-70. It was originally designed by Charles Bank and Robert Trent Jones. The club used to be called Castle Harbor Golf Club when the course was connected with Castle Harbor Hotel. With closure of the hotel, it was cut down to a 9 hole course. But it was later revamped and was reopened in 2002 again as a 18 hole course. 
The golf course belongs to Rosewood Resort. 
The first hole at Tuckers Point Golf Club is really scenic. The course has incredible views all around. Particularly the 13th and the 17th holes here are special.  
They have spectacular view of the
Tucker's Town
, castle island and the western side of Bermuda. Newly designed holes and greens have dramatic views and re-contoured fairways and bunkers. 
There are now new practice facilities, including a driving range, practice putting green and short game area. All greens have been rebuilt with Tiff-Eagle hybrid grass, making the surface faster and better. There is a beach and a tennis club within the complex.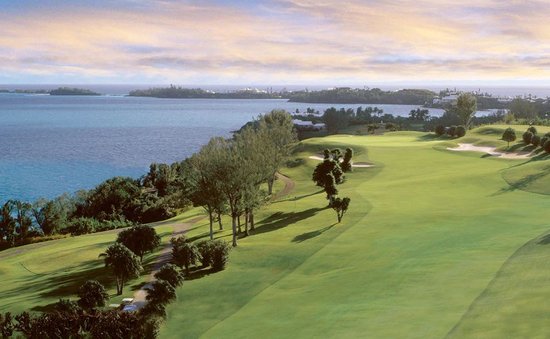 Facilities include
Visitors can book Tee time. 
The Clubhouse is located at the hill top and has a bar & restaurant, pro-shop and complimentary day lockers. 
The Pro-shop sells items from brands like Taylor Made, Adidas and Ashworth. 
Golf club rentals and even shoe rentals are available. Carts with GPS are available as well. Only members are allowed to walk while non-members are encouraged to use carts. 
Driving range and a practice area of 10,000 sq. ft. 
You can take lessons from resident Golf Pro. The pros can also help determine exact specification of clubs that would suit your game. They do so by using an advanced technology and studying your posture, swings etc. 
Golf Season: Year round 
Update December 2012: The club house restaurant which was accessible to members only, has now been converted into a public restaurant and available to locals and tourists. The restaurant has been renamed as
Sul Verde
. Instead of serving classic club cuisine like soups, salads and sandwiches, it now serves traditional Italian fares. The chief chef Guido Brambilla has over 20 years of experience and has joined from Elbow Beach Hotel. Check out
Rosewood Bermuda
for the great luxury hotel that has come up in the complex. 
Indicative rates
Greens Fees 
Club Member $110 
Non Member $130 on Weekdays; $180 - on Weekend 
Tucker's Point Hotel Guest: $125 
Seniors $110; Juniors (12 years and under) $50 
Cart is included in the green fees.  
Shoe Rentals: $15; Club Rental: $50 / Junior Club Rental $35 
Tee Time Booking & Inquiry
While this is a private club run on membership, they accept visitors. But you need to book well in advance (at least 48 hours). Call the Pro-shop (441) 298.6970 for Tee time reservations.  
Golf in Bermuda can be expensive. However, depending on the time of the year, rates vary. Check the late afternoon (sun set) Tee time rates. That should be quite lower compared to the morning time rates. Golf in Bermuda is a formal sports. So come wearing collard shirts, Bermuda type shorts and soft spiked golf shoes. 
Location
Tuckers Town, St. George's Parish. Tuckers Point Golf Club is about 6 miles from St. George's Town. You can take bus #1 or #3 and come within half a mile of the golf course. That's the nearest stop. But you can't carry your own clubs if you plan to come by bus. Take a taxi otherwise. 
Road Map (Rosewood Bermuda Hotel) 
Raj Bhattacharya
Raj is an avid traveler and a full-time travel blogger. He has traveled to numerous countries across the world and loves to keep travelling. His mission here is to help viewers like you visiting Bermuda or seeking insights into related matters with the most comprehensive content. Since years now he has been helping countless viewers by posting quality articles on this website, answering questions and sharing experiences. Launched in 2008, this website is Bermuda's leading source of online information since many years. 
Related Articles
1)
Bermuda Golf
: Know about all other golf courses and clubs in Bermuda.