Sul Verde, Bermuda
Italian, $$$ 
The Restaurant and Ambience
They also have seating on the balcony that overlooks the golf course and has water views as well. It makes for a beautiful setting for a sunset dinner. 
Glorious view from the restaurant Sul Verde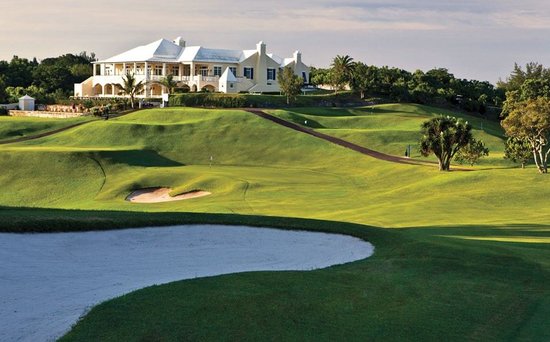 Source: Rosewood Bermuda 
In the indoor dining area, there are long narrow table setups for groups as well as dinner style sofa seating. There is a huge fireplace, which we were told is lighted up during winter. It would certainly give the place a very warm and cozy feel. 
The restaurant however has been, not so long ago, refurbished and is not designed very scientifically when it comes to acoustics and is quite unfriendly on that front. This seems so especially when the restaurant starts getting busy and the conversations from all the tables seem to slam against the ceiling and the walls leading to a cacophony of sorts, making it further impossible to hold conversation. So choose to sit on the patio if you are looking for a quiet meal or even some conversation. 
Sul Verde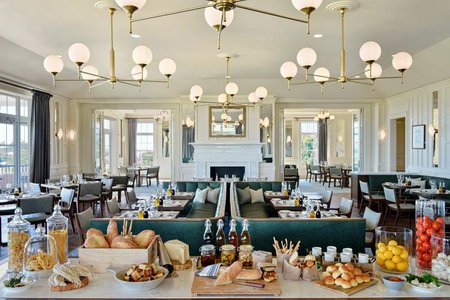 Source: Sul Verde 
Food and Drinks
In keeping with their signature cuisine, the restaurant serves delicious pizzas, risottos and some very interesting choices for pasta lovers. The food here is extremely fresh and of high quality. The menu has a good selection of appetizers and main courses. While the food is all nicely prepared and well presented, save a few, most of what they serve good, though not outstanding.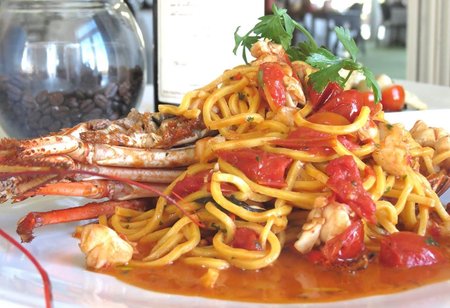 Source: Sul Verde 
The roasted garlic oil and bread is excellent and so are the other delectable cheeses, breads, pastas and sausages, all prepared in-house and using the finest ingredients. Some of our favorites here are the pasta with rich and tender meatballs, the strip steak that was tender and well cooked just the way we wanted it, beautiful ribbons of fresh pasta with Bolognese sauce, spaghetti with clams, prawns, scallops and locally sourced fish. 
Other interesting and unique items on the menu are the "House made sausage of the moment" or "Pan roasted spicy broccoli rabe". The local snapper in an aqua pazzo, the Eggplant parm, the penne ragout and linguine vongole are all quite nice and very fresh. The traditional spaghetti and meatballs (Polpette) is served piping hot and simply glorious. The meatballs are rich, meaty and delicious. 
Risotto Porcini 
Source: Sul Verde 
Appetizers of chicken liver on toast are nice and in salads we enjoyed the buffalo salad, the pesto salad (one of our favorite items on the menu) and even the caprese. There is a great variety of entrees on offer. You can even go for half plates, which is a great idea if you plan on leaving some room for dessert. 
You cannot go wrong with their Burrata or the pastas or for that matter their signature dishes like the Spaghetti alle Vongole, Ravioli Capresi, Zeppole di San Giuseppe. The pastas (they have a choice of gluten free or whole wheat pastas) are cooked perfectly and the tomato sauce is quite evidently fresh and seasoned perfectly. We would recommend the one with clams and also the pasta with olives and prosciutto as worth a try. We had the Ragu emiliano which was great. The pasta was perfect and the Angus beef sauce, really tasty. 
They also have on offer a La Nona menu which will remind you of a classic Italian family dinner. Here they have a variety of dishes (includes appetizers, pastas, meats, seafood and dessert) brought to your table on platters which is then shared by everyone- very home style and of course, very Italian. The portions are good and more than enough for everyone to share. 
Grilled Lamb Chops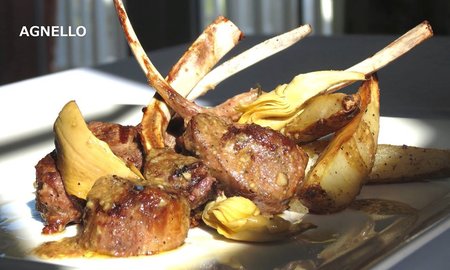 Source: Sul Verde 
There is a buffet table in the middle of the room that serves charcuterie and antipasti for starters. It is by all means well worth it. They have a variety of different offerings and the bar menu changes regularly. They have a separate lunch menu which includes burgers, sandwiches and some snacks. There is also the Bermuda Fish Chowder, fish n chips, paella, wraps etc. Although the offerings here might not be one that would  blow your mind away, it certainly wouldn't leave you disappointed. 
The chocolate flan and ice cream is very good and serves as a great finish to your meal. The Tiramisu, pannacotta, cannolis are all great dessert selections too. The gelato is also very nice though the choice is limited to chocolate, strawberry and vanilla. 
The wine selection, especially wines from southern Italy, here is extensive. The cocktail list is also comprehensive and they are all quite well made. You will in fact sense a little more Italian tradition finding its way into the bar menu with aperitivos, grappas and homemade Italian liqueurs holding pride of the place there. 
Service
Servers are gracious, competent and attentive. Service however slackens if the place gets extremely busy. 
Trivia
The restaurant is on the pricier side. It is advisable to arrange for a transportation back, beforehand. Dress code is Resort casual. 
Conclusion
The Sul Verde exudes a relaxed club atmosphere with spectacularly striking views over
Castle Harbor
. You also get a fine dining experience without the pretentiousness or the stuffiness you might encounter elsewhere. So whether you are on the terrace eating a T bone Italian fish or pizza in the bar, the food, service and ambience are all great. Worth a visit for some great food and a great view. So relax, take your time, enjoy and savor every bite of a comforting Italian meal. 
Indicative Prices
Appetizers: $18-$21, Soups and Salads: $12-$18,  
Pizzas: $18-$29, Pasta and Risotto: $25-$34 
Desserts: $14-$19 
Wines: 
Signatures: $16, Beer and cider : $10, Wines by the glass: $15-$18 
Open Hours
Lunch: 11:30 a.m. to 5:30 p.m. 
Dinner: 5:30 to 9:30 p.m. 
Bar Service: 11:00 a.m. to 12 midnight 
Location and Contact
Road Map 
Rosewood Bermuda 
60 Tucker's Point Dr., Hamilton Parish, HS 02 Bermuda 
Related Articles
Visitors' Reviews and Comments