Blue Hole Water Sports
If you are looking for self-driven motorboats, Blue Hole Water Sports can be a great option. They have Boston Whalers with a maximum capacity of 4 persons. The boats are powered by Yamaha engines and are easy to maneuver. These self-driven motorboats are also fully equipped with bimini tops (canopy shades) and all safety gears including cellular phones. The operator also offers complimentary snorkel gear and coolers so that you can have a full day of fun. 
Boston Whaler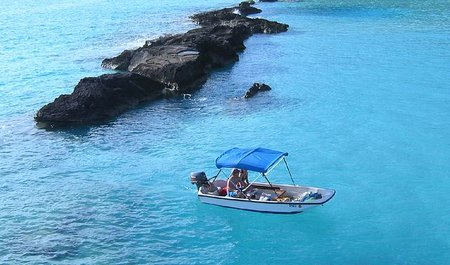 Photo: Blue Hole Water Sports 
Blue Hole Water Sports is located at the beautiful Grotto Bay Beach Hotel and offers easy access to a few unparalleled spots! The Castle Island Nature Reserve is regarded as one of the most beautiful and secluded areas on the whole island, is a pleasure for nature lovers as well as the historians.  
There are also some beautiful beaches in close proximity of
Castle Island
. These beaches are perfect for a splash, a picnic and snorkeling. 
You can also reach
St. George Harbor
, a safe haven for mariners for centuries. This is an excellent area for a sightseeing tour on water. You can see the historic old town, admire the visiting yachts from all over the world, or move around the numerous islands in the St. David's area. 
Here are the offerings from Blue Hole Watersports Center: 
Boston Whalers powered by Yamaha Engines. They can accommodate up to 4 persons. The boats are easy to maneuver. They have bimini (sun) tops and safety equipment including mobile phones. Complimentary snorkel gears and coolers are provided on board 
Battery powered Sunkats that are great for relaxed cruising 
Kayaks: Sit-on-Top kayaks for both single and double 
Sail Boat rentals 
Paddle Boats and Rafts 
Windsurfing Boards 
Stand up Paddle Boards 
Snorkel Gears 
Indicative Rates 
Motorboats: 2 hour $120, 4 hour $180, 8 hour $300 (fuel extra, $8 per gallon) 
Kayaks: Single $20 per hour, Double $30 per hour, $15 for each additional hour 
Snorkel Gears: $8 per hour, $24 per day 
Paddle Boards: $30 per hour, $15 for each additional hour 
Fun Cats: $40 for 30 minutes, $60 per hour 
Sunfish Sailboat: $35 per hour (Experience required) 
Windsurfers: $30 per hour, $20 for each additional hour (gears available) 
Rafts: $10 for 4 hours, $15 per day 
Location 
Blue Hole Water Sports Center is located at the Grotto Bay Beach Hotel. 
Once you reach the hotel, walk through the hotel property and towards the water where they are located.  
Address: 11 Blue Hole Hill, Hamilton Parish.  
Bus routes #1, 3, 10 or 11 (all these buses operate between Hamilton City and St George). 
Open Hours 
They are open from March to December (Closed in January and February). 
Open timings vary depending on the month. In summer (high season) they operate from 8:30am to 6pm. 
Contacts Info 
Phone: 441/293-2915 or 293-8333 ext. 37 
Road Map 
Related Articles
6)
Hamilton Parish
: find out other great attractions and activities in the parish. 
Visitors' Reviews and Comments
Review and share your experience.