Bermuda Palmetto
Bermuda Palmettos are endemic palm trees and that means they can be found only in Bermuda and nowhere else. Although it is possible to confuse the palmetto with other introduced and invasive species like the Chinese Fan Palms, there are key differences. For example palmetto's have round black berries compared to green oval shaped berries of the Chines Fan Palm. 
Palmetto's have obvious 'V' shape between the stalk the leaf. Also the palmettos do not have thorns along its leaf stem like the other ones. Bermuda Palmettos are scientifically known as the Sabal Bermudana. They can grow up to some 35 feet in height and can be found all across the island, particularly in the upland areas, coastal forests and also in freshwater marsh. They do not adapt too well in the salty marsh areas. 
The leaves are dark green in color and quite firm so that they easily can withstand windy weather conditions. The leaves have a bright yellow patch in the middle going around the stalk. At the base of the leaves there are fibrous crowns that provide nice nesting facilities for the birds. The palmettos produce yellowish white flowers in the spring and by fall they turn into purple-black berries each having one large seed. The berries serve as great food to the birds. 
Bermuda Palmetto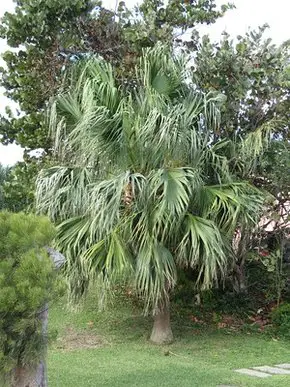 Photo: Malcolm Manners, flickr, cc by 2.0 
Bermuda Palmettos have had long bondage with the islanders right from the early settlement days. In the earlier days during the 17th and 18th centuries, the palmetto leaves were used to make thatched roofs of the houses and churches. 
The fibrous leaves were also used to make hats, ropes and baskets. In the earlier days, Bermudians used the sap of the palmetto trees to make an alcoholic drink known as the Bibey. In fact the Bermuda Palmetto trees are also known as Bibey or Bibby trees. 
Today these trees are planted by many to decorate the gardens. They are also widely planted in places like in parks, nature reserves and golf courses. There are some patches of palmetto forests that can also be seen in the island. 
Some of the places where you can see Bermuda palmetto forests includes
Paget Marsh
and the
Butterfield Nature Reserve
. These forests provide habitats to many other useful vegetation in Bermuda including the Bermuda Sledge, Bermuda Spike Rush etc. 

By Raj Bhattacharya 
Raj, a seasoned travel writer and Bermuda destination expert, has extensive global travel experience. This website reflects his profound insights, garnered over nearly two decades of dedicated findings and research on the island. Raj has assisted countless Bermuda-bound visitors by providing direct, personalized responses to their queries and imparting his wealth of knowledge through this platform. This site serves as an indispensable guide for those seeking informed and reliable insights into Bermuda's treasures. 
Related Articles
Visitors' Reviews and Comments
Review and share your experience.