Bermuda Minibus & Van Services
Apart from the regular public buses, there are also minibus and van services that are available at several places in Bermuda. These mini buses carry 8-15 passengers and provide shared services either on specific routes or customize it to a requirement of a private group. They take you to places where the regular public buses usually do not go. While the minibus ticket fares are a bit costlier than regular buses, they are far more economical than taxis.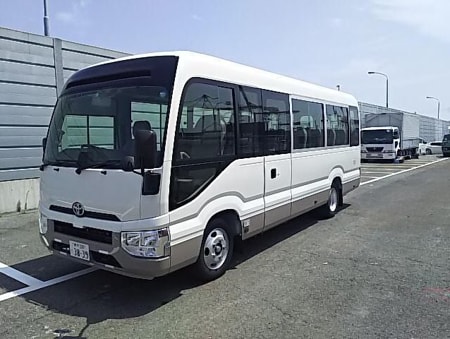 Photo: Flexi Transport, Bermuda 
Most of these minibus services (which operate on per person rates) are run by private companies but the rates are regulated by the government. While some minibus services in the island operate in fixed routes, the others offer different kinds of services like shuttle services from airport and cruise port, chartered services for private group when they need pick up and drop services for special occasions, and even for half-day or full-day island tours. 
From the cruise ship dockyard, while bus #7 is the most popular public transport for the south shore beaches, during high season half the cruise ship passengers including the cruise staff try to ride the buses, and you can well imagine the kind of rush you may need to face. There is now an option to ride a shuttle minibus from the dockyard to get to Horseshoe Bay Beach and return. The per person fare difference could be only couple of dollars. 
Here are the main minibus services in Bermuda: 
Beach Minibus Shuttles from Dockyard
There are privately operated beach shuttle minibuses in dockyard that queue up close to the cruise berths. These minibuses mainly serve the cruise ship passengers wanting to visit Horseshoe Bay Beach. Starting from 8am there are regular services to Horseshoe bay beach. 
The minibuses go right up to the car park at Horseshoe bay beach below the South Road, and then it's a short and easy walk to the beach. On the other hand, the public bus service (i.e. bus #7) would drop you at the bus stop on South Road and then there is a longish downhill walk to the car park and then the beach. The walk back up to South Road could be tiring for some. 
The last minibus leaves dockyard at 3pm and the last one returning from Horseshoe bay beach is at 6pm. The fare is government regulated. One-way fare is $16 per person. You can board and pay the driver in cash. This shuttle service operates during the summer season when cruise ships are in port. 
Kevin is the owner and driver. His minibus can accommodate about 15 persons and it's quite spacious. He offers beach services from Royal Naval Dockyard to Horseshoe Bay Beach, Church Bay Beach and Warwick Long Bay Beach. There are set times for several pickups and drops. One-way fare is $7. 
He also offers shuttle services for Harbor Nights at Hamilton (pick up from dockyard at 6:30pm and leaves Hamilton at 10:30pm). Direct transportation service to various destinations in the island is also offered. Sunday closed. Phone: (441) 703-3659; Email:
[email protected]
Flexi Transport Services
Operating since 2011, this company has several minibuses offering both sightseeing tours as well as private group shuttle services. While they offer a standard island wide tour that leaves from Royal Naval Dockyard, they also offer customized tours and specialized shuttle services for private groups. All their minibuses are air-conditioned and well maintained. All minibuses are equipped with PA systems that are used by the knowledgeable drivers to narrate stories about the island, its people and culture. 
For booking and further information, use the following contacts: 
Phone: +1 441-505-7690 
This company is run by Calworth Furbert. He too has a minibus with a capacity of 15 and offers transportation services for private groups. He has a fleet of 3 Toyota minibuses. 
Ambassador Brown's Mini Van Service
Offers private group and party tours in their mini van (seats 15 adults without luggage). Phone: 441/533 0326, 293 6077; Email:
[email protected]
A+ Transport Services
(wheelchair accessible) 
Incorporated in the year 2016, this transportation services company is headed by Valdon Caesar (known as Val) who has also won awards for being one of the most knowledgeable in his field. This service is also available to wheelchair bound guests. 
They offer several services including Airport to hotel transportation, Cruise ship passenger transport, various sightseeing tours and even customized tours as per your requirements. They run a van that can accommodate 12-13 passengers depending on whether there is a wheelchair bound passenger on board. 
The van is very clean, spacious and comfortable.  Their rates are based on the kind of tour you take.  A 3-hour, 4-hour and 5-hour tour for 1-9 passengers cost $330, $440 and $550 respectively with an additional $45, $55 and $65 per person for a maximum of 13 persons. An additional $10 is added per wheelchair passenger. 
Suburban Transit Minibus
Operates in the central parishes like Pembroke, Paget and Devonshire. Phone: 441/293-1244 
St. George's Minibus Service and Routes
There are several circuits covered by the minibus services at St. George's and they usually operate during summer (May to October) when tourist demands are high. All services start from St. George's Town (at Ordnance Island or Kings Square), make a loop and return. Several such round trips are made during the day. You can buy day tickets at the Visitors' Service Center at 25 York Street. 
There is a shuttle service to Tobacco bay (return ticket $7) as well as to Fort St. Catherine every hour (Roundtrip Adult: $10, Children of age 6-12: $6 including admission to fort). 
Another route goes along Government Hill Road, covers Unfinished Church, Achilley's Bay Beach, St. Catherine's Fort, then takes the Barry Road covering Alexandra Fort and Building Bay, Gates Fort and then takes the Cut Road and returns via Mullet Bay Road. The service is available almost every 30 minutes during the day time. No night service. Ticket: $6 round trip, does not include admission to any forts. You can hop on and off. X Route temporarily discontinued 
Another route goes to St. David's, covers Carter House Museum, St. David's Battery, St. David's Lighthouse and Clearwater Beach and then returns. $12 for round trip (you can choose to hop on and hop off at various points). X Route temporarily discontinued 
Michal Tucker runs this company offering mini bus tours for groups of up to 12. He mainly offers 3 and 5 hour Island Tours, beach and eco tours etc. Other services includes private group party shuttle services, dining and shopping tours etc. 
Other than serving as shuttle transfers or transports between places, several minibus operators also use their minibuses and vans to offer guided island tours to groups on per person rates and on private charters. You can join prescheduled tours of half-day or full-day to visit various attractions of the island, or charter the vehicle for your private group. 

By Raj Bhattacharya 
Raj, a seasoned travel writer and Bermuda destination expert, has extensive global travel experience. This website reflects his profound insights, garnered over nearly two decades of dedicated findings and research on the island. Raj has assisted countless Bermuda-bound visitors by providing direct, personalized responses to their queries and imparting his wealth of knowledge through this platform. This site serves as an indispensable guide for those seeking informed and reliable insights into Bermuda's treasures. 
Related Articles
Visitors' Reviews and Comments
Carol Szymendera  (July 2018) 
Raj, If we decide to go to Building Bay Beach, how much is the shuttle to/from Gates Fort?  
We are also interested in seeing the lighthouse near the port. What would be the best way to get there from the cruise port? Thanks for your help! 
Raj (bermuda-attractions.com) July 2018 
Hi, the Beach Shuttle that earlier went all the way to Gates Fort is no longer operating in this summer. There is however a minibus that operates between Kings Square (St. George) and Tobacco Bay. So you need to take a taxi to Building Bay and Gates Fort. From Royal Naval Dockyard you can take bus #7 for Gibbs Hill Lighthouse in Southampton. 
Bernadette Dionne (March 2017) 
Michal (Affordable Ride) you probably don't remember the crazy bunch from Conn, who were out there about 5 years ago, you were so great to us and we are coming back and would like to have you as our tour guide, you and my son Al went for a drink together, I sat in front with you as I have trouble, I had my walker you were so good to us and I told you if I ever came back to Bermuda I would contact you to be our driver, you were the best, as of yet don't know how many are going, At that time Linda was our travel agent, but this year we have a new one, we will be there in September, please let me know if you are still driving, your friend, Bernadette. 
Pat Fleming (July 2015) 
Can we schedule a mini bus with Mike Tucker for Horseshoe bay before we get there or do we have to wait until we dock in September ? 
Raj (bermuda-attractions.com) July 2015 
Mike is more into island tours these days. Take WEDCO shuttle instead ($16 round trip). They have a booking office at dockyard. Another good option is Ricky's Beach Bus ($14 round trip to horseshoe from dockyard). You can sign up in Ricky's beach bus in advance by filling up a form on his website giving details of the service required. Here is his page: www.rickysminibus.com/bermuda-island-tours