Bermuda Triangle Mini Bus Tours
Owned by Calworth Furbert, this tour operator offers private bus tours in Bermuda for larger groups for up to 15 persons in their mini buses. However you can book more than one such buses to accommodate even larger groups. They also offer airport pickups and drops, golf & wedding transportation and cater to special requests and arrange larger vehicles if you need. 
Furbert has over 40 years of experience in Hospitality industry and has been a veteran in Bermuda. They offer different kinds of guided tours including Dine Around Tours, Shopping Tours and Sightseeing Tours with experienced guides. The Dine Around tour provides ample choice of restaurants in the island. There are special packages available for groups. The dine around tour takes place on Tuesdays and Fridays. 
Mini Bus (Bermuda Triangle Tours)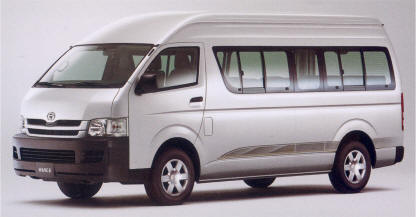 The sightseeing tours are conducted on Tuesdays and Thursdays. There are 3-hour and a 6-hour tours accompanied by guides. The four-hour shopping tour lets you shop at some of the select and best stores in Hamilton City. It includes visits to stores like: 
David Winston for Men's Fashions. This is a designer men's stores having a notable cedar entrance. Some of the main brands include Armani, Hugo Boss and Van Gils. 
Boutique CC for Ladies Fashions. This trend setting store is one of the island favorites. 
Cécile for Ladies and Children's Fashions. This is a designer fashion store featuring brands like Emilio Pucci, Armani Collezioni, Tibi, Milly, Missoni M, Lilly Pulitzer, Basler, Gottex and Manual Canovas. 
The English Sport Shop for Men's, Ladies and Children's Fashions. This is one of the best stores in the island for original Bermuda Shorts. 
Lusso for Men's and Ladies Accessories. This Italian designer store features brands like Fendi, Ferragamo, Jimmy Chou, Miu Miu and Prada. 
Marks & Spencer - Men's, Ladies, Children's and Food Hall. This British Departmental store in Bermuda is well known to both locals and visitors. It offers lingerie, clothing, bath & body and grocery items. Great place to pickup a bottle of wine and lunch packs. 
Contact Info
US Phone: 1.888.308.4687; Canada Phone: 1.888.310.4849; Bermuda Phone: 441/293-5806 
Raj Bhattacharya
Raj is an avid traveler and a full-time travel blogger. He has traveled to numerous countries across the world and loves to keep travelling. His mission here is to help viewers like you visiting Bermuda or seeking insights into related matters with the most comprehensive content compared to any other online resources. Since years now he has been helping countless viewers by posting quality articles on this website, answering questions and sharing experiences. Launched in 2008, this website is Bermuda's leading source of online information since many years. 
Related Articles
Visitors' Reviews & Comments
Share your experience.