Bermuda International Airport
Bermuda International Airport now has a different name. It has been renamed to L.F. Wade International Airport after late L. Frederick Wade, the former leader of the Progressive Labor Party of Bermuda. The Airport name change was done in April 2007 to honor his contribution to Bermuda. The airport is small and simple... there are no jetways or covered walkways when you board or get off the aircraft. 
Which means when you arrive, you need to climb down the stairs from the aircraft and walk on the tarmac to get to the terminal. Same process when you are departing. If it's raining as you walk, you get wet. It happened with us and we loved that. I hear that they have plans to make covered walkways in future. In 1995 the airport authorities attempted to create a moving tunnel to transfer passengers between the aircraft and the terminal. It failed :-) 
Update 2017: A new airport terminal is being constructed within the same airport area but away from the present terminal. Therefore the present airport will continue to operate as usual although passengers will see a lot of construction work going on in the premises. The ground breaking ceremony for the new terminal construction took place on April 27, 2017. It is expected to take 40 months (i.e. until end of 2020) for work to complete and new terminal getting into operation. Other than many modern facilities, 6 covered air bridges will be added in the new terminal. The companies Canadian Commercial Corporation and Aecon have been appointed by Bermuda Government to finance, construct and then operate the new airport terminal over a 30-year period. Once the new terminal starts its full operation, the old terminal will be mostly decommissioned except for some office spaces. 
However all types of planes - small or large can land at the present Bermuda airport. There are both passenger and cargo terminals. In 1995, an airport hanger was built. As you can see in the map below, the airport is located at
St Davids Island
of St George Parish. Once you cross the causeway from main island of Bermuda, the Kindley Field road leads to the airport at a short distance. The airport area is also known as Kindley Field. This is at the eastern end of the island and is about 10 miles away from Hamilton City. It takes about 30 minutes to reach by Taxi from Hamilton.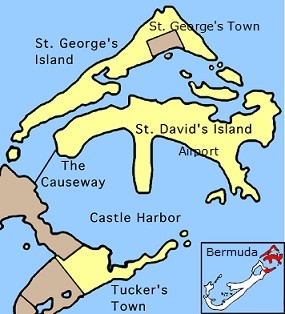 Brief History of Bermuda Airport 
The first airport facility at the Kindley field in St George's was built between 1941 and 1943. This was done jointly by the US Army Air Force and the British Royal Air Force. At the end of World War II, the Royal Air Force left Bermuda. The facility by then was hosting civil as well as military aircraft. It was then operated by the US Air Force until 1970 after which it was transferred to the US Navy. The Navy operated it as US Naval Air Station until 1995, when it was transferred to the Bermuda Government's Ministry of Tourism and Transport. Then started all the heavy taxes on the airlines and the passengers. But you won't see the taxes. They are all included and hidden in the ticket fare. 
Today, Bermuda Airport offers service to several destinations in Europe, Canada and the U.S., including travel hubs such as London, New York, Miami and Toronto. Check out
Flights to Bermuda
for details. The airport is at its busiest during the high summer season, between June and August, when it handles around 300 arriving flights daily. 
The Bermuda International Airport handles over 1 million passengers every year. Although the airport originally had three separate runways, only one is in use today. 
Shops, Restaurants & Services at Arrival and Departure 
On Arrival, there is only one duty free shop where you can mainly buy wine, spirits and tobacco at duty free prices. This store is located after you pass through the customs and before baggage claims. 
However during departure, there are several options. In pre-departure lounge (i.e. in common check in area), there is a Gift Shop. Cafe Boulevard at the Lower Concourse area offers sandwiches, Italian dishes, Sushi, Coffee, cold drinks, full service bar etc. If you are departing for Europe or Canada, you won't get further opportunity to eat before you board the flight. There is no other restaurant or eatery in the departure lounge for flights bound for Europe and Canada. 
There are two separate departure areas - one for the US bound passengers and the other for Europe & Canada. In both the departure lounges, you can get Duty Free items, News Papers, Magazines & Sundries, Clothes & Jewelry, Spa items, Island Souvenir & Gift items, Children Toys & Games etc. There is free Wi-Fi, seats with power points to charge your mobile or other devices, booths to purchase international airline tickets etc.  
However US Departure has additional amenities like Restaurants & Lounges - Island Coffee & Bistro (offers a range of pastries and snacks), there is also an outlet of the well known
La Trattoria & Sports Bar
serving sandwiches, grilled items, subs, Sushi items, tea, coffee, alcoholic beverages etc (this is the last eatery before you board the flight), an Executive Lounge (you can get day passes). The US Departure also has a smokers' lounge, art gallery, children's play area etc. 
UK and Canada Departure area has British Airways Executive Club Lounge though. 
Bermuda airport also has monetary services like ATMs and Currency Exchange booths. 
Update June 2018: A new duty free store 'Bermuda Duty Free' has been launched by Goslings company which not only showcases their brand of liquor products (especially the range of Goslings rum), but also several other local and international products including cigars, clothes, perfumes, belts etc. This store was earlier franchised out... however at the end of the lease period, the parent company has taken over and expanded the store. It's located at the departure area. 
Airport Ground Transportation 
Outside the arrival lounge,
Taxi Service
is available to transfer passengers to hotels or any place within the island. There are plenty of taxis, both smaller ones (4-passenger) and 7-passenger vehicles. 
Several shuttle operators offer transfers based on per person rates. They offer Individual, couple and group transfers as well as private island tours and excursions. Check out
Airport Shuttles & Transfers
for details. 
Bus #1, 3, 10 and 11 operating between Hamilton and St. George's Town also service the airport. However they won't allow any luggage. So if you are travelling with a small bag, you can board the bus. The bus service to the airport is essentially meant for the staffs working at the airport, but passengers can also board if travelling without heavy bags. 
Airport Contact Information 
Postal Address: 
Department of Airport Operations, L.F. Wade International Airport, 3 Cahow Way, St. George's GE CX, Bermuda 
Airport Staff & Information: 
Phone: (441) 293-2470, 9:00am - 5:00pm 
Any airport staff can be contacted through the above receptionist number. 
Lost & Found: 
(441) 293-2470, 9:00am - 5:00pm 
Bermuda Immigration: 
Phone: (441) 293-2542 
Airlines Contact Information: 
Air Canada. (441) 293-1777 
American Airlines. (441) 293-1420 
British Airways. (441) 293-1944 
Delta Air Lines. (800) 221-1212  
JetBlue. (441) 293-3608 
United Airlines. (441) 293-3092 
Westjet. (441) 293-1333 
Book transfer shuttle or lounge at Bermuda airport using Viator - World's #1 online service. 
Related Articles 
Visitors' Reviews & Comments 
Share your experience...