Electric Sun Lounger Boat Tours, Bermuda
This is a new and exciting feature that the island has introduced for its visitors, to have a unique experience while exploring it on water. Go-Float Bermuda is a venture that has been launched by a locally owned company where they offer two-seater electric boat excursions around the western end of the island where the waters are calmer. 
These boats are entirely electric powered and are quite comfortable and fun. It can be a great source of relaxation and enjoyment for all ages as it is quite safe and easy to operate. There is a single push button which starts off the engine and a one-hand control for steering it around. The boat glides quietly and effortlessly in the water while you can just sit back and relax on it. 
Electric Sun Lounger Boats, Bermuda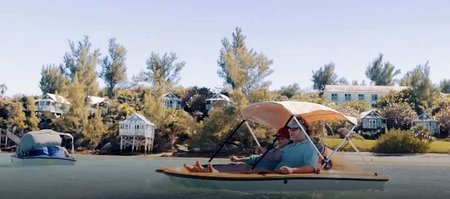 Photo: CurrentSea Ltd. 
You can go sightseeing on these boats or simply lounge on them out in the open waters under the sun with friends or family. This is eco friendly and promotes greener activities. The noiseless cruising does not cause any disturbance to the marine life and you can get close to the turtles on it. 
There is a guided tour that lasts one hour. Your guide will take you to the areas where you can spot the maximum number of turtles and the best sea life. They will also give you interesting information about the area and the island. The boats come in vibrant colors and are well equipped too with bimini tops, coolers, two beverage holders and bluetooth/radio stereo system and complimentary WiFi! 
These boats are technologically superior and have a host of safety features too like a handheld radio in a waterproof case and a GPS tagging device so that you can be tracked and towed back if you run into any sort of difficulty. There is also a waterproof map, first-aid kit, whistle, flashlight, mirror, collapsible paddle, life jackets for each passenger. The automatic bilge pump for water removal gets activated if water enters the boat by a wave splash or in the wake of a larger cruiser. To keep track of the amount of charge remaining in the battery there are ten color coded LEDs. The last flashing red and yellow pair indicates a final warning of your battery running out of charge. 
Although the boats are simple to operate by all age groups, the company has a minimum age requirement of 16 years for all operators (they may require a valid photo id). Any passenger under the age of 16 has to be accompanied by an adult. It is not wheelchair accessible. A typical standard excursion lasts about an hour. The boats can accommodate 2 adults and also a fit in a little one. The maximum weight it can hold is 500 pounds and the maximum speed it allows is 4 mph which lets you comfortably cruise along the coastline and do your sightseeing at a leisurely pace. 
Bookings can be done for single passengers or in a group (up to 18 people). You can even customize your boat rentals. It is quite fairly priced and if you wish to cancel, you will get a full refund if you cancel at least 24 hours before the day of the tour. Also if the trip gets cancelled by the organizers due to inclement weather or the lack of a minimum number of passengers, a full refund or a different date for the excursion is offered. You will receive a confirmation at the time of booking and can carry mobile tickets also. The group tour is a 1 hour guided tour. 
Rates by Viator 
Open Hours
Monday - Saturday: 10am - 6pm 
Sunday - 2.30pm - 6pm 
The boats operate from the months of May through October. 
Contacts
Phone:  +1 (441) 599-2665 
NOTE: The electric boat tours presently operate from
Daniel's Head Beach Park
in Sandys which is quite close to Royal Naval Dockyard. Easiest is to take a rental scooter and get there. Alternatively bus #7 and 8 have a nearby stop, from there you need to walk for about 700 yards.  
Related Articles
Visitors' Reviews and Comments