Daniel's Head Beach & Park Bermuda
Tucked in a remote western corner of Sandy's Parish, Daniels Head is a wonderful gem of a place in Bermuda. It's a peninsular area. No wonder, resorts like 9-Beaches had chosen this ocean facing area to provide guests with scenic experience of the Atlantic in a quiet environment. Daniel's Head spreads along some 17 acres of coastal area and has number of beaches (nine of them) and a park. 
While most of the beaches are now privately owned, there is one which is public and beautiful. When you come to Daniel's Head, you will realize that this is one of the best kept secrets and known to very few tourists. The locals sometimes come here with families and enjoy the whole day on weekends.  
Daniels Head Beach and Park, Bermuda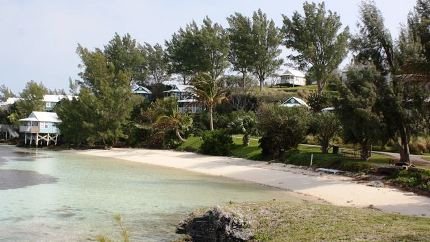 The coastal and the beach area is excellent for picnic. The water is calm and clear blue. 
This entire area (Daniel's Head Beach Park) was once the base of Canadian army during World War II, which was known as Canadian Forces Station (CFS). You can still see the empty barracks and the recreational hall. Snorkeling at the Daniels Head is excellent. The water is quite shallow and calm, ideal for families with children. You will be able to see fishes like angelfish, wrasse, sergeant majors, parrotfish etc. A small island called the Daniel's Island is located at a short distance offshore. 
About 400 yards away to the west of Daniel's Island, you will see the partially submerged shipwreck MVS Vixen with half of its hull jutting out of the water. You can snorkel around this wreck. But for that you will need to take a
Snorkel Boat Tour
. The water area here is full of fishes and you can even hand feed them easily. The best part about snorkeling here is you get to often swim amongst the turtles in its shallow crystal clear waters. 
Daniel's Head Beach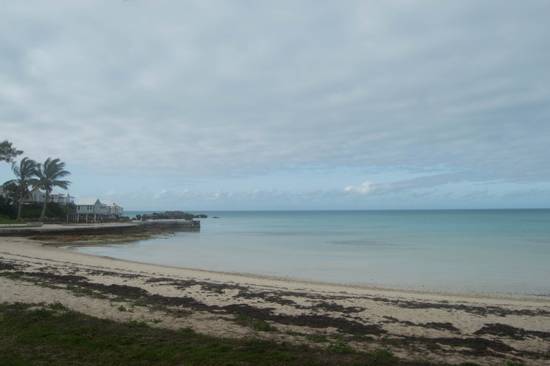 Couple of operators (SurfSUP: 441/300-1000 and Crystal Clear Kayaks: 441/595-2925) operate out of Daniel's Head Beach Park. You will get Standup Paddle Boards, windsurfers and Kayaks on rent. Guided tours are also offered. Kayaks have glass bottom panel to view the underwater marine life and fish. Both single and double seater kayaks are available. 
One of the best offerings is the sunset kayak tours... with bright LED lights fitted to the kayaks, the sight of the water and the fish in the dark is an experience which you won't easily forget. It is different and far more amazing compared to day kayaking. Presently they are offering this guided kayak tours on Wednesdays, Thursday and Fridays. 
Larry (Laurence Fox) who runs SurfSup out of Daniel's Head Beach communicated to me that he rents chairs, umbrellas, mask fins and snorkel as well. He has also mentioned that ... "I have a friendly taxi driver who wants to work and has said she will do the short run to the cruise ships. If she is not available and I have my car here. I will willingly take people back to the ship when I can." This is a good news for cruise ship passengers who do not have their own transport (like scooters etc). 
Amenities like toilets, parking etc are available at the park area. There are no charges for using these. A small food shack offers barbecue, fish sandwiches and other Bermudian dishes, as well as beverages. It has outside seating although limited. 
Update: Unfortunately the Bermuda Government has removed all small business operators following Hurricane Nicole in October 2016. So there are no facilities on the beach now (i.e. no operators or snack stall). While you can still visit the beach, swim and snorkel, the beach now seems to be lacking maintenance and has some trash around. You can however use the toilet at the abandoned 9-Beaches Resorts close by, but that too may become inaccessible soon. Note that Crystal Clear Kayaks now operate out of
Clearwater Beach
and you can meet them at Gombey's Bar and Restaurant. 
Update July 2018: After making amendments to the property, the beach has been reopened to public. X20 Adventures, a floating water park, is set up here offering various fun activities in the water like slides, fun obstacles and a Kids Zone for smaller children. Other new activities here include snorkeling and jet ski tours. Snack Shack is back offering snowballs and snacks. A new addition is the Hardwired Jewelry Art that sells original handmade jewelry. 
Update July 2022: There is presently no facility at Daniel's Head Beach. All facilities had closed down when the Covid pandemic struck and they are yet to re-open. 
Location of Daniel's Head
Daniel's Head Beach Park is on Daniel's Head Road (also known as Daniel's Head Lane), off Cambridge Road in Sandys parish. Buses #7 and 8 (operating between dockyard and Hamilton) come up to Somerset (takes about 10 minutes from Dockyard). You can then walk down to the beach (about 1km or 0.6 mile). It can be a longish walk and walking back to the bus stop under the scorching summer sun can be a gruelling experience. I won't recommend using public bus to reach Daniel's Head. 
However Daniel's Head is a short taxi ride from the dockyard (less than 10 minutes). You should carry a phone or use the phone service facility available with the beachside operator and talk to your taxi driver for a pick up from the beach. 
With a scooter or minicar, it's very easy to get to Daniel's Head beach. From the dockyard go east towards Somerset Village. After crossing the village come to the junction of Somerset Road and Cambridge Road. Enter Cambridge road to the right and after 200 yards turn left into Daniel's Head Road. Once you reach the end of this road, go through the gate and follow the signs for Daniel's Head Public Beach. Know about
Scooter Rentals
and
Minicar Rentals
in Bermuda. 
Road Map 
Nearby Attractions
While there are no proper restaurant here, you can go down to
Somerset Country Squire
(only a mile away) which is a proper bar and restaurant and a locals favorite. For quick bites (Bermudian fast food like jerk chicken sandwich) go down to the outlet Mr. Chicken on Somerset Road (0.7 miles). 
Related Articles
4)
Sandys Bermuda
: All about the parish, its attractions, hotels, restaurants etc 
Visitors' Reviews and Comments
Laura Scheer Dimitrijevic (July 2018) 
Any updated information on Daniel's Head since 2017? Is it still pretty vacant? 
Raj (bermuda-attractions.com) July 2018 
Hi, in 2018 summer, the Daniel's Head beach has been opened with several facilities and activities... there are Jetski tours, snorkeling, snowball and a floating water park for kids (with floating slides, obstacles etc). There is also a snack counter (Snack Shack) as well as a vendor selling handmade jewelry. 
Debbie Hoenstine (July 2017) 
We will be in Bermuda in September my husband wants to snorkel near where naval dockyard close to our ship but not at snorkle beach.  How should we get there from naval dockyard and how much will it cost.  How much will beach lounge chairs cost.  Is there bathrooms and any food?  Thank you for your help. 
Raj (bermuda-attractions.com) July 2017 
Bermuda government has evicted all small business operators from Daniel's Head Beach, and since beginning of this year there are no facilities at the beach ... no food stall or watersport operators. You can take a bus and walk for about 0.6 mile (one way), take a taxi (return can be a problem unless you walk back to the bus stop), or take a rental scooter (best option). 
JS (August 2016) 
The 9 Beaches Eco Resort is closed and there are no real facilities at Daniel's Head to speak of. There is a porta-potty and two operators who rent kayaks and paddle boards.  The clear kayak operator really blocks a lot of the main beach. The beach and surrounding area were not very clean and if going for beach and relaxation, there are better options. 
Sylvia Gordon (June 2013) 
I feel like I have a friend in Bermuda, so thank you so much for your information!! Are there any chairs at Daniel's Head? How long a walk from the bus for 2 slow seniors? Your input is so very much appreciated! 
Raj (bermuda-attractions.com) June 2013 
Daniel's Head is about 700 meters from Somerset Road where the bus stop is. So it takes about 20 minutes leisure walk for us. The Daniel's Lane that leads to the park and the beach is quite picturesque. But on a hot summer day, it can be a bit tiring. If this is too long a walk for you, then I suggest you take a taxi from the dockyard (only 10-12 minutes drive). On your way back, you won't get a taxi. So you can request the driver to come back and pick you up after a time. He may not be able to do that though. But if he agrees, do take his mobile number. In the worst case, you will need to walk back up to the bus stop. It's actually a great location for those who can drive scooters. 
There is a small concession at the beach which rents chairs and umbrellas. But the person is not available every day. Recently there has also been a change in contract for the concession. So I suggest not to rely on that. Regards, 
Louie (July 2012) 
Hi folks, I am running the snorkeling concession at 9-Beaches adjacent to the 'public' beach at Daniel's Head. You can snorkel Daniel's Island and also the wreck of the Vixen. I can provide 'safety' boat cover to make sure you have a safe and wonderful experience. Small very private beaches on site with reefs facing different directions so you can always find the 'lee' i.e. opposite to windward for calm, clear and enjoyable swimming or snorkeling.  
Mask and Snorkel $10, fins extra $5, vests or life jackets $5, umbrellas, chairs, fishing gear etc all at reasonable price. Daniel's Head is an excellent choice especially when the wind and waves are strong from the south or easterly. The shore slopes gently for a distance so is much safer for swimming. One of best kept secrets, away from the crowds of Horseshoe or the South shore beaches. Check us out, looking forward to serving you all. 
Update 2013: Louie no longer operates out of Daniel's Head Beach.