Beluga Sushi Bar, Bermuda
$$, Sushi/Japanese 
The Restaurant and Ambience
This is a relatively new venue that opened its doors in the year 2010 in the biggest mall on the island- the Washington Mall in Hamilton city. It is one of the best places for Japanese fare in Bermuda and is also the recipient of some prestigious awards like the "Bermuda Best Sushi" 2013 and 2014 and "Certificate of Excellence" 2014 and 2015 by Trip Advisor. 
The location of the restaurant is unassuming and a wee bit reclusive. It might be a tad difficult and confusing for a tourist to find the place especially with no indication of its existence or signage on the road outside of the mall. It is situated in the basement area of the mall at the entrance to the food court or at the bottom of the escalator. 
The restaurant is designed in a nouveau European modern style setting and exudes vibrancy. The atmosphere is very relaxed even though it is set in the middle of a busy multilevel shopping mall. Aside from the sushi bar and restaurant seating, there are three tables with booth seating near aquariums that are quite attractive and keeps younger members of the group entertained. 
Beluga Sushi Bar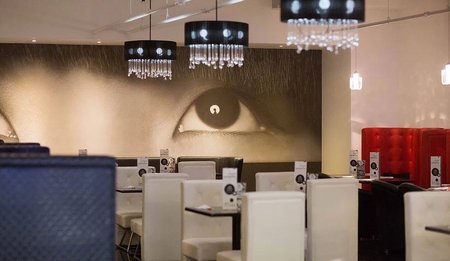 Source: Beluga Bar 
Food and Drinks
The restaurant offers what they call "Fusion Sushi" which is mainly the creation of the executive chef here Sammy Wong. He has trained in the culinary arts in Japan for many years and has now put together an innovative sushi menu that is a combination of the oriental sushi tradition and the western flavor. He maintains very high standards as is evident in the inventiveness of the rolls which he treats like a masterpiece!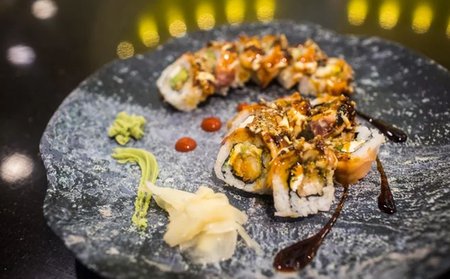 Source: Beluga Bar 
Some of our favorites  in the soups, salads and appetizers section include the Miso soup, Japanese pizza (the Okonomiyaki) which makes for a great starter, the fresh tuna and wahoo, the oyster shots, the smoked salmon appetizers, the salads like tuna salad, the spicy seafood salad etc, the Sashimi selection with scallion or other local fishes and the special ginger soy sauce and a maki roll.  
Portions sizes of the salads are mostly enough for two (unless you are really hungry). You get a small complimentary salad with seaweed before your appetizer is brought in, which sets you off to a good start.  The food here is fresh as they serve locally caught fish, use high quality rice and portion sizes are good too. It is delicious and very well presented (to put it mildly, as chef Sammy in fact puts up quite a show whipping up some of his magical creations from behind the counter). 
The sushi comes with a lot of innovative twists and flair that makes it very enjoyable. We had ordered the Nigiri Competition and what came out was a beautiful platter of Salmon and Ikura Nigiri and Temaki roll with Negitoro, Ikura and crunchy-finish Unagi. The chef also blends the wasabi with Tobiko roe which is quite nice. The three Dragon types platter is another favorite of ours with the Diamond dragon plate being especially delectable. You can also order the three course Omakase which comes with dishes selected by the chef, along with a bottle of sake which goes wonderfully well with it. 
Source: Beluga Bar 
It is a good idea to leave it to the chef to make you something fun and innovative and you will be amazed at what you get. The chef knows his fish and is gifted with culinary skills and a bold sense of art. He has a meticulous, delicate and precise way of slicing the fish which is most crucial to the art of sushi making. 
They have daily specials too where you can choose what the roll is topped with. The lobster roll special needs a special mention here. The Guaca shrimp, which is a tempura shrimp with guacamole is one of their specialties although it may not be a traditional item on the menu. The perfectly done scallop tempura in its light and crispy batter is a delicacy too.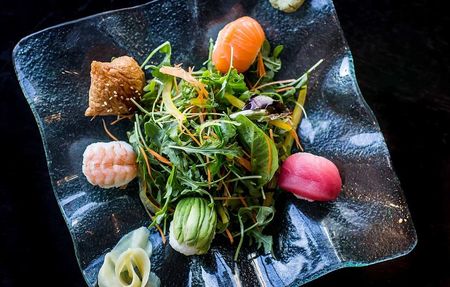 Source: Beluga Bar 
There are not much vegetarian options on the menu but you can mention to the sushi chef you need a vegetarian meal and he can rustle up a great platter for you that tastes just as good as it looks. Every course here has a special touch of its own and none of the conventional expectations of a typical Japanese sushi restaurant applies. 
They have a few selections in their dessert menu such as the Chocolate Molten Cake which you can have topped with an ice cream of your choice, Mango Pannacotta and a variety of ice creams and sorbets. Drinks is mostly white and red wines including house wines which they serve both by glass and bottle. 
The Service
Although they give you a nice and friendly welcome and greet you well, the service here could have its loopholes. It sometimes takes very long for simple tasks to get done like getting refills on water, bringing your check etc. The chefs however make it a point to come and have a chat with you, explain each dish, if they can take some time out from the kitchen, which makes for a good experience. They also cater to specific dietary requirements if you have any. Most of the staff is quite pleasant and friendly and ask what you like so they can make some great recommendations for you to try. 
Conclusion
Beluga Sushi Bar, small as it may be, serves some of the best sushi platters on the island that is comparable (if not better) to the best Japanese restaurants in the States. Do not be put off by its location, tucked away on the lower level of a shopping mall, as they have made the ambience spot on and the menu, world class. 
Indicative rates
Appetizers range from $9.75-$27 with a few vegetarian options for around $6.50 
The 8 pieces platter of rolls come for around $11-$27.75 
Sashimi comes for $15-$29.75 
Desserts will cost you around $9-$12.50 
In Drinks, a 720 ml Futo Sake can cost from $48-$200, a 320 ml Shisha from $15-$37.50. 
Glass of Reds, Whites and Rose range from $9-$13 and bottles from $44-$62 
Besides these there are the Proprietor's selections, House, Bubbles etc. 
A 17% gratuity is added to your bill 
Open Hours
Lunch: Monday to Saturday : 11.30am - 2.45pm 
Dinner: Monday to Saturday : 6pm - 10pm 
Drinks: Available from 5pm daily 
Sunday closed 
Location and Contact
Address: Washington Mall Phase III, 18 Church Street, Hamilton  
Road Map 
Related Articles
Visitors' Reviews and Comments
Share your experience.