Grape Bay Beach
This is not a public beach. The beach is actually privately shared by Grape Bay Cottages which is a vacation rental accommodation, Grape Bay Beach Resort (which is no longer in operation and left as a derelict since the past few years) and the rich residents who have houses along the south shore in Paget. However since it is part of South Shore national park and not under individual ownership, guests and visitors are also allowed access. 
The access to the beach is through neighborhood lanes winding down from the South Road, and as long as you respect the privacy of the residents living on both sides of the road and walk down quietly, nobody would mind you access the beach. And once there, you are on the paradise. It's a lovely scenic beach, clean and most importantly quiet. You will hardly find anybody here, that's mainly because tourists are not aware of this beach and also that it's private. 
Grape Bay Beach Bermuda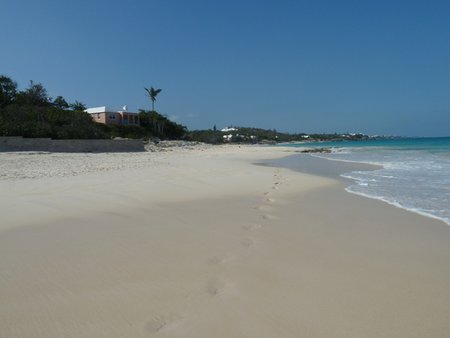 Photo: Grape Bay Cottages 
Like most other south shore beaches, you can see the pink hue in the sand here. The beach is clean and marvelous. It's great for swimming. The rocks on both sides of the beach are quite steep and you should not try to climb them. As I had mentioned, this is a private beach (although it does not belong to any single owner). So do not visit the beach with children or large group, and by all means avoid disturbing the tranquility of the place. There are no beach amenities here. 
There is a wonderful twin
Grape Bay Cottages
on the beach which is run by the Frith family and is a favorite to the guests. You can watch stunning sunset sitting on the balcony of the cottages. 
Sunset view from Grape Bay Cottage balcony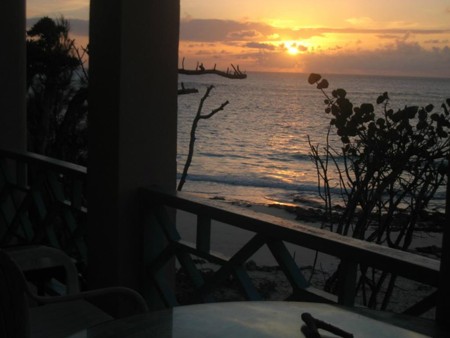 Photo: Grape Bay Cottages 
How to reach Grape bay beach
Grape bay beach is located in Paget Parish. It's about a mile from Hamilton City.  
Take bus #7 and get off near Paget Pharmacy on South Road at Paget. This is the nearest bus stop. Walk down White Sands Road which goes all the way down to erstwhile Grape Bay Beach Hotel through local neighborhood (the hotel was earlier known as White Sands Hotel). From here you will see a pathway leading down to the beach. 
Road Map 
Related Articles
Visitors' Reviews and Comments
Share your experience.