Sail Bermuda Private Sailing Charters
Since the early 1700's, the Zuill family has been deeply involved in shipping and ocean voyaging in Bermuda. And now, Captain Caleb Zuill, continues with this deep rooted family heritage offering island's one of the finest charter sailing options. He operates "Shekynah", a 51ft Morgan charter sail boat large enough to accommodate 25 passengers quite comfortably. Since they do only private chartering, the tours are designed carefully and with a lot of flexibility in mind. 
And this single-hull vessel is special. Why? Because when you are chartering a boat in Bermuda, you really want to venture out to some special places, particularly to the shallows where you can see some spectacular marine life and corals. While some of the other boats may struggle, "Shekynah" can easily make it as it has a very shallow keel - only 5 1/2 feet in depth. 
The boat is fully equipped with snorkel gears. So you have the option to snorkel at your will and in some of the best snorkeling areas that Bermuda has to offer. You can also ask for other water-sport activities like parasailing, jet skiing, scuba diving and so on. 
Shekynah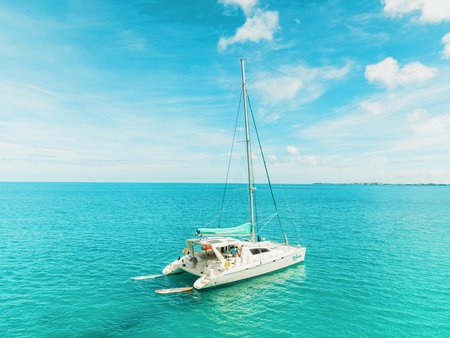 Photo: Sail Bermuda 
The boat has plenty of deck space for sun lovers. Well if you prefer the shades, it also has a large bimini cover to protect up to ten persons. She carries two large coolers packed with ice, sodas, beer and rum swizzle. There is refrigeration in the galley, two toilets are fitted on the deck and a fresh water shower. There are iPod connections and satellite radio on board. 
They also play great audio music at times. Caleb also talks about the places you pass by and about the island, its people and history in general. 
When you want to snorkel, you can easily get off the boat with the help of the stairs that go right into the water and snorkel. Afterward they take you to a great spot for
cliff jumping
and if you are game for it, you can enjoy this sport as well. You also pass a lot of beautiful little islets along the cruise and the crew members are more than happy to fill you in on little trivia and interesting facts about each of them. 
If snorkeling and swimming is not of much interest to you, the boat is at her best under sail, with plenty of canvas to make headway even in the slightest breeze. You can also charter the boat for an excellent breakfast or lunch cruise. You can either bring in your own food or they can organize a nice catering for you at a reasonable rate. 
Sail Bermuda has acquired Wyuna, a 47ft catamaran in 2017 which was originally built in 2005. 
Wyuna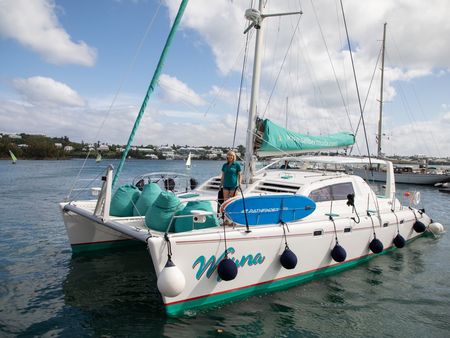 Photo: Sail Bermuda 
It has a capacity of 35 persons and has great features including 3 bathrooms, music system, enough deck space, refrigerator, ice maker and so on. 
Indicative Charter Rates
Shekynah 
3 hour (up to 6 persons): $800 
$200 for each additional hour. 
$25 for each additional person for a maximum of 25 persons. 
Wyuna 
For the first 12 persons: 
3hrs: $1,300 
$400 for each additional hour. 
$25 for each additional person for a maximum of 35 persons. 
Contact Info
Phone: (441)737-2993 
Address: 71 Harbor Road, Paget Parish, Bermuda. 
Related Articles
Visitors' Reviews and Comments
Share your experience.