Bermuda Location
Bermuda is a 21 square mile island located on the North Atlantic and off the east coast of North America. It is actually a string of 138 islands and tiny islets, out of which some 20 are inhabited and seven are joined by bridges and causeways to the main island. 
The island forms the north eastern corner of the infamous
Bermuda Triangle
and appears like a dot on a map. The land area which is closest to Bermuda is Cape Hatteras in North Carolina which is 665 miles (i.e. 1,070kms) due west of Bermuda and on the east coast of the U.S. 
San Juan (capital of the island Puerto Rico) is located 981 miles (1,578kms) south of Bermuda, while Miami (Florida, US) is located 1,034 miles (1,664kms) south west of Bermuda - these two form the other two corners of Bermuda Triangle.
You can see Bermuda Triangle location here...
Hamilton City is the Capital of Bermuda. 
Latitude and Longitude of Hamilton is 32.2948° N, 64.7814° W. 
Here are the flight duration and distances to Bermuda from different cities in the world: 
From New York City (USA) and Boston (USA): 2 hours (775 mile approx.) 
From Washington, Atlanta and Orlando (USA): 2.5 hours 
From Toronto (Canada): Little less than 3 hours (1100 mile approx.) 
From London (UK): About 7 hours (3475 miles approx.) 
From Munich (Germany): 8.5 hours 
From Milan: 10.5 hours 
Bermuda Location Map (with flight duration)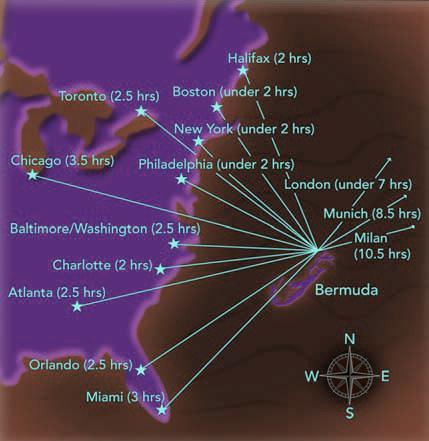 Many think that Bermuda is part of the Caribbean islands. It is not. It is an island in the North Atlantic, a British Overseas Territory but administered independently as a country. The highest point in the island known as 'Town Hill' is at an altitude of about 260 feet and is located in Southampton parish. 
Bermuda strategically sits at the crossroads of Britain, Europe, Africa and the Americas. Easy and regular
Access by Air
as well as
by Cruise
from various international cities in the US, UK and Europe makes Bermuda one of the most convenient places in the world to set up businesses. 
Raj Bhattacharya
Raj is an avid traveler and a full-time travel blogger. He has traveled to numerous countries across the world and loves to keep travelling. His mission here is to help viewers like you visiting Bermuda or seeking insights into related matters with the most comprehensive content. Since years now he has been helping countless viewers by posting quality articles on this website, answering questions and sharing experiences. Launched in 2008, this website is Bermuda's leading source of online information since many years. 
Related Articles