Bermuda Location
Bermuda is a 21 square mile island located on the North Atlantic and off the east coast of North America. It is actually a cluster of 181 islands and tiny islets, out of which some 20 are inhabited and 8 are joined by bridges and one causeway forming the mainland. Bermuda appears like a dot on a map. 
Location of Bermuda on Map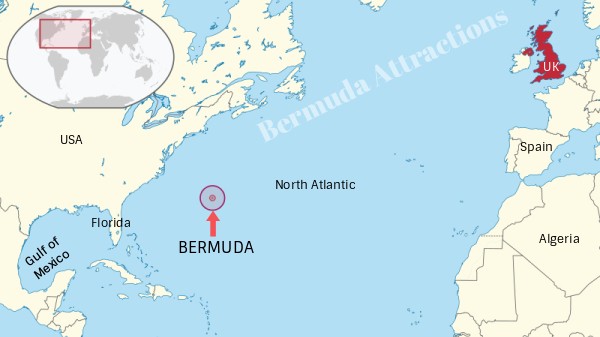 The land area which is closest to Bermuda is Cape Hatteras which is located in North Carolina on the U.S east coast and 651 miles (i.e. 1,048kms) due west of Bermuda. Charleston in South Carolina is 883 miles away from Bermuda to its west. Both are linear distances between the places. 
Bermuda strategically sits at the crossroads of Britain, Europe, Africa and the Americas. Easy and regular
Access by Air
as well as
by Cruise
from various international cities in the US, UK and Europe make Bermuda one of the most targeted places in the world to set up
offshore businesses
. 
Here are the flight duration and distances to Bermuda from different cities in the world: 
From New York City (USA) and Boston (USA): 2 hours (774 miles approx.) 
From Washington, Atlanta and Orlando (USA): 2 hours 30 minutes 
From Miami (Florida) to Bermuda: 2 hours 40 minutes (1,035 miles approx.) 
From Toronto (Canada): Little less than 3 hours (1,100 mile approx.) 
From London (UK): About 7 hours (3,475 miles approx.) 
From Munich (Germany): 8.5 hours 
From Milan: 10.5 hours 
Bermuda Location Map (with flight duration)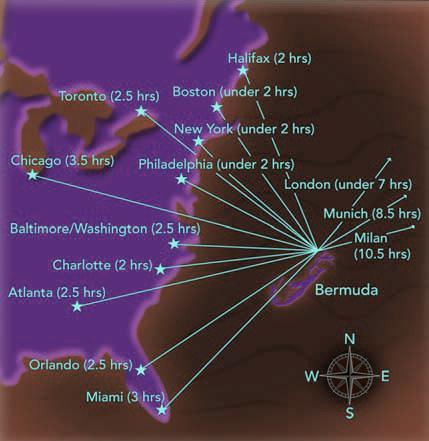 Hamilton City is the Capital of Bermuda. 
Latitude and Longitude of Hamilton is 32.2948° N, 64.7814° W. 
Many think that Bermuda is part of the Caribbean islands or perhaps the US. It is not. It is an island in the North Atlantic, a British Overseas Territory but administered independently as a country. The Premier of Bermuda is the head of the government and the leader of the ruling party in the elected House of Assembly. However, Bermuda is not a sovereign state. Bermuda's Governor is appointed by Her Majesty The Queen of England on the advice of the British Prime Minister. 
The highest point in the island is known as 'Town Hill' and has an altitude of only about 259 feet (79 meters) and is located in
Smiths parish
. 
Related Articles