How to get around Bahamas
As you know that Bahamas is a chain of many islands out of which about 30 are inhabited. So transportation in the Bahamas can be both travelling across the islands as well as within an island. 
When you are planning to travel between two islands, your options could be fast air-conditioned ferries operated by 'Bahamas Ferries', or taking a domestic flight operated by the national airline 'Bahamas Air', or even a Mailboat (slow ferries which are still in operation since old days). There are many airports and airstrips across the islands (57 of them and several with 'port of Entry' status) and all islands would have ferry docks. If you can of course charter a yacht or flight, there is no better option. 
When it comes to getting around within an island, then the transportation options vary across the islands, and becomes limited in the remote out islands. 
Note that vast majority of the tourists land up in Nassau of New Providence Island and the adjacent Paradise Island. Next most popular is Grand Bahama. Rest of the out islands have limited tourist flow. As a result the public transportation system in Nassau, Paradise Island as well as in Grand Bahama are well developed with several options such as minibuses (known locally as 'Jitney'), taxi, car rentals, scooter rentals, horse drawn carriages for local sightseeing tours, bicycle rentals etc. 
However in the out islands there is no bus service. Taxis are limited to few. You need to mostly depend on car or scooter rental, or even golf carts to get around (note that in several out islands the golf carts are usually available for rent by the ferry docks). 
Transportation between islands
Bahamas Ferries 
These are fast air-conditioned catamarans which mostly operate from Nassau to several other islands and return. This is one of the most popular yet reasonably priced option to travel between islands. 
Bahamas Ferries connect Nassau with Abaco (South Abaco Terminal), Andros (Fresh Creek), Eluthera (several docks), Exuma (George Town), Grand Bahama (Freeport) and Long Island (Simms dock). There are also direct ferry connections between Abaco and Grand Bahama (Freeport). 
The ferry service is quite regular and time of travel depends on the distance. The ferry schedule is published in the official website bahamasferries.com separately for each season (i.e. summer schedule, spring schedule, winter schedule etc). 
The journey can last from couple of hours to even overnight travel depending on destination. For example average time taken from Nassau to Harbor Island in Eleuthera is about 2 hours 40 minutes with an adult one-way fare in the Main Cabin of $81 including taxes, in Voyager Class $93. Note that the round trip fares are cheaper compared to two one-way fares.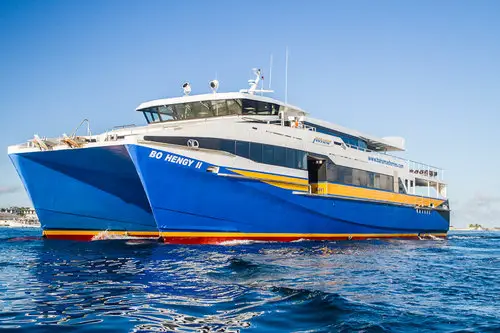 Source: Bahamas Ferries 
Other than island to island transfers, Bahamas Ferries also offer day-away packages from Nassau. For example a day-away package from Nassau to Harbor Island comprises of hotel pickup, roundtrip return ticket, lunch coupon, guided island tour on golf cart etc. The Harbor Island day-away package costs $225 per adult and $154 per child. 
All these ferries can carry bikes and even cars at extra charges. The ferries can also be rented for harbor cruise to hold private group functions, parties etc. 
You can book a ticket or day-away package online through their website bahamasferries.com or call up their office (phone 242-323-2166) to get assistance in booking and ferry information. 
NOTE: There is also a ferry boat option for transfers between Nassau and paradise Island. These water taxis leave every 30 minutes from the Nassau Downtown Wharf. You can get tickets from the counter at Festival Place (just outside the cruise port). One way fare is $4 (round trip is $8). It takes 10 minutes one way and along the way the view of the harbor is wonderful. 
Bahamas Air 
This is the national airline of Bahamas and mostly availed by frequent travelers and tourists who like to save on time in lieu of extra cost. Bahamas Air connects Nassau's Lynden Pindling Airport to various airports in the out islands. Bahamas Air also flies to a few international airports including Fort Lauderdale, Miami, West Pam Beach in Florida (USA), Orlando (USA) as well as Cuba, Haiti etc. 
However note that frequent congestion at Nassau airport, long delays and sub-par services are quite common. There have been several passenger complaints on these. If you are hopping through islands via Nassau (for example between Freeport in Grand Bahama to Deadman's Cay of Long Island enroute Nassau), there is a possibility that either you miss the connecting flight from Nassau or the connecting flight too would be delayed in order to accommodate passengers in the joining flight. 
Presently Bahamas Air caters to the following domestic and international airports (with its major hub at Lynden Pindling Airport of Nassau): 
Aucklins 
Crooked Island 
Deadman's Cay (Long Island) 
Fort Lauderdale (Florida, USA) 
Freeport (Grand Bahama) 
George Town (Exuma) 
Governor's harbor (Eleuthera) 
Havana (Cuba) 
Inagua 
Marsh harbor (Abaco) 
Mayaguana 
Miami (Florida, USA) 
Nassau (New Providence Island) 
North Eleuthera (Eleuthera) 
Orlando (USA) 
Port Au Prince (Haiti) 
Providenciales (Turks and Caicos) 
Rock Sound (South Eleuthera) 
San Salvador 
Santa Clara (Cuba) 
Stella Maris (Long Island) 
Treasure Cay (Abaco) 
West Palm Beach (Florida, USA) 
Visit https://bahamasair.com for flight info, schedule and booking. 
Mail Boats 
This slow traditional ferry service has been in operation since the old days when faster methods were not available. They are known as mailboats because they were once used to carry mails and cargo. Today they are essentially cargo freighters carrying mainly container items between various islands in the Bahamas. However carrying passengers is now a mainstream business of mailboats. 
It's the cheapest form of transport between islands in Bahamas, but it's also the slowest. So if you have all the time in the world and don't care for great comfort, then mailboats can be a great economical option to transfer between islands, and also a great way to travel and chat with the locals. 
All these mailboats are privately operated but under the direction of the Bahamian Chief of Transportation. There are around 20 such mailboats, all of which operate from the Potters Cay of Nassau which is located below the eastern bridge that connects Nassau with Paradise Island. 
MailBoat, Bahamas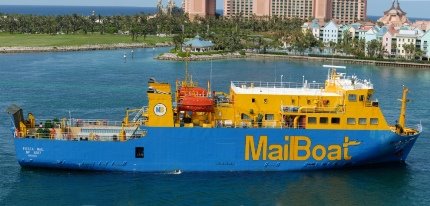 Source: MailBoat Company 
These boats are colorfully painted. They all start from Nassau (Potters Cay) and reach out to different out islands of the Bahamas some sailing for several hours and some even for the whole day or overnight. At Potters Cay you can find many local vendors with their temporary stalls and shacks selling hot seafood, snacks and dinner. Many locals take their meal here before starting the journey. Most mailboats have several on board facilities including food and beverages room, TV etc.  
Although mailboats mainly connect Nassau with the out Islands, there are also direct ferry connections available between several out islands themselves. 
Mailboats can have different passenger capacities depending on their size. For example the mailboat named 'Fiesta Mail' that operates between Nassau and Freeport (in Grand Bahama) has a passenger capacity of 450 with a large cabin and rows of push back chairs. It takes about 9 hours (one way). An adult round trip ticket costs $126.85 which includes a hot meal. 
Seating at Fiesta Mail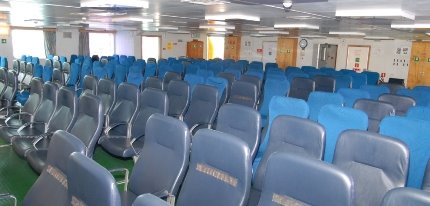 Source: MailBoat Company 
However most mailboats won't have their schedules and fares published on the online media. They are still too rustic to follow the modern online systems. So in order to know the current schedule and exact fares, you should go down to The Dock Master's Office located at Potters Cay below the Nassau - Paradise Island bridge. You can also contact them over phone: 242/393-1064. 
By Private Boat 
If you can afford, this is a great way to explore and do island hopping in Bahamas at your own leisure and privacy. Many who own a yacht do so from the US east coast of Florida. You can also rent a charter boat in Bahamas for several days ... it can be crewed or a bareboat. For bareboat, you need to demonstrate that you have the required skills to navigate the waters here that are full of reefs. 
Transportation within an Island
Public Bus - Jitney 
Public buses which are minibuses and locally known as Jitneys, have frequent services in Nassau as well as in Grand Bahama. Bus service is not available in other out islands. The bus service starts at 6am and ends around 6:30pm. The service is frequent and they run every few minutes during the day time. The buses come in different colors  and shapes, but the route number is prominently written in front. You can get in or off the bus anywhere you like in both Nassau and Grand Bahama. 
In Nassau the bus caters to downtown Nassau and several other places in New Providence Island including Cable Beach. However the Jitney does not go over the bridge to Paradise Island. For that you need to take a taxi or ferry boat (water taxi). In Grand Bahama the Jitney service is available in Freeport downtown area as well as at the Lucaya Market Place area. From Freeport downtown the service connects to both east and west ends of the island. 
For a ride in the downtown areas of both Nassau and Freeport one needs to pay an average of $1.50 in exact change while getting off. However if you are travelling further out to suburban areas, then the fare increases depending on distance. 
Taxis 
Taxis are available in plenty at Nassau and Grand Bahama. Taxis are also available in some Out Islands like Eleuthera, but lesser in number. Most taxis in Bahamas are mini vans or larger vans. The official ones would have orange plates with black letters on them. 
In Nassau, you can easily get taxis at hotels, stands at Nassau Downtown area, Cable beach and Paradise Island. Of course taxis queue up at the Nassau airport as well. There will be a person to guide you at the airport taxi area to the next available taxi for your transfer. 
In Grand Bahama other than at several hotels, airport and cruise ports, you can get taxis at the stands at Freeport downtown and Lucaya market place areas. 
Note that in Nassau and Grand Bahama although many taxis have meters, they often go un-metered and ask for a fixed price between two places. Both meter and fixed prices are controlled by the government. In Out Islands, taxis (wherever available) are not metered. You should confirm the price (locals even negotiate) before getting into the taxi in order to avoid conflicts later. 
However when meters are available and the driver is agreeable to go as per meter, that would be the best and usually the most economical option. 
The taxis in Bahamas operate in shared basis which means that there can be other passengers also traveling with you, and some of them may be picked up along the way. If you want a reserved taxi, sort this out with the driver before you jump in so that he does not pick up other passengers. For more than two passengers in a group, there is a surcharge for additional passengers and baggage. 
In Out Islands, taxis are usually available at the airports and most cruise ports. In Bahamas, empty taxis do not roam around to pick up passengers. They usually wait at designated stands. You can however flag down a taxi on the road if you see one and take a ride, or call one over the phone. 
Taxis, particularly in the Out Islands are usually not maintained well... this is due to scarce availability of resources. And the road conditions in the Out Islands are also not good in general. So if you choose a hotel far away from the main settlement areas, you can expect a rough bumpy ride. And with many passengers sharing the same cab, it may not be a very pleasant journey. 
Car Rentals 
In Nassau and Grand Bahama (Freeport and Lucaya) plenty of car rentals are available. However with good network of public transport systems in both these places (i.e. taxis, buses etc) you won't usually need a rental car unless you plan to explore some of the outer areas in the island. 
If you plan to rent a car, while there are several local rental companies, I would recommend that you rent one from an international brand like Budget (www.budget.com), Hertz (www.hertz.com), Dollar (www.dollar.com), Avis (www.avis.com) etc. You can expect cars in better condition, better professional service and proper documentation. These car rental companies have outlets at the airport or just go to their website and follow the booking procedure. 
These international brands are not available in most Out Islands due to lack of adequate demand. However there are local car rental companies there. But the problem is most of these cars are not well maintained and are in bad conditions. That's the way they all are. And to add to that the road conditions in the Out Islands are not good either particularly if you take one of the back roads. 
You can always ask your hotel to arrange a rental car for you if you want one in an Out Island (and of course in Nassau and Grand Bahama as well). If taxi is available in the island, you can also ask the hotel to get you a taxi. Note that in Bahamas you can also hire a taxi by the hour ($50-60 per hour). 
Car rental is expensive throughout Bahamas and so is gas. You can expect rental rate of around $60 - $75 per day for a small car. Gas is available in several places in Nassau and Freeport. In the Out Islands gas stations are quite limited and are usually available only in main settlement areas. So in Out Islands if you plan to drive out, ensure you have a full tank. 
The gas (Petrol) price varies in the Out Islands. In Nassau the average gas price is $1.17 per liter. 
Note that in all over Bahamas, you need to drive on left hand side of the road. So if you are used to driving in the US, remember in Bahamas, Right side is the Wrong side. And with your own local driving license issued in your own country, you can drive in Bahamas for 3 months, after which you need to get International Driving Permit or apply for Bahamian Driving License. You should be minimum 21 years of age to rent a car in Bahamas. 
Scooter Rentals 
Scooter rental is easy in Nassau, Grand Bahama and few other Out Islands. There are several outlets renting out scooters in Nassau including ones in downtown market place, and also another near the Cruise Pier inside the gates. 
But remember, driving scooter in Nassau can be very tricky ... the roads are often crowded and narrow with changing elevations and you need to drive on the left side of the road. If you are not an experienced scooter or motor bike rider, it's better not to rent a scooter in Nassau. But if you must, try to stick to the coastline instead of getting to inland roads. Some of the inland or back roads may not be very safe for tourists as there are possibilities of being mugged. 
Paradise Island is comparatively better for scooter rides. However when several  cruise ships are in port (like on a Saturday), all roads in and around Nassau and Paradise Island can be over crowded. Try to avoid riding scooters on such days. 
Horse Carriage Rides 
Horse carriage rides are available in Nassau just outside the Prince George cruise dock. It's a 20-minute tour showing you the downtown area and many other historical landmarks in the island. 
Related Articles
Visitors' Reviews and Comments