Self guided walking tour of
Nassau Downtown
Here is a self guided walking tour to explore the important landmarks of Nassau downtown. The landmarks include historic and important government buildings, churches, parks, market place etc. You can complete the tour in about 90 minutes plus the time you spend at each site. 
Start the tour from Rawson Square on Parliament street located across Festival Place - a large colorful shopping mall located at the cruise terminal entry point. So, if you are a cruise passenger, it will take only 2 minutes to walk up to Rawson Square from Prince George cruise port. 
Collect a downtown street map from the Tourist Information Center located in Rawson Square. This can be immensely helpful to locate the places. You can see several colonial style buildings at Rawson Square here as well as the bust of Sir Milo B. Butler who was the Governor General between 1973-1979 and played a key role during the struggle for independence in Bahamas. 
Continue on Parliament Street and soon you will get to
Parliament Square
on Bay Street. You can see several historic government buildings here (including the Senate Building at the center, the House of Assembly on the right) and the statue of Queen Elizabeth at the courtyard in front of Senate building. 
Parliament Square, Nassau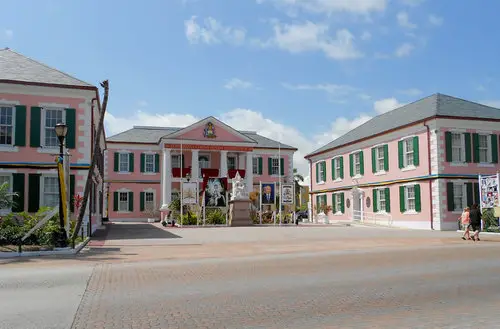 Photo: Roger W, flickr, cc by-sa 2.0 
Behind the Senate building is Supreme Court of the Bahamas ... judges here still honor the old British traditions by wearing wigs and robes when the sessions are ongoing. 
Supreme Court, Parliament Square, Nassau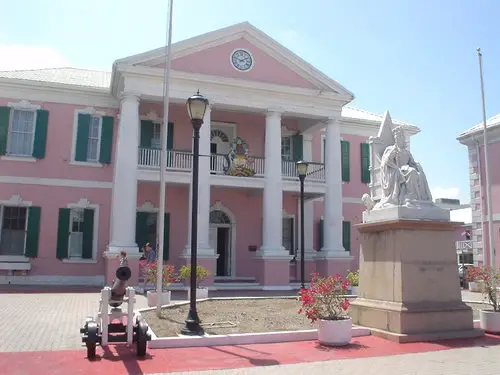 Photo: Lyn Gateley, flickr, cc by 2.0 
Walk along and you can see the octagonal shaped building Nassau Public Library & Museum at the southern end of Parliament Square. This is the oldest and one of the five oldest libraries in Bahamas. It was originally built in 1797 as a prison and later converted into a museum and a public library in 1873. 
The small cells that once confined the prisoners, now stock old colonial documents, historical books, prints, news papers etc. Tourists are welcome to visit the library during its open hours and use the free reading room. Admission is free. Phone: (242) 322 - 4907; Email:
[email protected]
Nassau Public Library 
Photo: Roger W, flickr, cc by-sa 2.0 
From Parliament Street turn right into Shirley Street, walk past the crossing with Charlotte Street and you will get to Trinity Methodist Church as you reach Duke Street. This church was opened in 1865 but was soon damaged by a hurricane. It was rebuilt in 1869 and has been since in operation. 
Walk along Duke Street, on the right is Central bank of Bahamas which houses the treasury department, on the left is St. Andrew's Presbyterian Kirk which is the second oldest church in New Providence Island. 
Next is the Statue of Christopher Columbus looking towards the Nassau harbor. Columbus landed in Bahamas (at San Salvador) in October 1492 making his first landfall in the New World. 
Christopher Columbus's statue and Government House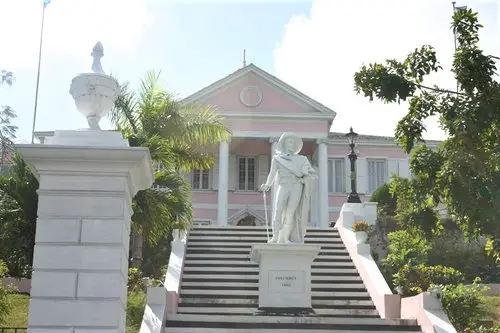 Photo: Matt Howry, flickr, cc by-2.0 
Behind the statue and between Blue Hill Road and Market Street is the Government House which is the official residence of Governor General of Bahamas (the representative appointed by the Queen). 
From Duke Street get to West Hill Street and reach
National Art Gallery of The Bahamas
... an elegant yellow mansion which was built in 1860s by the then Chief Justice and later converted into the art gallery. It has great collections of Bahamian artwork. 
National Art Gallery of The Bahamas 
Photo: Mettacitta, flickr, cc by-sa 2.0 
West Hill Street ends at West Street. Here you can see St. Francis Xavier Catholic Cathedral. This is the oldest continually operated catholic church in Bahamas. First mass took place in 1886. 
Turn right on West Street and you will reach Greek Orthodox Church, this white edifice was built by the Greeks who were instrumental in developing sponge industry in Bahamas. 
Turn right into Marlborough street and in about 170 meters you can see the British Colonial Hilton Hotel which was built in early 1900s. This was originally the site for Fort Nassau which guarded against invasion from the Harbor. This is where once the notorious pirates of Bahamas were hanged. 
British Colonial Hilton Hotel, Nassau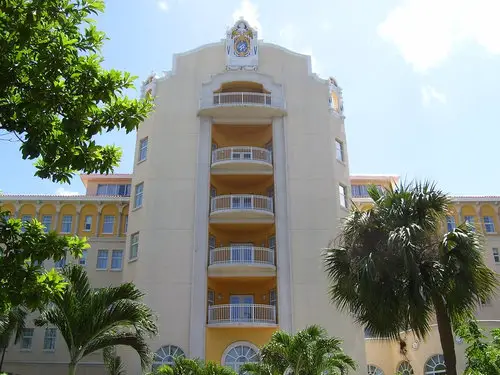 Photo: reivax, flickr, cc by-sa 2.0 
Get to George street via Bay street and you will see the beautiful stone built
Christ Church Cathedral
. This is the main church that governs all Anglican churches in the whole of The Bahamas and located at the junction of George street and King street. It was built in 1753. 
Christ Church Cathedral, Nassau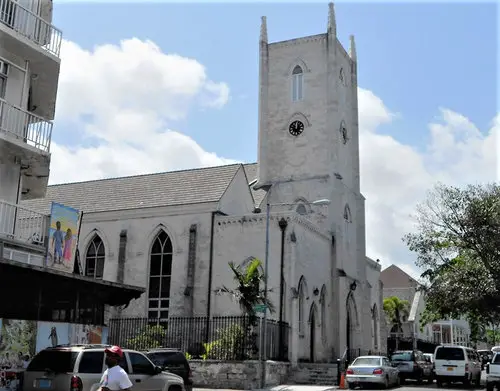 Photo: Roger W, flickr, cc by-sa 2.0 
Head back towards Bay Street and turn right (i.e. towards east) on Bay Street. Within a short walking distance (about 75 meters) is the popular
Straw Market
located on Bay street and between Market street and Frederick street. This is where you can get all types of handcrafted straw products like bags, dolls etc, along with many art, craft, souvenirs and gifts at reasonable prices. 
From the Straw Market, continue walking along Bay Street (to the east) and you will reach the crossing between Bay Street and Parliament Street in about 275 meters (3.5 minute). To the left is Rawson Square from where you started the walk, to the right is Parliament Square. 
Related Articles
Visitors' Reviews and Comments