Sunrise Beach Club & Villas
Paradise Island, Bahamas
Category: Budget/Mid-Range 
The resort is right there on the
white Cabbage beach
and commands a good stretch of it. The Sunrise Beach Villas are one of the more affordable mid-range accommodation options at Paradise Island. The resort is mid-sized and has a Beach Club plus villas positioned around the gardens and the Cabbage beach. The Atlantis complex is not far away and the resort offers free parking and tour organizer service. The Sunrise has good customer service reputation and is suitable for families with kids, large groups as well as couples. 
Rooms
Rooms in villas are fully air-conditioned. The wi-fi is chargeable at a fixed rate per day except in the 4 and 5 bedroom villas. There are kitchenettes/ kitchens of different level of convenience and size. 
The One bedroom villas can accommodate up to 4 people and have one bedroom, one master bathroom and a mini bathroom, separate living room and a kitchenette. The living room has a pull out couch and chairs in prettily patterned colors, dining table set (seats 4) and an adjacent kitchen area with microwave, gas burners fridge and countertop-sink. There is a HDTV in the bedroom. 
The 2 bedroom villas have lovely garden views and a separate kitchen area along with a living room and 2 bathrooms (one larger and one smaller) apart from the 2 bedrooms. The master bedroom has a king sized bed and the smaller bedroom has 2 twin sized beds. There is a patio that overlooks the pretty garden and the living room has two sofas and a dining table meant to seat 6 people. The kitchen is full-fledged and has a decent range of cooking utensils, service ware and equipment including dishwasher and a washer dryer. One of the couches in the living room can be pulled out to accommodate one person while a rollaway bed is available on demand to accommodate another extra guest. 
Sunrise Beach Club and Villas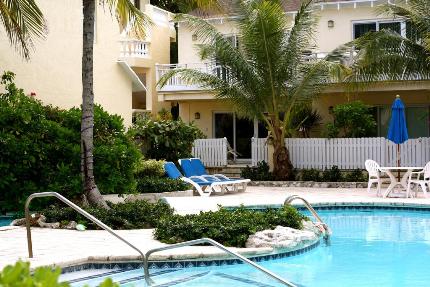 The 3 bedroom villas have 3 bedrooms and 3 adjacent bathrooms with an extra smaller bath. This villa has two levels and 8 people can live here comfortably as there are two pull out couches… one in the living room and one in the loft. The direct access to beach, formal dining room with 8 seater table are other additional features. The kitchen is much larger and has all cookware and equipment. 
The 4 bedroom villas have 4 bedrooms and 4 bathrooms and can accommodate up to 10 people. These villas have ocean views and some of them have free Wi Fi. 
There is a computer and Vonage phone for the use of guests. The living room, dining room and kitchen are much larger with more amenities. 
Living room of a villa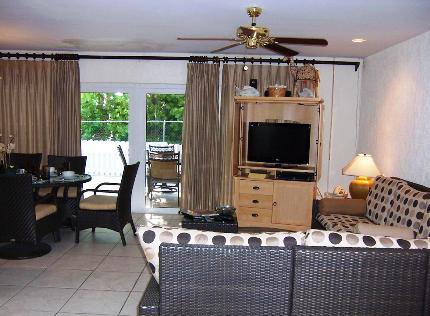 The 4000 sq. feet 5 bedroom villas are meant for large groups of around 12 people and these are the biggest and most luxurious accommodation option at Sunrise. The living room has an entertainment center (it has TV, Computer, game table etc.) and sofas and settees meant for large gatherings. There is a large dining room that leads out into a big patio that directly overlooks the ocean. 
Bedroom 
If you have your parents, kids or staff with you who might require a separate entrance and facilities then choose the Villa 17. This villa's 5th bedroom has its own living room, separate entrance and kitchenette allowing privacy as well as accessibility. These villas are dual leveled and have 2 bars, ice maker and there are two television sets. 
The villas are comfortable but a bit old fashioned in décor and sometimes the bedrooms may appear cramped. Inspect all facilities especially the carpet (which tends to be musty) before checking in. 
Dining
The Sunrise Beach resort has only one in-house restaurant and if you want more variety then you should visit the Atlantis restaurants that are nearby or the other popular spots discussed later in this section. 
Viola's Bar and Grill is freshly remodeled and reasonably affordable in house dining option. The atmosphere is distinctly casual and there is no dress code. Everything from breakfast to dinner to snacks to drinks are available here and usually the restaurant sees a lot of traffic. There are big screen TV's all around and games are broadcast here giving a sports bar like vibe. Every Friday there is karaoke and every Saturday there is live music. 
There are facilities for playing darts inside and special activities are organized for kids. A separate cigar counter with Cuban and Bahamian cigars is located inside the restaurant. The nice thing about Voila's is that it serves more as a bouquet of entertainment options rather than just a typical dining place…. the staff are quite accommodating and are ready with smiles. 
Sometimes the restaurant is booked for events and receptions so you need to check beforehand. This restaurant offers heavily discounted drinks in happy hour which is from 4.00pm to 8.00pm every Monday and Sunday while on Wednesdays and Fridays the happy hours are from 4.00 p.m. to 12.00 p.m. you can call n 242-363-3739 to make a reservation (not compulsory)….the place is open from 7.00 a.m. right till midnight. 
There is a smallish Beach Bar named Archie's right there beside the pool and it offers a decent selection of alcoholic beverages, mock tails and soda drinks.  
Conch and Kalik Bar and Grill is a good seafood restaurant nearby. The local spots Fish Fry and Andros are also nearby and you can get good quality local Bahamian fare in these places at an affordable cost. 
Other facilities
There are a number of activities lined up for guests by the Sunrise Resort and while these are not comparable to the vast scale in Atlantis or other bigger resorts…there are a fair number of things that will keep you entertained. 
There are facilities for parasailing and other water sports activities though you have to pay extra. 
Free play bags are available. Hair braiding services and adornment with colorful clips are provided. 
Banana boat rides are organized on request and wave runners can be rented. 
Free salsa lessons are offered on Thursday nights while Fridays are for Karaoke and Saturday brings live band performances. 
The stretch outside the Sunrise resorts on Cabbage beach is relatively quiet and you can relax in peace while the more glamorous attractions of Atlantis also remains right within reach. You can rent beach chairs and umbrellas from the hotel or choose to relax in the natural tree shaded areas. 
There are two in house pools inside the resort and one of them has the Archie's Pool Bar. 
Drinks and snacks on the beach service is available. 
Guests at Sunrise do not have free access to Atlantis but the reception staff will provide access wristbands for a charge. The Atlantis casino and Aqua venture are both nearby thereby providing you lots of entertainment options. The Atlantis complex is a 15 minute walk or a 5 minute ride away from Sunrise Resorts. 
Sunrise resorts has a commercial agreement with few water sports tour operators like Blue Lagoon Island Dolphin Encounters which takes guests into a natural marine habitat on a private island. There are different options like Dolphin Swim and Sea Lion Encounter. The less adventurous can opt for Blue Lagoon Island cruise that offers a Beach day complete with boat rides, optional kayaking, lunch and dolphin watching. 
Guests can choose to avail charters, exploratory submarines and choose to go deep sea fishing besides snorkeling, kayaking and other sports. The staff at the reception will arrange for all these activities via third party adventure sports operators. 
Cabbage beach massage services operates right near the Cabbage beach proving a variety of massages of relaxing therapies for guests. However there is no in-house spa or beauty facility. 
You can take a taxi to Crystal Palace Casino that's half an hour away on the cable beach. 
Overall Opinion
What makes the Sunrise Resorts good is its location. Guests can access a good stretch of the Cabbage Beach and the Atlantis resort is very near. Since this resort is not an entertainment complex… day pass holders and tourists do not cram the place and it's possible for guests of the Sunrise to find some privacy. There is a stretch of private beach area which is quite relaxing. The resort is ideal for families and large groups. The charges for food and amenities is reasonable (according to Paradise Island standards) and the kitchen/ kitchenette in the villas will actually help you save a lot of money if you cook some of your own meals.  
The services like drinks on the beach, overall price of restaurant food, water sports activities, cruises (though limited in option) are reasonably priced and are much cheaper than what they would be at the Atlantis. The staff are friendly overall and have a helpful attitude. 
Most villas are pretty spacious though the two leveled ones have steep stairs which makes carrying up luggage difficult. 
Many guests avail the option of bringing in a cooler full of soft drinks, beer and water and bagfuls of groceries on the way from the airport at the grocery store in Nassau. A stocked kitchen will come in handy if you are travelling with family/ kids. 
On the flip side, the villas are rather homely and some are not well maintained. Expect a comfy vibe rather than sophistication. The décor is dated and the interior designer has not done a great job. There is no free Internet and no proper room service though lots of amenities are there in the room to compensate. The villas basically demand to be treated like home and that's why there is a dishwasher and washer dryer along with kitchens inside. If you are okay with this idea then you would probably like this resort. 
Rates provided by booking.com 
How to Reach
Airport transfers are not provided by the resort. Sunrise Villas are in Paradise Island which is connected to Nassau by bridges. You need to take a cab from the airport and you can reach in about 30 minutes. The resort is 19.4 km away from the international airport. Ask the cab driver to stop enroute for snacks and drinks from the grocery stores in Nassau…. everything in Paradise Island is more expensive!!! 
Road Map
Contact Details
SUNRISE BEACH CLUB AND VILLAS 
Casino Drive, Paradise Island, Nassau, Bahamas 
Phone: 1-800-451-6078; 1-242-698-7200 

By Raj Bhattacharya 
Raj, a seasoned travel writer and Bermuda destination expert, has extensive global travel experience. This website reflects his profound insights, garnered over nearly two decades of dedicated findings and research on the island. Raj has assisted countless Bermuda-bound visitors by providing direct, personalized responses to their queries and imparting his wealth of knowledge through this platform. This site serves as an indispensable guide for those seeking informed and reliable insights into Bermuda's treasures. 
Related Articles
Visitors' Reviews and Comments