The Beach at Atlantis
Paradise Island, Bahamas
Category: Budget 
The Beach (also known as Beach Tower) is great for tourists whose objective of visiting Paradise Island is to lounge on the beach. While the décor is not as sophisticated and the amenities lack glamour, the Beach Tower makes up for the lack of frills by its competitive pricing. 
The best thing about this tower is that it overlooks the turquoise Caribbean Sea located right next to the beach and offers itself as a part of the famed autograph collection of Atlantis. Another great thing is its proximity to the Marina Village with its nice shopping and dining options and the marine habitats. 
Rooms
The Beach Tower rooms and suites are decorated in the typical beach theme…there are generous splashes of aquamarine colors and the windows are large and plentiful. There are two categories of rooms in the Beach tower… listed below according to increasing tariffs. 
Atlantis Beach Tower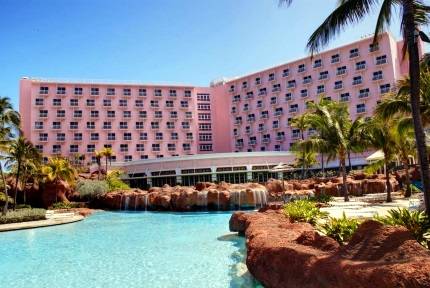 The guest rooms have either terrace or ocean views with the ocean view rooms being a better option. Each room has a full-fledged balcony with 2 chairs and a table. The room will either have a king bed or 2 queen beds, a moderately sized flat screen TV, digital safe and wardrobe, tea and coffee maker along with a direct telephone line with a voicemail facility. There is a combined bathtub and shower area in the bathroom. 
The garden rooms are more luxurious and are thoughtfully arranged in four separate 2 storeyed apartment buildings that overlook the ocean and are surrounded by the famous Atlantis marine habitats and the tropical gardens. Rooms have tropical themes with floral décor and tiled floors. The basic amenities remain the same as in guest rooms though the garden rooms are larger in size. 
Ocean View Room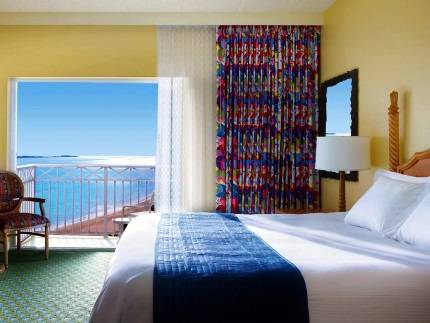 While the garden water view rooms are few, they offer views of the oceans as well as tropical gardens while the normal garden view rooms offer views of the garden and pool. 
Imp room tip: choose the rooms on higher floors …they have better views even if they are not water views. Ask the reception to upgrade you …they usually do that to guests who ask first if upgrades are available. The Beach Tower is the oldest tower in Atlantis and it is in serious need of repairs…check your room thoroughly before you occupy a room. 
Resort Fee and Inclusions
You need to pay a 49.95 dollar compulsory resort fee. The fee will entitle you to a bunch of facilities as listed below: 
You get access to most parts of aqauaventure with 18 water slides and 11 different pools. 
You can avail two river rides with rapids and exciting waves and enjoy on the three beaches owned by Atlantis. 
You get free Wi-Fi (you can connect a maximum of 4devices at once), free local calls, and free self-guided tours in Atlantis complex, unlimited time in movie theatre, daily casino lessons and free shuttles between towers. Airport shuttle needs to be booked 24 hours in advance. For knowing more about shuttle routes and services contact the Guest services Desk or call the extension number 28. 
The Atlantis Business center is near the beach tower and it provides a range of services like fax and telecommunication services, computer rentals, laptop docking station, typesetting services, Internet, graphic designing service, business signage and even facilities for temporary office and staff. You can avail all of this between Monday to Friday (8 a.m. to 6 p.m.). 
You get two bottles of waters per day in each room and 2 guests from each room can use the fitness center daily for free. Everything else is chargeable. 
There is an all-inclusive option where guests have to book a minimum 3-day package at specified accommodation options whereby a bundle of extra benefits are provided. Meals and drinks at select restaurants, supply of drinks at participatory outlets, guaranteed water views and access to climbers rush are some major benefits. The surcharge, room tax and gratuity are a part of the all-inclusive deal. 
Dining
One good thing about staying at the Beach Tower is that there are no compulsory meal plans that you have to purchase. If saving money is your priority then eating at the Cave Grill around the pool during the day and then dining out at any of the Atlantis restaurants nearby or trying out smaller local places is a good idea. 
Location wise, the Beach Tower offers quick access to most of Atlantis's popular dining options. The Beach Tower doesn't have any in-house dining place apart from Seagrapes Lagoon buffet and a lobby bar that opens after 4 p.m. But that won't really bother you since some of the best Atlantis restaurants like Chop Stix, Casa D Angelo, Marina Pizzeria, Café Martinique, Seafire Steakhouse, Bimini Road, Nobu, Olives are within easy walking distance. 
The hamburgers and wraps served at the grill right beside the Beach Tower pool is very good and serves good portions at affordable prices. The grill is named Cave Grill and you can have your juicy burgers on loungers that overlook the waterfalls near the Beach Tower pool. 
The nearest breakfast option is the Seagrapes buffet (the Beach Tower family style buffet section) which serves an average breakfast spread at comparatively low prices. Dinner and lunch are also available but the place closes at 10 p.m. This buffet place isn't as elegant as that of the Cove or the Royal towers but it has a newly added BBQ station that serves nice smoked meat drenched in Caribbean sauce. 
Anthony's Bar and Grill and Dunkin Donuts are other affordable options for breakfast and they are both less than 1 km away from the Beach Tower. 
Unfortunately when staying at the Beach Tower, you don't have access to a microwave, stove or any kind of kitchenette so cooking your own meals is not an option. If you can manage with cold cereal, fruit and milk on some days then do your own grocery shopping beforehand. Guests usually stay at the beach tower to cut costs but the absence of a kitchen or any cooking facility sort of spoils the advantage. 
Liquor served in the premises is expensive and they have an added surcharge and compulsory gratuity on everything. One good way to control costs here is to buy your drinks from the liquor store outside Atlantis.
Marina Village
... a quaint shopping complex with many boutique stores and eateries is quite near and you can explore the popular options there like Daiquiri shack and Carmine's. 
For sampling local restaurants that are not a part of Atlantis you can try out Blue Sails, Mahogany House, and Gray Cliff. Some interesting pubs are Green parrot and Margaretville. Cheaper local food options are available at Fish Fry and Poop Deck… but most of these are located in Nassau and you would need a taxi. 
If you have specific requirements like Kosher, Halal, vegan or your kids have food allergies…you can call up ext. 66540 to reach the Chef's office. Requests for these special meals must be made 2 weeks in advance before arrival at Atlantis. 
Other facilities
The Water Park, casino, indoor/ outdoor games facilities (with some exceptions) and library are fully accessible to guests of Beach Tower along with children's playground. Unlike the Aqua venture, the Dig (a great section of the aquarium) is nearer the beach tower and there are plenty of experiences there to keep you entertained for a couple of days. If you want to book experiences like swim with the dolphins, sea squirts etc. then book well in advance…these have high demand!! 
All guests of beach tower can access the outdoor pools, pool bar, water slides, hot tub/ Jacuzzi belonging to Atlantis freely. Slides near the Mayan Temple and Power Tower are the best. If you have very young kids then the best places would be Ripple's Pool and Poseidon's Kids Pool. 
Guests need to pay extra for availing massage, spa therapies, beauty treatments and additional use of gym and fitness center (apart from whatever is listed in inclusions). 
Access to kids clubs, water sports activities, snorkeling, fishing, tennis and golf, diving, nightclub etc. is chargeable. There is a shop right outside Atlantis selling snorkeling equipment at reasonable rates. 
You will have access to family rooms, no smoking areas, special facilities for disabled guests, safety deposit boxes, and shuttle service (free inside Atlantis…chargeable outside), daily maid service and room service. 
As guest of the Atlantis, you have access to all Atlantis facilities including nightclubs, bars, gaming zones, spa, beauty centers, shopping hubs, boutiques etc (… well access does no way mean free). 
Shopping options like the Crystal Court shops and the Marina Village are all less than 1 km away from the beach Tower. 
Overall Opinion
The best thing about Beach Tower is its location… especially its proximity to the best Atlantis facilities like the beach right next door, Marina Village (7 minutes away), Casino (7 minutes away) etc. you can also walk down to the ferry terminal that's roughly an 8 minute walk. The Beach is right next door and though the main water park is little far…you can walk to it. The aquariums are all nearby so if you are coming with kids you won't have a hard time keeping them engaged. 
The food everywhere is expensive and to beat the costs, you might want to carry in a cooler full of water, drinks and packaged meals from the grocery store (in Nassau…don't buy groceries from Paradise Island…everything is more expensive) en route from the airport. Also have your mid-day meals in the pool side dining options. The meal plan is good if you want to dine at a fancy place every night. 
The beach tower is one of the oldest 3 pronged towers in Atlantis Complex and it's also one of the most affordable ones. That being said, the prices are still considerably higher than nearby budget accommodations like Comfort Inns (this resort has access to all Atlantis facilities). If you look at the value provided…the extra charge is just because of the Atlantis brand name and is not justified in terms of facilities provided. 
Construction is taking place at Coral Towers and also at Hotel Riu Palace (both are very near Beach Tower) and this has made the entire area noisy and cluttered. 
Staff at the Atlantis have very little incentive to take extra trouble while serving guests because of the compulsory gratuity scheme so the service is sometimes slow and curt. 
The day cruise liners come in relentlessly every day and there is a big crowd of day pass holders all over the Atlantis resort complex. After 10 a.m. the water park is very crowded and it closes at 7 p.m. which is the biggest downside. The dolphin excursions are very crowded after 11 a.m. so aim for early morning trips. Grab your sun shade and pick your favorite spots really early otherwise you can get disappointed. 
The areas beside the pool get really hot during summer days and slippery too…invest in slippers with good grip to see you through. Unlike some other more expensive towers, beach tower guests do not get free beach products like sunscreen, lotion etc….so bring your own stuff. 
It makes sense to perform a check on the room quality before you book at the Beach tower Atlantis. Though affordable and equipped with all the Atlantis facilities, staying at the beach tower comes with its own set of disadvantages. 
Rates provided by booking.com 
How to reach
The Nassau International Airport is about 19.4 km away and you can book a cab from the airport to reach the Beach Tower…you will reach in about 35 minutes if you travel via John F Kennedy Dr. Check whether complimentary airport transfers can be booked in advance (the rules keep changing). The Beach Tower is in Paradise Island that's connected to Nassau via bridges… stop on your way at Nassau to pick up snacks, groceries, water and beverages… the cab will take a small waiting charge. 
Road Map
Contact Info
The Beach at Atlantis 
One Casino Drive Suite 7, Paradise Island, The Bahamas 
Phone: +1 242-363-2000 ext. 64380 
Related Articles
Visitors' Reviews and Comments