Graycliff Hotel & Restaurant
Nassau, Bahamas
Category: Mid-Priced 
The Graycliff is right near the Governor's House in Nassau and it offers a very different deal from the usual touristy glitter and casino oriented fun that's the signature style of the Island. The hotel looks more like a colonial mansion than an actual hotel and it's actually a niche property with only 20 tastefully done up rooms, 2 swimming pools and many other facilities. 
Graycliff Hotel, Nassau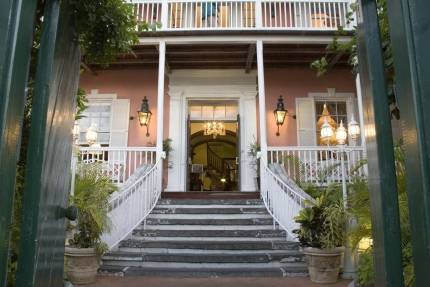 The in house restaurant i.e. Graycliff is rumored to be Nassau's first five star restaurant. Though the property is smaller in scale than many of the other bigger hotel brands in Nassau, superstars like Mariah Carey have favored this restaurant in the past. Graycliff Hotel is pretty vocal on its social networking page and keeps sharing nice photos of events apart from publishing deals and offers there. 
Interestingly the mansion was supposed to have been built in 1740 by the notorious Captain Howard Graysmith…a famous Caribbean pirate who looted ships sailing along the Spanish Mains. In 1666, Nicholas Trott became the Governor and he was joined by lots of pirates and privateers after which the very first Anglican church of Nassau was built…the remnants of this church are a part of the Graycliff property. 
Lovers of history will find it fascinating that the property had witnessed the piracy era (back then the skulls and crossbones was the Bahamian symbol) and also the Woodes Roger era (first governor of Bahamas who took concrete steps to stop piracy) and the fact that the wine cellars here have prison bars (in 1776 this was the American navy garrison). 
Graycliff Lounge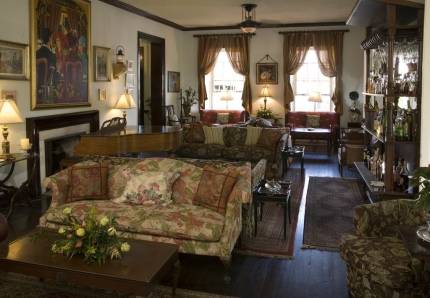 It was not till 1920 that Graycliff became a formal hotel and its beautification was majorly done by a super-rich Canadian couple Walton's who owned the property for a few decades. The national register of historical places lists Graycliff as a landmark and many find this a strong reason to visit this property. 
Location wise, the property is just 8 minutes of cab ride from downtown Nassau but far from the touristy strip of Cable Beach and its line of popular hotels. 
Rooms
There are 4 different kinds of rooms at Graycliff and the décor can be best described in two words…old world and ornate. The colors are usually pastel shades with antique four poster beds, embroidered plush bedspreads and wooden matching furniture. 
All rooms are fully air-conditioned and there are private attached baths with ornate fittings. Housekeeping service is offered daily along with free turn down service. 
The deluxe rooms are the most affordable option and they are situated in the main building of the hotel…most of these rooms overlook the gardens on the property. All such rooms have a king sized ornate bed. 
Room at Graycliff 
Luxury rooms are located in the main building while some of them are in the garden space. All of these rooms offer pretty garden views or pool views. These rooms have a separate sleeping and seating area and guests are given a choice between a single king sized bed or two double beds. 
The suites are large sprawling and have separate bedrooms, living rooms plus attached baths. You can choose to stay in a main building suite or a garden suite and both will mostly offer pool views. All of them have king sized beds and heavily ornate furniture. 
The Graycliff suite is the signature accommodation option here and it's inside the garden area with a gorgeous pool view. These are very large suites with separate bedrooms, living area, sitting area and a nice balcony along with a big bathroom. 
Room tip: the resort is two storied and there are no elevators so choose your rooms accordingly. 
Dining
The Graycliff Restaurant as mentioned before was the first five star dining place at Nassau and it still commands a star studded reputation as celebrities can often be seen dining here. The décor of the restaurant is antique and ornate with a beautiful chandelier, vintage cutlery, gorgeous wooden furniture and beautiful bouquets of hot house flowers everywhere. 
The parlor leading to the restaurant is exquisite with lofty ceilings and a luxurious vibe. There are special touches like the bar waiters serve guests their favorite drink as they wait in the parlor before courteously escorting them into the main restaurant. There are 4 dining rooms in the restaurant along with a separate garden dining area. You can distinctly feel that Graycliff was once a private residence…there is that intimate atmosphere here. 
After dinner all guests are formally invited to stay around in the parlor or garden enjoying cognacs, coffee or the famous Graycliff cigars. The dress code is mandatory…guests are supposed to be elegantly dressed at all times. As for the food…its consistently delicious …some must try items are lamb chops, lobster, pan smeared branzino, shrimp cocktails, veal chops and the range of soufflé's... though the restaurant is pricey…it's much in demand…you will see a lot of guests coming in here to savor the fine dining experience. 
The restaurant offers a lot of different experiences like wine and cheese tastings, cooking lessons and special food events. Graycliff wine luncheons are quite famous and the guests are freely served champagne while the experienced sommeliers lead them unto a wine cellar and hotel tour before the guests are served a lavish five course meal paired with fine wines. 
On weekdays, elaborate afternoon tea sessions are arranged between 2.00 p.m. to 4.00 p.m. and guests have to reserve spots early to experience this. 
Private dining rooms for romantic dinners and large group gatherings are also offered on request. The Wine cellar and chef's table can also be venues!! 
There is a Piazza that comprises of a beer garden, pizzeria and Humidor Churrascarta. You will have the option of combining food from all three places and choosing your own seat… for example select beer from the beer garden and salad from Humidor. The Churrascaria steakhouse is a Brazilian culinary joint that's reviving the art of Brazilian seasoning, grilling and skewering. Everything from salads to grilled veggies to exotic meats are available here. The pizzeria specializes in thin crust pizzas with a focus on Bahamian toppings and there is even unusual combinations like mango, shrimp and nutella. This is an affordable dining option for guests. 
The Graycliff Lounge is adjacent to the main restaurant and offers a formal sophisticated atmosphere along with nice piano performances. Cocktails are served from 11.30 a.m. to 11.30 p.m. and there is a strict dress code. 
The poolside bar is a casual zone and opens from 10.00 a.m. till early evenings. There is poolside service along with a light snacks menu. This is where the Escape from Nassau guests usually settle around. 
There is another bar at the Piazza that opens from 11.00 a.m. to midnight on all days apart from Sunday. Every Friday there is a happy hour from 5.00 p.m. to 7.30 p.m. 
In case you want to explore the nearby restaurants, you can try the Double Dragon Chinese Restaurant, Luciano's (on East Bay Street), Dali Tapas and Bahamian Grill. 
Other facilities
The hotel offers a lot of different culinary tours like the Chef's Luncheon, Wine Luncheon, Wine and Cheese tastings with special wine tours and the short Graycliff Culinary Academy course where guests can learn exclusive Graycliff recipes. All of these experiences have a price tag and are only conducted on select days so you need to book early in the experiences section of the hotel website. 
There is a baggage storage area and foreign currency exchange service at the hotel. There is a separate tours desk which organizes guest's activities in the following categories. 
The resort arranges distillery tours in the downtown Nassau located 1789 Buena Vista Estate which is famous for John Watlings Rum. A demonstration of rum making using local produce and rum tasting sessions along with distillery tours are on offer. 
There is an in house spa offering a select range of massages, wellness treatments and beauty treatments to guests. 
Wi Fi is free all throughout the resort grounds, rooms and generally throughout the property. Performance is unreliable though. 
Guests of Graycliff can use the Blue Lagoon Island private beach for a nominal fee. There are two pools; one freshwater and one seawater and both have pool service. 
The wine cellar here is quite famous…it stocks more than 250,000 bottles from more than 400 vineyards. There are rare wines like 1865 Chateau lafite and a 1727 Rudsheimer Apoltswein. There is also an in house Cognateque that allows guests to sample exotic cognacs, ports and Armagnac's …there is actually a 9000 bottle collection along with a reserve of collectors specials. Private tasting sessions can be organized here. 
There is an in-house Cigar company founded by the eminent Gazaroli family who were quite particular about their cigars. There are 16 master rollers here who make 5 exclusive Cigar brands. Guests can have a 90 minute cigar and rum pairing session or learn the art of cigar rolling. You can easily take a cigar factory tour on weekdays between 9 a.m. to 5 p.m. you can even book a cigar roller for your own private event. 
The property also has its own chocolatier
and guests can learn to make fine chocolates or they can choose to gorge on the sumptuous spread of gourmet chocolates and truffles offered.  It's available on weekdays between 9 a.m. to 3 p.m. There is even a chocolate and spirit pairing session on offer (port, whiskey, rum etc.). These chocolates are also exported to other locations in the Bahamas. Guests who are chocolate lovers can also take a chocolate factory tour. 
The sisters of charity convent which was a part of the Graycliff property along with the Mountbatten home have been converted into a Bahamian heritage museum. This place houses treasures (many of them are looted ones acquired by pirates!!), relics and interesting fossils covering centuries of journeys. History lovers may like this place. The museum is open on all days except Sunday from 9.00 a.m. to 5.00 p.m. 
Shoppers and local art lovers can appreciate the Heritage Village artist studio where lots of local artists display their art ranging from jewelry making to painting to shell art to photography.  
Graycliff offers an Escape Nassau program which is something like a day pass and exposes outside tourists to the hotel grounds, restaurants and pools along with massage, lunch and drinks plus the famous cigars. While this seems a nice alternative for regular tourists, as a Graycliff guest you might not like your privacy being intruded upon. 
Overall Opinion
Graycliff Resort and Hotel isn't a place that caters to the masses. In fact the property proudly touts the line "escape from Nassau" using its differentiating factors as selling points. You won't find casino's, nightclubs and discs on the property and neither are there pools of marine life and snazzy water rides. The Graycliff steps back from the usual Nassau tourist offerings and showcases another side of the islands…its history and heritage. 
The museum on the property, the various historical attractions dotting the entire place, the wine cellar, names of the rooms etc. all give off a distinctly vintage feel. Guests who love history, culture and are genuinely interested in the Bahamas as a place will like Graycliff. If you are a Casablanca fan then you would love the restaurant and the parlor…it's so old school that not dressing up for the place seems a sacrilege. There are guided chocolate factory, wine, property, cigar and culinary tours with frills like wine and cheese pairings and chef's table luncheons but neither of these things are cheap. 
The Graycliff restaurant commands an expensive menu though the piazza food is moderately priced. If you enjoy gourmet food, are a wine snob and pride yourself on noticing the class of the resort in which you plan to spend your holidays then you would like it here. 
On the other hand if you are looking for a deal or an arrangement where you get the maximum possible tourist diversions for your money then this isn't the place for you. On the same lines kids and most teenagers will not like the place much as there are hardly any suitable entertainment for them. Groups of adult friends, couples etc. will find this place great especially if they are celebrating an occasion. 
One great way to sample the excellent Graycliff food at a much lower cost is to sign up for the culinary class…the food served is excellent at a fraction of the price of a regular luncheon and you get to learn how to make the dishes!! There are bonuses too if you dine in the restaurant…savor your meals for as long as you want…no one gives you the feeling that you are expected to leave soon after. 
On the flip side the resort is not very accommodating towards guests with different needs…for example virtually no provisions are made for vegans or those who need halal and kosher food. There is no provision for differently abled guests and there are hardly any wheelchairs for the aged and the infirm. 
If you have food allergies then best avoid this resort as special meal requirements are hardly being met. Again, the resort pays a lot of attention to day visitors leaving the guests who stay with them a little miffed. The towel service, room service etc. is courteous but a bit slow….maybe that's a part of the slow unhurried old world charm but it doesn't go down well with most guests. The Wi fi system is rather annoying…you have to type in a different secret password for each device. 
Try checking all the fine print and the bill before paying up…sometimes strange amounts are added at the time of checkout.  
On the whole if you can bear with these glitches and are very fond of history and antique charm then staying here is great. Otherwise a day tour can also be considered an enjoyable experience as you sample fine cigars, cognacs and chocolates. 
Rates provided by booking.com 
How to reach
The Nassau International Airport is 17 km away and you can book a cab from the airport to reach the Graycliff property that's best approached via the John F Kennedy Dr to the Games Boulevard and then up to West Hill Street. 
Road Map
Contact Info
Graycliff Hotel & Restaurant 
West Hill Street, Nassau, Bahamas 
Toll Free: 1-855-GRAYCLIFF (472-9254) ; Phone: 242.302.915 
Related Articles
Visitors' Reviews and Comments