Astwood Cove Park & Beach, Bermuda
About Astwood Cove
Astwood Cove is one of the most stunningly beautiful beaches in Warwick parish. Itís a small but beautiful and†secluded beach surrounded by steep cliffs. There is a fairly steep winding trail that goes down to Astwood cove from the park above. Itís a bit of a hike to get to the beach. But this actually helps to make the beach less crowded, and the hike is well worth the reward you finally get. 
It's a perfectly romantic beach and ideal for couples. The cliffs in Astwood Cove are home to many white tailed tropical birds. Itís a great sight to watch the cliffs full of bird nests and the birds swooping in from the sky. During summer when most of the beaches in Bermuda get crowded, Astwood Cove can give you the privacy and seclusion that you might be looking for. 
Astwood Cove Imagery, Bermuda 
Since there are no life guards here and there is an added danger of many rocks in the water, swimming is probably suitable for more advanced swimmers. Our Snorkeling experience here has been quite good. On a clear day when the water is calm, you can see parrotfish and several other types of fish. However, at times the water can get very rough. There is no concession stand, food or beach rental facilities at the Astwood Cove. 
There is a park above overlooking the beach and the ocean, and is known as the Astwood Park. It has picnic tables, chairs, toilets and car/scooter parking. The park also offers fun nature trails. There are dangerous cliffs though and you are advised not to take your chances. 
This picturesque park has been traditionally a great outdoor wedding site in the island. Bring along everything that you need including snacks and towels. The park and the beach remains secluded unless there is a private function like wedding being held at the venue. 
Astwood Park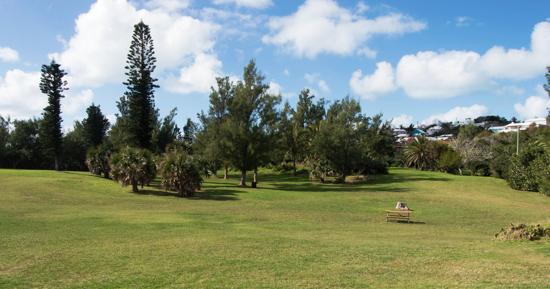 Location of Astwood Cove Park &†Beach
Go to the
Beach Map
to view location of Astwood Cove and several other great beaches. 
Astwood Cove Beach is located below Astwood Park on South Road, Warwick Parish Bermuda.  
Bus route: #7 that runs between dockyard and Hamilton city has a stop nearby. It takes about 45 minutes by bus from the dockyard and 15 minutes from Hamilton. From the bus stop on South Road, a narrow paved road leads down to the park (about 250 yards). 
From the park, you can go down to the beach below. There is a steep trail through the cliff to access the beach and it can be dangerous. There are steps on the trail (carved on old rocks) but they are not well maintained (it would be more appropriate to say eroded by nature). So access to the beach and the beach itself is not suitable for children, and is not as straight forward as some of the other beaches. You will find the steps on the lleft side of the beach (as you face the ocean). There is no life guard at Astwood Cove beach. 
Road Map 
Related Articles
3)
Warwick Bermuda
: All about the parish, its attractions, hotels, restaurants etc 
Visitors' Reviews
Joan L. Smith (Sept 2012) 
We'd visited Bermuda 26 times before discovering the spectacular beach at Astwood Park. I'll never forget seeing artists perched on various rock formations attempting to paint the scene. We thought we'd seen every beach until someone tipped us off on beautiful Astwood.